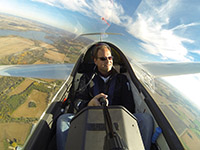 Out of the Office - SSA Convention
I am currently out of the office at the SSA Convention in Little Rock, Arkansas. I will be back in the office on Monday, February 24th. I'm sorry for any delay with your order due to my absence. Please do order using this web site and I will get the items to you as soon as possible. I will be checking email and processing orders while away. My office phone will be forwarded to my mobile phone, but I won't have much free time to check messages. I hope you will understand if it takes me a bit longer than usual to get back to you. I hope to see you at the SSA Convention!
Thank You,
Paul Remde
Cumulus Soaring, Inc.
---
Welcome
Thank you for visiting the Cumulus Soaring, Inc. web site. My goal is to help you find the right soaring instruments, software, books and videos for your needs and help you use them. What sets me apart from my competitors is that I help you use the instruments and/or software through one-on-one phone support (with web conferencing) and with the Soaring Product Training video series. I have created many "Value Added" features to this web site including Product Comparisons & Selection Guides to help you find the products that are best for you, and my Soaring Links and Soaring News free soaring resource web sites. I have invested heavily in stock so you can get any of the products quickly. I also spend considerable time learning how to use each product so I can support you well. I consider myself a servant. If I do a good job serving you I hope you will buy from me and tell your friends to buy from me.
---
New DG and LS Dealership
I am extremely pleased to be the new representative for DG Flugzeugbau in the U.S. and Canada. I have been the part owner of a DG-1000S for many years and it has been a great companion for many thousands of cross-country soaring miles. It is a great glider. DG is known for their high-performance sailplanes and especially their auxialiary-powered sailplanes. They also manufacture LS sailplanes.
I look forward to supporting existing DG and LS sailplane owners and helping new owners bring their beautiful sailplanes into the U.S. and Canada.
---
| | | | | |
| --- | --- | --- | --- | --- |
| Hot | New | Gifts | Books | Videos |
---
Soaring News Page


Please check-out my Soaring News page for the latest soaring product news and links to soaring news, images and videos from around the world. If you're not a Facebook user - no problem. You can still see the page and click-on all the links on the page. If you are a Facebook user, please "Like" the page so you will see posts from the page in your newsfeed. I had previously sent out soaring news in my "Soaring News" email newsletter - but it took so long to create each issue that I didn't send them out very often. It is very quick and easy for me to add items to the Facebook page - so it will be updated daily. I hope you find it interesting. If you like it, please tell your soaring friends about it and "share" the page with your Facebook friends.
---
Soaring News Email Newsletter
Back issues and more information is available here: Soaring News Newsletters. I have more or less replaced the newsletter with my new Soaring News Facebook page, but I do still send out newsletters occasionally - for important news items.
Sign up for FREE monthly Soaring News email Updates



---
Sale Items
The Sale Items page includes items that are new but slightly out of date, and used items. There are some very good deals to be found there.
---
Proud Family Man
My favorite web site, is my personal web site because it contains photos of my wonderful family - I love my wife and kids and love being a father.
---
Handling Charges
I charge a $5 handling fee ($7 to $9 for international orders) for all orders on which the items total less than $100. It is used to help pay my shipping assistant - who's help frees me up to answer the dozens of emails I get every day and to do my best to make this web site a valuable resource for glider pilots. The $5 handling fee really stings when you order a $3 item. But please remember that it takes just as long to process, package and ship a $3 item as a $500 item - and we get many orders for $3 to $30 items. I do work hard to do a good job of supporting the soaring community. I hope you will take that into account when you see the fee on the invoice. Of course, you can avoid the $5 handling fee by ordering $100 or more worth in soaring products at a time. Some have suggested that I simply raise the price of the low cost items by $5, but that would be expensive for customers that order multiple low cost items. You can see more about the shipping fees here: How to Order
---
Site Navigation Tips
Use the menu on the top of every page to navigate through the site. Clicking on the logo on the top of any page will bring you back to this home page. I also use the Manufacturers list in the table below often.
Catalogs - Printable Catalog
Value and Excellent Support
Cumulus Soaring, Inc. offers soaring products and excellent technical support. I aim to be friendly and fun. I want to be sure that you are happy with your soaring tools and I strive to help you get the most out of them.
Paul Remde
I have been flying gliders since 1990. I'm a very technical person who loves talking about soaring, badge flying, soaring instruments, GPSs, etc. I am knowledgeable about badge, record, contest and aerobatic flying, and ready to help you select and use the right instruments and software for your soaring needs. I hold all the FAI Badge legs for my Bronze, Silver, Gold and Diamond badges - with the exception of the altitude gain legs (which are nearly impossible to obtain in Minnesota). I have flown in many soaring contests, acted as Competition Director in 2 contests, Contest Manager in 2 contests, and have won 10 Minnesota state soaring records. I have owned several sailplanes including a Schempp-Hirth Ventus b and a Schweizer 1-35c. I currently own a share of a lovely DG-1000S. You can see photos of them on my Soaring Photos web page. My best soaring flight so far was an 800+ km OLC (free distance) flight in the DG-1000 with Dick Andrews from Nephi, Utah in 2015 - what a spectacular place to soar! Another favorite flight was a 520 km flight from Minnesota to near Jolliet, Illinois in a Schweizer 1-35c. I am an active member of the Minnesota Soaring Club. I am blessed with an amazing family - which you can see on my personal web site.
Please Buy from Me
I work very hard to provide detailed product comparisons for soaring pilots. I hope you will find this web site useful. I also offer excellent support to customers who buy from me. The best way to thank me for the services I offer is to help support my business by buying from me - and please tell your friends about my company.
Customers Outside the United States
I am often asked if I sell to customers outside the U.S. In fact, I would guess that 1/4 of my sales are to customers outside the U.S. My online order entry system accepts orders from anywhere in the world. I generally ship to other countries using U.S. First Class International Airmail. It gets the product to the customer in about 10 days. If you prefer faster delivery or insurance and tracking I can ship using US Express Mail International or UPS Express.
Payment Options
For your convenience I accept payment via several methods. For U.S. customers I strongly prefer payment by check for all orders but accept payment using credit cards if necessary. That saves me the cost of the credit card fees - which add up to tens of thousands of dollars every year. That stings! For international customers I require payment using a credit card. For details, please visit the How to Order page.


Full Panel Discount
I am fortunate to be in a unique situation in that I sell and support products from more soaring manufacturers than any other soaring products vendor in the world. I have products in stock to help you build a complete instrument panel. I offer a 5% discount to customers that purchase all the items listed below at the same time (shipped to a single location) and pay by check (not credit card). This option is popular with customers buying new gliders or upgrading older gliders. I can ship the items to you or to the glider manufacturer. To qualify you must buy at least the items listed below. I'm sorry, but if you don't buy all those items, or items of similar value, I can't give you the 5% discount. This discount can't be combined with any other discounts or offers. For example, you can't get a Mutual Support Membership discount and also get this discount.
Soaring Society of America
The SSA is an excellent resource for glider pilots in the USA and around the world.
www.ssa.org