Bioenno Power BLF-1209 Lithium Iron Phosphate (LiFePO4) Battery, 12V, 9 AHr
This is the "standard glider size" battery.
Safety - Battery Protection
Includes a built-in PCM (protection circuit module) that provides balancing of the internal cells, and protection from overcurrent, undervoltage (overdischarge), and overvoltage.
Specifications
Voltage: 12V

Capacity: 9 AHr

Charging Voltage: 14.6V

Charging Current: 2 to 5A

Charging Method: Constant Current/Constant Voltage

Discharge Cutoff Voltage: 9.2 VDC (+/- 0.5V)

Maximum Continuous Discharge Current: 9A

Maximum Peak Discharge Current: 18A (2 seconds)

Case Type: ABS Sealed Case

Protection: Overcharge, overdischarge, overcurrent, temperature, balancing

Charging Temperature: 32°F to 113°F (0°C to 45°C)

Operating Temperature:14°F to 140°F (-10°C to 60°C)

Connector Type: FASTON F2 quick disconnect tabs (0.250" x 0.032")

,

mate with AMP. INC. FASTON "250", See the

AMP-FASTON-250

.

Dimensions: Length: 5.9 in., Width: 2.5 in., Height: 3.8 in. (150 mm x 63.5 mm x 95 mm)

Weight: 2.65 pounds (1.2 kg)

Shipping: Restricted, DGR-A

Warranty: 2 Years Standard Lithium Iron Phosphate Battery Warranty
Charger Requirements - Important!
It is very important that these batteries are charged with the Bioenno battery chargers. They are able to charge the batteries quickly and safely. Since the batteries feature built-in battery protection circuitry, the chargers are relatively simple and inexpensive when compared to the chargers required for lead-acid batteries. The chargers feature built-in cooling fans. The chargers are available with alligator clips, or with both Anderson Powerpole connectors and alligator clips. The version with Anderson Powerpole connectors connects directly to the Goddard BP-P22 wiring harness.
Recommended Charger: Bioenno-BPC-1502C or Bioenno-BPC-1502C-APP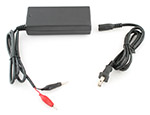 or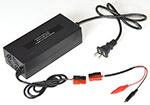 Optional Goddard-BC-P22 Battery Harness with Fuse, FASTON Connectors, and Powerpole Connectors - Highly Recommended
It is very important to have a fuse mounted directly on the battery to avoid the possibility of fire in the case of a short in the sailplane wiring or electronics. We offer a high-quality solution from Goddard. It simplifies installation and is "plug and play". It includes insulated FASTON connectors for easy connection to the battery terminals, a built-in automotive fuse holder and 5A fuse, Tefzel aircraft wire, and easy to use Anderson Powerpole connectors. An extra connector is included for connection to the glider electrical system, or to the battery charger.
Recommended Battery Harness: Goddard-BC-P22




Optional Battery Box - Dittel H00217
This is an extremely rugged and handy battery box. This box offers stainless steel construction, a very useful battery voltage level indicator and a circuit breaker for battery protection. A mounting plate is included. It is easy to remove the battery box from the mounting plate - so you can quickly remove the battery from the aircraft for charging. It is somewhat expensive, but worth the price. It works great with this battery.


User Manual - Important Operating Instructions!
Detailed Specifications
Warranty
Warranty for Lithium Iron Phosphate Batteries
Warranty for Battery Accessories
Shipping by Ground Only
Due to shipping restrictions, these batteries can be shipped using UPS Ground or similar only. They can't be shipped using USPS Priority Mail or UPS 2nd Day or Next Day Air. The shipping restriction type is: DGR-A.

Bioenno-BLF-1209
Brands Bioenno Power
Product Code: Bioenno-BLF-1209
Availability: In Stock
Related Products