Gadringer-Gurte GmbH

Overview
Gadringer-Gurte GmbH is well known around the world for their high-quality seat belt systems.
Manufacturing and maintenance of safety belts for aircraft
Gadringer-Gurte GmbH was founded in 1966 by Friedrich Gadringer and is now located at Airport Kassel, 34379 Calden / Germany. The foundation was based on the take-over of the "Alfred Baisch- company", which started in 1928 with the manufacturing of safety belts for commercial purposes. Our approximately 300 customers include renown airlines, several hangar organizations as well as numerous associations and private customers. Based on our modern and well-maintained machinery and due to the high flexibility of our qualified employees we achieve a constantly high quality of our products and a competitive production. In July 2002 the founder Friedrich Gadringer passed over the management of the company to Petra Gadringer and Harald Müller. However, we keep our motto: "We wish the customer to return, not the products."
High competence in safety belt systems since 1966
Please take advantage from our experience of 35 years in production and maintenance of safety belts for aircraft. Our company is approved as production organization according to EASA PART 21G and as maintenance organization according to EASA PART 145. Each order will be manufactured according to your personal requirements, as long as the approval of our safety belt samples gives us room to maneuver. We simply need the type of aircraft for which the safety belts are to be produced and the safety belt color desired. Due to our flexible manufacturing we can ensure short delivery periods for standard quantities (approximately 1 week after receiving the order – after telephone confirmation even within 24 hours). The belts will be supplied with an EASA-FORM-1 release certificate and have a max. lifetime of 12 years. After that period we can renew the lifetime by overhauling the belts (for about half the new-price).
Certificate Included

Not at least due to the extraordinary high and stable quality of our products does the Gadringer-Gurte GmbH belong to the most demanded partners of renown airlines for equipping aircraft and as maintenance organization. Safety belts from Gadringer literally keep their promises. This is guaranteed with a certificate.
Prices available upon request. Please include the make and model of the glider the seat belts will be installed into.
Photos
Click on the images below to view larger versions.
black - anthracite - beige/gold - brown - grey blue - silver grey - navy blue - royal - flame-red - burgundy - moss green

Color Table (PDF)
Example System
Note: Prices fluctuate with international monetary exchange rates.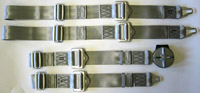 Shoulder Harness, Shugu 2700, $140
Lap Belt, Bagu 5202, $635
Total: $775
Shipping from Germany to USA: ~$100
Shipping
The items will be shipped directly from the manufacturer in Germany to you. You will be billed for the shipping costs. My best conservative shipping estimate is $100 from Germany to the USA for a single belt assembly as shown above.
Part Number Overview
Bagu = Lap Belt - Sold in pairs

Schugu = Shoulder Harness - sold in pairs

Bogu = Crotch Strap - sold as single belts

The last 2 digits of the part number identify the attachment at the end of the belt opposite the center belt buckle. See image below.

01 - Triangle up to 8 mm diameter

02 - Open end to loop into seat or fuselage fixed fitting

03 - End fitting with 8 or 10 mm circular hole



Shoulder Belts







Schugu2501
Crotch Straps









Bogu1301
---
Showing 1 to 11 of 11 (1 Pages)