Advanced Soaring Made Easy - 4.1th Edition
Author: Bernard Eckey
Hard Cover, 187 illustrations, 176 photos (all in color), 432 pages, Copyright 2020
Dimensions: 7.87 x 10.63 x 0.91 inches (200 x 270 x 23 mm)

New Edition 4.1
Minor updates were made in this new edition 4.1.
This 4th edition is now the all-encompassing book on advanced soaring. New topics have been included, the structure of the book was changed, the page layout and graphics were much improved, the text has been revised or extended throughout, and the quality of many new photographs is simply spectacular – all courtesy of my editor, who until recently was the 35-year editor of the Canadian gliding magazine, Free Flight.
Previous editions have quickly turned into best sellers (the third edition was available in four languages) and have already helped many solo pilots become highly skilled and very competent cross-country pilots. This new and final edition is completely up-to-date with current changes in the sport and offers new pilots a self-coaching tool with all the information needed from a single source. This doesn't mean that performance oriented pilots were forgotten; on the contrary, chapters on competition flying, glider fine-tuning, and the all-important psychological aspects assist experienced pilots to improve their success rate in competitions or enhance their chances at record attempts.
Every glider pilot can benefit from the breadth of information in this book. Inexperienced pilots will gain valuable insights while building basic skills, avoiding setbacks and disappointments. Cross-country pilots can use the advanced theoretical knowledge in the development of superior practical skills. Competition pilots will find their knowledge challenged, resulting in insights that will greatly contribute to rapid progress. In short, "Advanced Soaring Made Easy" is the ultimate book for pilots trying to get on the fast track to success – a book that no ambitious glider pilot can afford to ignore.

Samples of new sections in the 4th Edition
Air flow above the convection level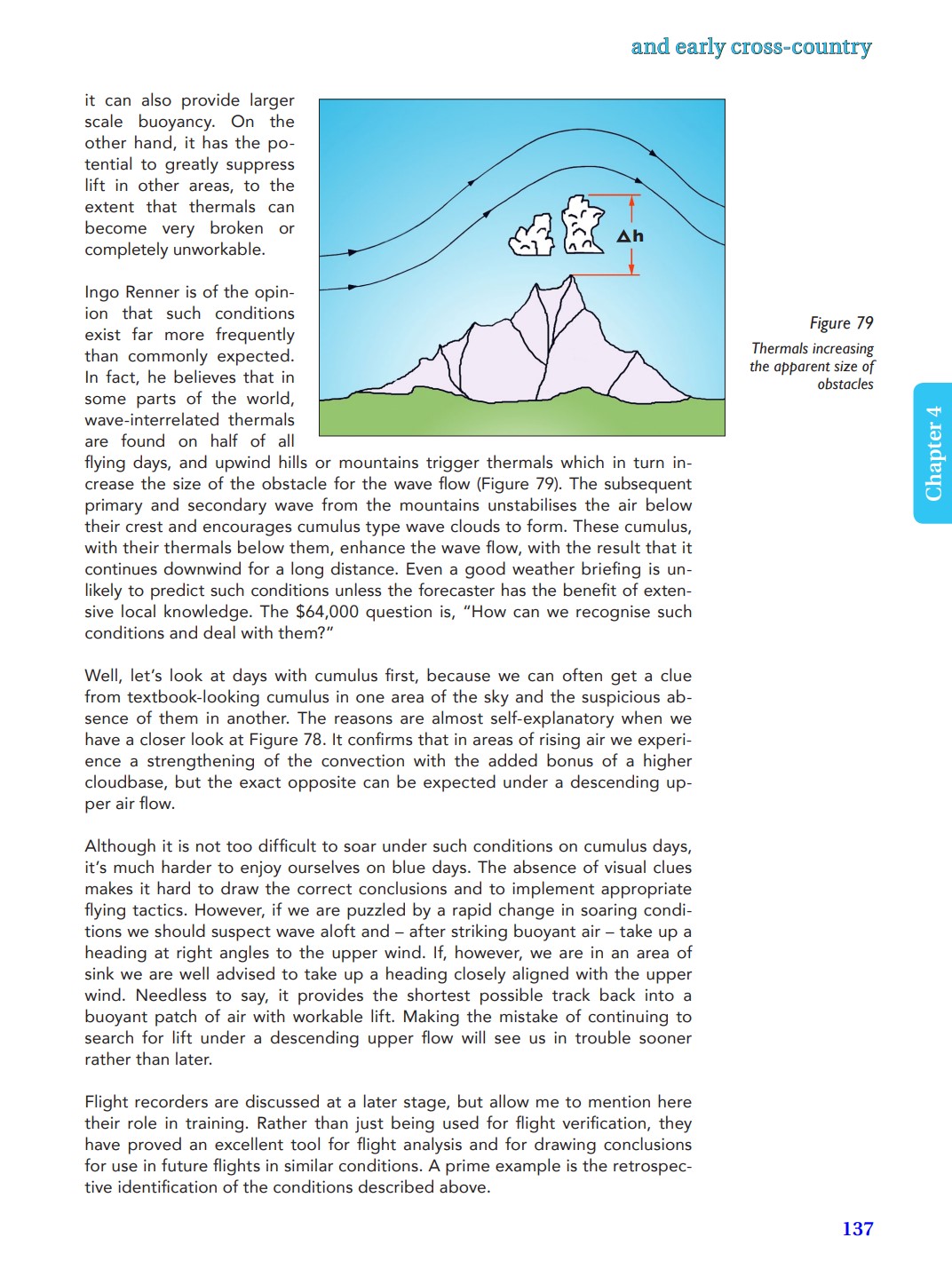 Most likely locations for streeting

Overview
Gliding is a fascinating sport and without a doubt the most peaceful, most affordable and by far the quietest form of aviation. To soar effortlessly like an eagle has been one of man's age-old yearnings and many thousands of pilots around the world today regularly experiences exactly this and enjoy the beauty, challenges and delights of this unique sport.
Gliding means flying modern machines of great beauty and elegance for hundreds of miles in total comfort and without resorting to engines. Success depends on the skill of extracting the necessary energy from the atmosphere around them. Real determination to succeed is a good starting point but good progress and full enjoyment requires some study as well. A basic theoretical knowledge is essential for success and that's what this book is all about. It not only covers all sources of energy for soaring, but it also deals with weather analysis, flight preparation, mental aspects, safety matters and competitive flying. In short, it is a first class training aid to guide pilots from local soaring to advanced cross-country flying and beyond.
Press Release
Fast and exciting cross country flights are what most glider pilot dreams are made of. Others aim for high altitude lee wave flights or aspire to doing well in competitions. Sadly even to this day there is precious little literature available focusing on real practical help and assistance to the ambitious glider pilot.
Bernard Eckey, a German born record pilot, instructor and head coach of the South Australian Gliding Association (now living in Australia) has closed the gap with his new book: "Advanced Soaring Made Easy". He is encouraging pilots to move out beyond the circuit area and experience the exciting world of advanced soaring. His comprehensive work is clearly written and presented in a very attractive format.
Making the difficult transition from a solo pilot to a confident soaring pilot is what the first chapter is all about. Rather than floating around, learning very little the aspiring aviator can use the information provided and turn valuable background knowledge into essential thermalling skills. A beginner adopting this approach is likely to get on a steep learning curve and will soon enjoy the sport to the fullest. He will find a fascinating aerial world awaiting further exploration.
The second chapter deals with the important issue of soaring weather, and especially the prediction for soaring conditions for the day ahead. By using practical examples the author makes this difficult subject easily understandable and even explains numerous other relevant weather related issues such as sea breezes, convergence lines, etc.
Other chapters deal with such important topics as flight preparation, safety, off field landings, mental preparation, ridge soaring, wave flying, flying competitively and advanced cross country flying with guidelines for proven flying tactics and methods for speed improvement. The advanced cross country pilot gets advice on reducing the workload in the cockpit and even learns about aerotow retrieves, effective use of flaps, etc.
A total of 134 drawings and graphics and over 163 very attractive photos help to shed light on the various subjects. Glider pilots will find it hard not to try the many practical hints and suggestions on their next flight and further their enjoyment from this fascinating sport.
Because the author has refrained from using any jargon even pilots with a rather basic command of the English language will find the book easy reading. Pilots with an ambition to practice gliding in different parts of the world will find this book an extremely valuable source of information and a first class introduction to gliding terminology.
About the Author


A 40 year love affair with aviation started for Bernard as a young boy when he visited a model aircraft field. After 15 years of building, flying and later even designing model aircraft he decided to take up gliding and obtained his German license in 1982.
In 1983 his professional career saw him transferred "down under" to head up his employer's Australian operations. The truly excellent gliding conditions in Australia convinced Bernard to become a private owner of a PIK 20 in 1985 and from then gliding has occupied most of his spare time.
While serving his club as a committee member, president, gliding instructor and state association delegate he obtained his "Form 2 Inspector Rating" in 1991 and his private pilot license in 1992. In 1996 he became a gliding coach and was made a GFA level 2 coach in 2002. He was later appointed head coach for South Australia and Northern Territory.
In 1996 he was able to acquire a damaged self-launching open class ASH-25 two-seater sailplane. Re-building the aircraft with the help of friends increased his enthusiasm for the sport even further. Since then he has taken his pride and joy to many places in Australia and pilots from many countries have benefited from free coaching sessions.
Over the past 20 years Bernard has retained his excellent contacts with various European glider manufacturers. He and his wife Chris became agents for a number of manufacturers during the nineties. Today they run successful agencies not only in Australia but also New Zealand and Japan with an excellent reputation and first class relationships with their customers.
With over 3500 hours soaring in his logbook Bernard always strives to extract the maximum distance out of any gliding day. He can look back to an estimated 300,000 km of cross-country flying. He is holder of all GFA distance badges, has performed 6 flights in excess of 1000 km and set a new Australian record for a 1000 km out & return flight. In addition he has performed an 1134 km FAI triangle.
Although he is not a regular competition pilot he has competed at national sport class events and won a number of competition days. He also won several state championships.
Forward by Ingo Renner (4-time world soaring champion)

With this book Bernhard presents to the gliding community a dictionary for the meteorological phenomena that can keep gliders aloft to fly long distances.
In recent years we have seen an increase in performance of cross-country flying that seemed impossible only a few decades ago. The improved performance and handling of gliders are only partly responsible for that surge. It is most likely that the pilots' tactical decisions and their advanced knowledge of meteorology boosted the long distance and speed records to their present level. Pilots who have developed a basic understanding of gliding theory and have an open eye for the forces of nature can explore and enjoy the almost endless possibilities of modern gliders so skilfully designed and constructed by dedicated craftsmen.
The different chapters in this book explain in detail, with clear illustrations, what glider pilots need to know to maximize their enjoyment and performance. Some lift forces are smooth or weak and others are strong and turbulent. Lift can also be isolated or lined up for long distances. Pilots who have learned to master these great forces with skill and patience can, on certain days, combine several different lift sources for exhilarating flights using all the daylight hours.
This book not only gives a complete overview of meteorological phenomena but it also explains to glider pilots how to take advantage of them. The book details the techniques of soaring in thermals, slope lift, wave, etc., and provides pilots with excellent information that they can put into practice to improve their skills and get the maximum out of the sport of gliding. Pilots who achieve the best performance are those who can recognize the different forces of nature and use them to their advantage.
Perhaps they can use an early morning wave to set off on long distance flights as I have done. I shall never forget my late glides into a sunset from a high climb in a late thermal or from a wave. In high mountains the ice breeze occurs almost every evening and one can enjoy late soaring in the centre of the valleys right up to last light. This is what makes the sport of gliding so special.
To all readers of this book I wish you excellent soaring and hope you gain as much pleasure and exhilaration from gliding as I have over the years.
I would also like to commend Bernhard Eckey on the huge amount of research he has put into writing this book and presenting it in such a useful format. The first edition of his book has been well received but because this second edition looks deeper into many additional topics it will be even more encouraging and motivating to the many supporters of our fascinating sport.
Safe soaring to all,
Ingo Renner


Forward by Michael Sommer

I imagine if you are reading this foreword you share my love of flying without an engine; in using only one's knowledge of nature to explore the skies and the countryside. Your memories of special flights may include, as do mine, fast flights under high cumulus cloud streets over the flat, dusty, red outback of Australia or gliding over huge forests and lakes in Sweden and vast stretches with nowhere to land in Africa's Kalahari desert.
Then there is passing Mt Cook and looking out across the forests of the West Coast to the sea in the fantastic wave systems of New Zealand or ridge soaring the west face of the Matterhorn peak in Switzerland. Whatever landscapes you have the opportunity to fly over, the enjoyment of the landscape, as well as the satisfaction at achieving remarkable distances and speeds with only the power of nature, are the things that inspire us to keep flying.
Getting the most out of every gliding day is what drives me and gives me the most enjoyment in gliding. To be able to do this, one needs knowledge. But having said this, I believe that to fly doesn't require a special talent. Like any other sport, systematic training can allow anyone to improve their gliding skills.
One of the aspects of the training is the theoretical background. Much of this is already known and many books have been written about the various aspects of gliding. The specific value I see in 'Advanced Soaring Made Easy' is that it, in simple words and in a very practical way, provides all the background for any glider pilot to improve their gliding, no matter whether they just have accomplished their first solo flight, or they are competing at a high level.
I got to meet Bernard a few years ago in Australia. He is more than just an enthusiastic glider pilot who has accumulated a lot of skill and knowledge. I know him as someone who is dedicated to sharing his gliding knowledge with up-and-coming glider pilots - to show people what is possible in gliding. This, together with Bernard's skill in putting things in an easily understandable way, makes him an ideal author of a book such as this.
The first edition of his book has already helped thousands of newcomers to advance their gliding career. However, this second edition expands on a wide range of topics and will be even more beneficial to the many followers of our captivating sport.
However long we have been flying, there are always new things to learn and experience. Each day brings a unique set of conditions, opportunities and challenges.
Even after more than 20 years, gliding has lost none of its early fascination for me. I hope this is how it is for you also!
Enjoy the book!
Michael Sommer


Review by Dr. Richard Q. Agnew of Australia
R Agnew's Advanced Soaring Made Easy Book Review.pdf
Review by Paul Remde
This is one of my favorite soaring books. In addition to the many wonderful and high-quality soaring photographs it contains many well written explanations of countless subtle aspects of soaring. It is easy to read and Bernard does an excellent job of explaining complex and detailed subjects. I thoroughly enjoyed reading the 1st, 2nd, and 3rd editions. I can't wait to read the 4th edition!
Advanced Soaring Made Easy
Brand: books
Product Code: Advanced Soaring Made Easy
Availability: In Stock
Related Products