Bowlus Maxi Gap Seal Tape, White, 1 in
Polyethylene Film Tape
Color: White
Width: 1"
Length: 108 feet/roll (36 yards/roll, 32.92 meters/roll)
Thickness: 0.0055" (0.14 mm)
Adhesive: aggressive rubber adhesive (very stretchable, 400%+)
Quantity Pricing:
1 roll:

$12/roll

3+ rolls:

Save $1/roll

, $11/roll x 3 = $33

1 case of 48 rolls:

Save $3/roll ($144 total savings)

, $9/roll x 48 = $432
Bowlus Maxi Gap Seal Tape - Overview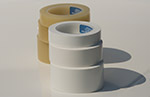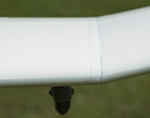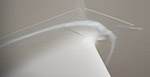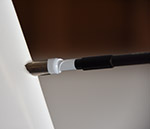 Overview
Bowlus Maxi Gap Seal Tape was created by Michael Bowlus. It has a great reputation as a fantastic gap seal tape. It is extremely stretchy polyethylene tape which allows it to follow complex curves - like the perpendicular (no fillet) joint around the leading edge of the wing root on a Ventus b - although no tape can form to every curve. This tape utilizes UV protection so that is lasts longer in the sun than other products. That is very important for gliders that remain assembled for long periods of time - especially if they sit in the sun all the time. The tape is designed to stay in place and not split even when you take off from an airport with high temperatures, fly at high altitude in low temperature environments and land back in high temperatures. Also the Bowlus tape is a brighter white than the 3M tape.
I started stocking and selling this tape because Carl Herold told me that he prefers Bowlus Maxi Gap Seal Tape to the 3M tape because it lasts longer before cracking or splitting. He keeps his Nimbus 3DM assembled for long periods of time - sitting out in the sun. The UV protection seems to increase the life of the tape. He believes that the 3M tape ages more rapidly.
Note: No gap seal tape lasts forever. All tape will crack or split eventually.
Common Uses
Seal gap between fuselage and wing - reducing drag and eliminating air leakage (escaping air causes major drag)
Seal gap between wing tip and winglet
Hold total energy or pitot probe in place (o-rings and grease are best for avoiding leaks - not tape)





Aircraft Types Using Bowlus Tape
Sailplanes
Auxiliary-powered sailplanes
Motorgliders
Light Sport Aircraft (Flight Design, Pipistrel, etc.)
High-performance composite aircraft (Cirrus, Lancair Legacy, Lancair IV, Long-EZ, Glasair, Glastar, etc.)
Classic aircraft (J3 Cub, Aviat Husky, Carbon Cub, etc.)
Reno air racers
High-Speed Capability
Bowlus tape has been used without issues on sailplanes for high-speed dashes up to 150 knots and on Reno air racers at speeds exceeding 400 knots.
Drag Minimization Tip
Sailplanes perform best when drag is minimized. Although this tape is extremely thin (0.0055" (0.14 mm)), it still affects the airflow. To minimize drag, do your best to align all edges with the airflow. For example, when covering a tie-down hole, apply the small piece of tape so 2 of the edges are aligned with the airflow and the other 2 edges are perpendicular to the airflow.
Adhesion Tips
I have found that all tapes hold much less firmly to surfaces which have been waxed recently. That is normal. It will hold fine - even if it seems like an issue at first. It is usually not necessary, but cleaning the surface with lighter fluid (see note below) will help with adhesion.
Review by Non-Glider Pilot
"I received the gap seal tape the next day - it works wonderfully! I am using it on my Varieze - a very slick powered aircraft - and it gained me ~ 5kt in cruise! Thanks again for your prompt shipment and excellent product." - Kevin Alons, KC-135R (formerly F-16), Varieze
Important Safety Note: "Gap Seal Tape" is Not Designed for Use on Control Surfaces
This stretchy plastic tape is perfect for use sealing fixed gaps - such as the gap between the wing and fuselage. I do not recommend using it on control surfaces such as the gap between the wing and aileron or the fin and rudder, or the horizontal stabilizer and elevator. Plastic tape will shrink over time and especially when it gets hot in the sun. If it is connected to a control surface it may contract over time and not allow full travel of the control surface. Or as it gets tight it may pull off as it is stretched by the control surface - which could lead to high drag or reduced control of the aircraft as the tape flaps in the airstream or changes the airflow over the control surface. Using plastic tape secured on both sides and across a control surface gap is unsafe and may be an illegal modification to the aircraft.
Notes on Cleaning Tape Residue
"Any adhesive residue should always be cleaned up with lighter fluid (as used in a Zippo cigarette lighter), never MEK, acetone or lacquer thinner. Lighter fluid will not harm paint, gel coat or canopies. Never get anything near any airplane that will harm the canopy! I have heard of guys dropping a container and having lacquer thinner splatter on a canopy, NIGHTMARE!". - Mike Bowlus

I am not an expert on what will and won't damage paint, gel coat, and Plexiglas canopies, but Mike's suggestion seems like a good one to me. - Paul Remde
Telescoping
Telescoping is the unavoidable tendency for rolls of tape to become skewed over time. It is caused by internal stresses that are built into the roll during the manufacturing process. It can be made more extreme by subjecting the rolls to heat or dramatic temperature changes. I do my best to insure that the rolls telescope as little as possible. I keep the boxes of tape in my cool basement. You would think that would keep the rolls from telescoping - but it doesn't. Some additional telescoping can occur during shipment to the customer - especially when shipped during hot weather. The good news is that although the telescoping makes the rolls look less attractive, it does not affect the performance of the tape.
Bowlus Maxi Gap Seal Tape, White, 1 in
Brand: Bowlus
Product Code: Bowlus-Tape-White-1in
Availability: In Stock
$12.00

---

3 or more $11.00
48 or more $9.00
Related Products