LXNAV FlarmView

The FlarmView is a very small and full-featured display for use with FLARM and PowerFLARM products. It can display FLARM traffic, ADS-B traffic and Mode C and Mode S transponder traffic. The user-interface consists of 4 pushbuttons which are easy to use in flight. The use of push-buttons allows the overall unit to be quite small (65 x 42 x 9 mm) - despite using the same size 320 x 240 pixel display as found on similar products. The display is easy to read in sunlight and can be configured with either a white or black background color. A built-in microSD memory card slot and included microSD card make software and FLARMNet upgrades extremely simple. The built-in speaker is very loud - which is important for traffic alerts.
Video overview of the LXNAV FlarmView, FlarmView2, and FlarmView57 remote FLARM displays. I show how to use the products and also put them into demo mode so you can see how they will display traffic and collision warnings.
- Become a Patron for $9.95/month to access the complete Soaring Product Training video series - plus discounts and free support. https://www.patreon.com/cumulussoaring/posts?tag=FlarmView




FLARM Mode.

Shows all different types of FLARM objects and PCAS if appropriate external devices are connected

FLARM. PowerFLARM. ADS-B. FlarmNET Database Supported.

All devices using FLARM/PowerFLARM technology are supported.





FLARM Visual Radar with Audible Warnings.

The radar shows all necessary data. Present position, altitude and vario reading are seen on the map. Automatic POP-UPs appear for a new alert when a potential collision might happen.




Warnings. Acoustic and Visual.


Internal beeper gives an acoustic warnings. Altitude, position and type of object is also clearly seen.





Logbook. IGC to KML.


The entire logbook is clearly displayed. Flight is downloaded to a FlarmView SD card. An IGC to KML converter, which converts flights so that they can be replayed in Google Earth, is integrated.




1 Rocker Button With 4 Push Buttons


A FlarmView has 4 push buttons for easy editing and a rocker button for setting a volume/zoom.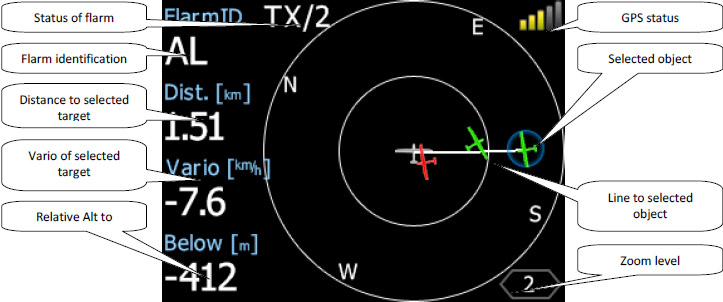 Features
Color Display
Display either relative altitude or climb rate or FLARM ID for every target
Displays climb rate, relative altitude, distance and FLARM ID for the selected target
2" (5 cm) display
QVGA resolution of 320 x 240 pixels
Sunlight readable
Background color can be set to white or black
Small size, 65 x 42 x 9 mm (2.56 x 1.65 x 0.35 inches)
Light weight: 25 g (0.9 oz)
Extremely slim, 9 mm (0.35 inches)
Screen size is exactly the same as competitive products, but use of push-buttons rather than a knob allows the FlarmView to be smaller - to more easiely fit on your instrument panel
Foam adhesive tape is mounted on the back of the unit to make installation easy - just remove the backing and stick it on.
Loud accoustic warning
Color warnings
Mode C/S transponder traffic is displayed (when available) as a dashed ring - since distance is known, but not direction
microSD card slot and supplied microSD card are used for firmware and FlarmNet updates.
ADS-B traffic is displayed (when available)
Supports latest FLARM dataport specification v6
Compatible with FLARM and PowerFLARM
FlarmNet database and User database
Intuitive user interface with 4 push-buttons
Power
12V power required, Works great with PowerFLARM and many FLARM units, but not with devices which supply only 3.3V power for displays. A power adapter cable is available for use with devices that supply only 3.3V power.
70 mA @ 12V

Included
FlarmView display
Power/data cable with RJ11 connector for connection to the back of the unit and RJ45 connector for connection to FLARM or PowerFLARM display port,
Cable Length: 24 inches (Let me know after ordering if you need a longer cable.)

Printed manual
Options
RAM-A-FV-Std - Mounting Arm for FlarmView, FlarmView2, Nano, and Nano3

RAM-A-FV-L - Mounting Arm, long, for FlarmView, FlarmView2, Nano, and Nano3

Manual
Details are available in the FlarmView manual which is available here.
The latest FlarmNet database can be downloaded at http://www.flarmnet.org.
Every FLARM owner should register their FLARM on the FlarmNet web site. Then users with the latest FlarmNet database will be able to see not just their FLARM ID, but also their contest number, name, glider type, etc. That makes it easy to know which nearby target is your soaring friend, etc.
LXNAV-FlarmView
Brands LXNAV
Product Code: LXNAV-FlarmView
Availability: In Stock
Related Products
Tags: flarm