LX8030 with V8 Variometer
The LX8030 is a high end vario navigation system with extremely bright color display. The main display fits into a standard 80 mm instrument hole. Yet the 4.0 inch screen is much larger and of higher resolution (480 x 480 pixels) than the 2.8 inch (320 x 240 pixel) screen found in its predecessor, the LX8080.
The included V8 variometer fits into a standard 57 mm instrument hole. If there is room for an 80 mm variometer, the V80 is an optional upgrade.
Simple and logical user interface is designed for top-level competitors, club operation as well as for gliding beginners. It is preloaded with worldwide terrain maps, airspace and airports databases. User friendly data exchange is done using the standard built-in Wi-Fi connectivity or USB interface, or with an optional, externally-mounted SD Card reader. The LX8030 has a built-in GPS flight recorder that is IGC approved for all flights. LX8030 copes with complex tasks with assigned areas. In-flight optimizations according to FAI and OLC rules are also shown.
PowerFLARM Compatibility
The LX8030 can works great with an external PowerMouse or PowerFLARM Fusion connected to the round 5-pin connector on the wiring harness that attaches to the back of the LX8030 using an LXNAV-LX5-PF or LXNAV-LX5-PFCore cable. The LX8030 displays the FLARM, ADS-B and PCAS Mode C and Mode S transponder traffic from the PowerFLARM on the moving map and vario display.

Configurations

LX8030
LX8030-Club
Built-in Wi-Fi
V8 Vario




V80 Vario
Optional
Optional
IGC Approved Flight Recorder




Built-in GPS




Voice Messages


Optional
Profile customization with LX Styler/Style function


Optional
Support for waypoint files with images (.cupx)


Optional
Terrain


Optional
Map Elements
(roads, highways, water bodies, railways, town names)


Optional
External SD Card Reader
Optional
Optional
AHRS (Artificial Horizon)
Optional

Optional

Display unit features
Extremely bright color 4.0" (480 x 480 pixels)

Sunlight readable display (1000 cd) with backlight automatically adapted using photo-sensor

Standard Built-in Wi-Fi connectivity

Full customization with LX Styler program

Dual core ARM Cortex-A9, 1GHz




56-channel uBLOX GPS receiver

Engine noise level sensor

Pressure altitude sensor

Optional external SD card reader

Built-in USB interface, Serial RS232, RS485 bus

Dimensions: 82 x 82 x 77 mm (W x H x D)

Weight: ~472 g

Power input 10-24 V DC, consumption at 12V 250-350mA

Displays FLARM data provided by an external FLARM device.



V8 Vario unit features
Fits in a standard 57 mm instrument hole

Solid State Design (no moving parts)

ARM Cortex-M4 processor running on 160MHz

2.5", 320 x 240 pixel sunlight readable color display




Digital temperature compensated pressure sensors for altitude and airspeed

inertial platform

3 axis accelerometer

3 axis gyros

AHRS

(optional software enable)

3 push-buttons

Built-in microSD card reader

Smooth 16bit audio output

integrated synthesized speech output

RS485 bus

CAN Bus

Speed command and Vario priority input

4 digital inputs (airbrakes, landing gear, etc.)

Smooth audio output

Speech output (voice module)

Current drain vario unit 120mA at 12V

Dimensions: fits 57mm instrument hole, 61 x 61 x 92 mm
Input and output
Built-in Wi-Fi functionality

Optional external SD card reader

RS232 Serial interface

RS485 bus interface

USB interface
Optional Accessories
Rear seat device (Works great with LX8030D, LX8040D, LX9050D, LX9000D, or LX9070D)

Stick-Mounted Remote

Additional i8 indicator

AHRS Artificial Horizon (software upgrade)



Training Videos
7+ LXNAV LX80x0 and LX90x0 Training Videos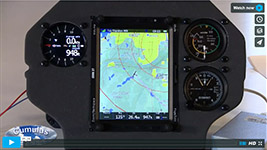 LXNAV LX80x0 and LX90x0 Training Videos

Lead-time: 2 to 4 weeks
LXNAV-LX8030
Brand: LXNAV
Product Code: LXNAV-LX8030
Availability: In Stock
Related Products
Tags: vario, flight computer, flight recorder, gps, logger