Calendars
Overview



I just love photographs of sailplanes. As an amateur photographer with several images published in the Soaring Society of America Soaring Calendar in the past, and images used in Soaring magazine and sailplane ads, I really appreciate good soaring photographs. You can see some of my soaring photographs here: Paul's Soaring Photos. Sailplanes are extremely elegant machines. Their long slender wings and smooth lines are graceful and beautiful to behold. My passion for soaring photos has led me to offer several of the world's best soaring photo calendars for your pleasure.
Use These Calendars to Promote Soaring



Not only can you appreciate the photos on the walls of your home or office, but they also can be a great way to promote soaring. When displayed in a public place such as your office, you are likely to get questions about soaring - which is great. In fact, the display of the SSA Soaring Calendars at my first place of employment is what got me to start flying sailplanes at age 22. Afterwards I found out that a wonderful soaring promoter here in Minnesota named Harry Meline used the SSA Soaring Calendars to promote both soaring and his small company. Every year he brought in batches of the calendars with his company information displayed on a simple mailing label on the front cover of the calendar. He laid them out for anyone to take. Many employees at that company had the lovely soaring calendars on the walls of their offices and cubicles. I had always wanted to try soaring - someday. But finally one day I decided that the time was right, so I flipped the calendar on my wall over and found the phone number for the Soaring Society of America. I called them and they told me about the local soaring clubs and commercial operations. Harry Meline is no longer soaring in this world, but perhaps others will follow his example and use soaring calendars to promote soaring in their workplaces. ...Years later I distributed soaring calendars to my customers in the industrial automation industry. They all displayed them on their office walls and asked many questions about soaring.


Calendar Images as Framed Art



These soaring photo calendars contain high-quality photos which are suitable for framing. The photo below shows 3 images from the fotokalender-segelfliegen framed and mounted on Mitch Polinsky's office wall at Stanford. What a great way to add color to your office while promoting soaring.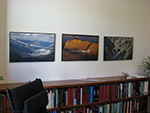 Calendar Comparison
The images below are to scale - showing the relative size of each available calendar. As you can see, the fotokalender-segelfliegen is the largest (it's huge!), the Segelflug-Bildkalendar is medium sized, and the SSA calendar is the smallest. All 3 calendars offer exceptional soaring photos. The Segelflug-Bildkalendar offers the most interesting articles on the backs of the photos. The SSA calendar offers a large calendar grid which can be used to enter upcoming events, birthdays, anniversaries, etc. I recommend that you select the one with the images you like the best.






fotokalender-segelfliegen
NEW! 2 size options:

Large- 42cm x 29.7cm (16.53 in x 11.70 in)
X-Large- 25.2 inches (64 cm) x 18.9 inches (48 cm)



This calendar features the largest photos.

Segelflug-Bildkalender
18.9 inches (48 cm) x 11.4 inches (29 cm)

This calendar has the most detailed
notes on the back of every page in
English, German, and French.

Soaring Society of America
Photo Calendar
14 inches (35.6 cm) x 11 inches (27.9 cm)

This is the smallest calendar.
It has room for writing notes and
events on the date squares.



---
Showing 1 to 19 of 19 (1 Pages)