The Sun Ship Game
Directed by Robert Drew
DVD, Format: NTSC, Duration 82 minutes, Region Code: It is "Region free", so it will play anywhere in the world.
This new DVD release is from a new video master made from a film print, so it looks super. As you can see in the photos at right, the new version of the film is much sharper and more vivid. And yes, it does include the Bee Gees music - as in the original film. The DVD menu has 9 chapters, a photo gallery and closed captioning. On the DVD box itself is an essay by Robert Drew on "Why and How The Sun Ship Game" (see DVD case images at right) and a review Doug Jacobs (see DVD case back cover at right, and review text below).
Soaring Magazine Article About the 1969 U.S. Nationals in Marfa, Texas, by Joseph Lincoln

Review by Doug Jacobs - Former World and 8 time U.S. National Soaring Champion
If you're like me, The Sun Ship Game serves as the standard against which to measure all attempts to convey soaring in motion pictures. Centered on a remarkably determined George Moffat's pursuit of a National Championship on the way to multiple World Championships, it captures like none other the majesty of the slender wing and graceful vulnerability of glider against the big, big sky and heartstopping terrain of Marfa Texas. Yet even more compelling is its captivating story of eyeball to eyeball struggle between pilots to win, to excel against one another, to accept the tribulations, sacrifices and danger of this beautiful but little known sport despite its meager prizes.
Bob Drew, noted documentarian, pulled this triumph together in the early 1970's, capturing on film the amazing aerial footage never before seen of gliding competitions and blending it with an up close and personal window into the personalities and aspirations the pilot contenders, their families and friends, strengths and flaws, into an all-too-human montage of the soaring scene. The result was a classic that has inspired and motivated hundreds of soaring pilots of my generation.
However, inspired as we were, we were equally annoyed that well traveled films in the possession of the SSA were often scratched, patched and in generally poor quality. An attempt to save the work through converting it to VHS was only partially successful, but nonetheless cassettes were snapped up by collectors eager to have their own copy of this remarkable story.
Now comes deliverance - Bob has taken the original masters and professionally converted them to DVD format. Back is the amazing clarity and color quality of the original film and terrific sound (especially if you're a BeeGee's fan - break out the paisley!) of the original for you to savor without the distractions of failing media.
The chance to own and view this work should not be missed by any serious soaring pilot, and studied intensely by those who chose to compete. A masterful story, one that belongs in the collection of everyone that shares our devotion to this compelling and amazing sport.


Review by Paul Remde
I'm very happy that this classic soaring film is available on DVD. It is a fun and interesting trip back in time. It is more than a soaring documentary, it is a film which digs deep into the skills and philosophies of 2 very different soaring contest pilots: George Moffat (contest number XX) and Gleb Derujinsky (contest number CI). The action begins at the 1969 Sugarbush Regional Soaring Contest and ends at the 1969 U.S. Nationals Soaring Contest in Marfa, TX. Toward the end of the film the battle ends up being between George Moffat and Wally Scott. This is a time when a "flight computer" was a circular paper glide calculator - and they were not adopted as necessary "technology" by all glider pilots. The film documents many interesting off-airport landings. Some of these pilots were willing to risk landing straight ahead (on course) in order to use every bit of altitude to get a few additional point for the day. One of my favorite scenes shows George using a saw to cut off the tip of his sailplane's wing and attach longer tips. It is hard to watch the sawing, but neat to see what was done to improve the performance of the sailplane. It is also interesting that during this era every contest pilot had a dedicated crew that followed them around the course with the glider trailer in tow. There is high-drama near the end of the film as George makes a bold move on the last long leg of the final task in the U.S. Nationals. I love this film!
George Moffat's reaction to the DVD version - as printed in the January 2010 edition of Gliding International
"The Sun Ship Game, Bob Drew's remarkable film of the 1969 Nationals in Marfa, Texas, has long been the best-ever film of what competition soaring is all about. In it he captures not only the beauty of soaring but also the dramatic aspects of the competition and the tensions between the leaders, their differing philosophies, and their wives, families and crews. Now Bob Drew has taken the original master and professionally converted it to DVD. I recently saw the result, and it is breathtaking as to color, sound and clarity. I did the flying for most of the thunderstorm scenes, and the sharp color and clarity brought them vividly back to life. Nothing in this film was staged. Everything you see was filmed as it happened. This new DVD version is surprisingly vivid and new despite having been filmed forty years ago."
Below is an excellent overview found on the rec.aviation.soaring newsgroup. It was posted by Aldo Cernezzi. He states that it was provided to him by "a close friend of the director."
"Some words on the film: As far as I know, The Sun Ship Game is the only real movie, not a documentary, dedicated to soaring competitions. It has was filmed at great expense (about 300-400,000 U.S. dollars in 1969, equivalent to at least 10 million Dollars today), privately financed without any perspective of reasonable revenues -- by the Director and producer Robert Drew, for one of its great passions, soaring.
I consider Bob an exceptional person, and his movie, which in 20 years I have probably watched and shown over 20 times, is a true masterpiece dedicated to soaring competitions. Its beauty is revealed gradually, when, through repeated viewing, one understands the untold in the conversations between the pilots. I recall in particular a confession: "…soaring pilots - a champion is speaking -we become aware that our talent, when we win a contest, is inexplicable; and we live therefore with the fear of losing it…"
I suggest a visit here: http://www.drewassociates.net/ to see how much and what Robert Drew, as one of the prominent figures of the "cinema verité", has filmed in its professional life. This movie is a wonderful "gift" that this director-soaring pilot has given to the world of soaring.
The plot of the narration is based on the major difference in the personalities of the two protagonists, Gleb Derujinsky, CI (an advertizing director, the first one to appear in the film, on a bicycle in New York) and George Moffat, XX (a professor, who appears in a classroom teaching English literature). Gleb, an instinctive pilot, is described as "unbeatable when he's in top condition", but he's also sometimes inconsistent. Moffat, on the other hand, is a cold "analytical-numerical" pilot flying a modified Cirrus with longer wings, but we finally see that he's also "human after all" through his flying and the suffering against Wally Scott who had a new ASW-12.

George will win (at least) two World Championships, Marfa 1970 and Waikerie 1974. Gleb, instead, will drive form Marfa to Mexico in order to get a divorce, always followed by Bob's movie cameras.

The movie features a gallery of prominent figures of soaring, including, Klaus Holighaus, Stouffs Sr., and Hal "The Judge"
Lattimore, contest director."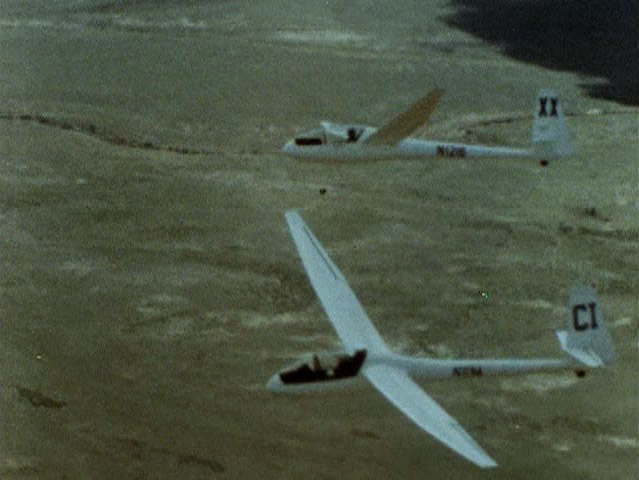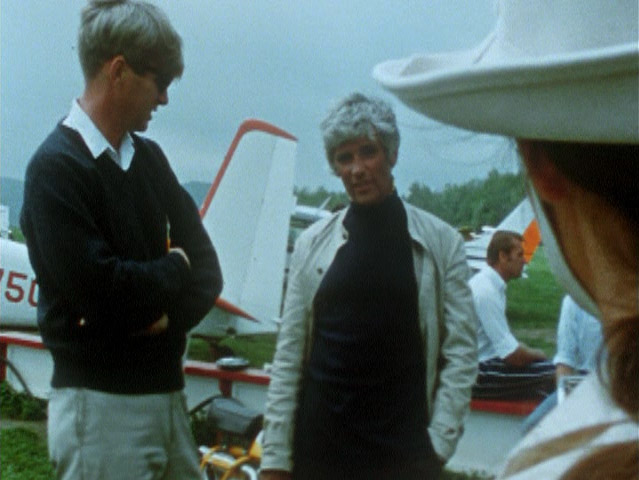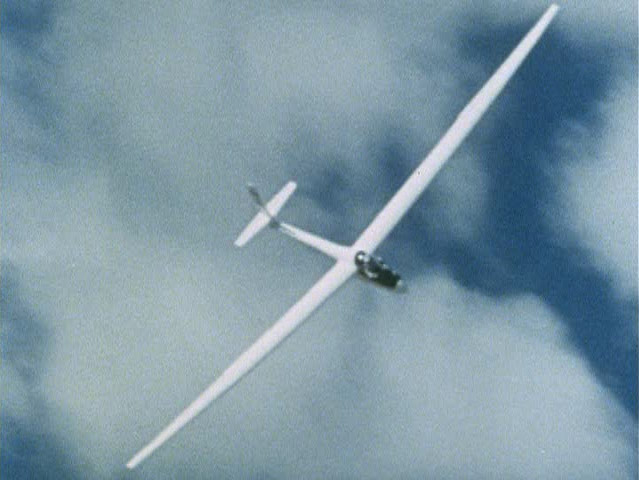 The images above are from the
new
version of the film. The images below are from an
old
copy of the film. You can see that the images above are sharper and more vivid. If you click on the images you can view the large images side-by-side.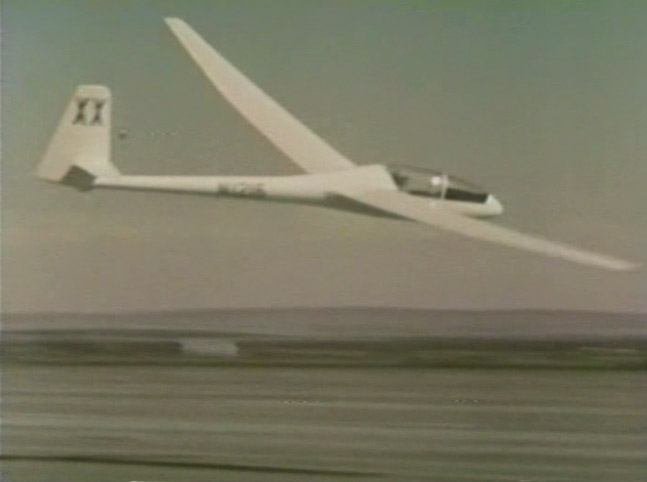 The Sun Ship Game
Brands Videos
Product Code: SunShipGame
Availability: In Stock