S3 Audio Variometer with Averager, Digital Altimeter and Speed-to-Fly Calculator
(Formerly called the V3)
LXNAV S3 Variometer Overview
Overview Video, by Paul Remde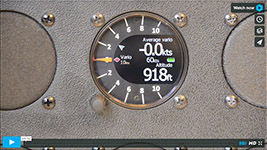 LXNAV S3 Variometer Overview
Duration: 7+ minutes
One of 80+ videos in the Soaring Product Training series
You can rent this video for 30 days for $3, or buy it for $10, or rent the entire Soaring Product Training series for $60 for one year.
LXNAV S7 Variometer - 3 of 3 - Vario Sounds
Overview Video, by Paul Remde
(also applies to S3, S8, S80, S10, S100, V5, V9, V8, and V80)


LXNAV S7 Variometer - 3 of 3 - Vario Sounds
Duration: 6+ minutes
One of 80+ videos in the Soaring Product Training series
You can rent this video for 30 days for $3, or buy it for $10, or rent the entire Soaring Product Training series for $60 for one year.
Have you ever wondered what "linear positive" and "digital negative" vario sounds are? This video will help you understand the vario sound options available to you with your LXNAV variometer.
The new S3 variometer is a fresh new type of variometer. It is a total-energy compensated electrical variometer with audio, digital altimeter, mechanical pointer and brilliant color display. The innovative feature is that it can display the recommended "speed-to-fly" airspeed number based on the selected MacCready setting, glider polar and measured lift or sink rate. It is not exactly a speed-to-fly variometer because it does not have pitot and static input ports. It doesn't know the current airspeed so it can't compare the recommended speed to the current airspeed. It can't display "push/pull" arrows like a traditional speed-to-fly variometer can. But it can display the recommended speed-to-fly airspeed as a number (shown in the middle of the screen in the image at right). The pilot then compares the recommended speed-to-fly on the S3 with the airspeed on the glider's airspeed indicator - just as he/she would do when using a MacCready ring on a mechanical variometer. It is neat that you get speed-to-fly functionality in a low cost "club variometer". The sexy color display is the same one used in the more expensive S7 variometer. Like the S7, the S3 displays a red diamond on the inside of the variometer scale to indicate the average climb rate and a blue arrowhead to indicate the current MacCready setting. I love that the vario average and MacCready are displayed on the variometer scale - making it clear how your vario average (red diamond) and instantaneous (mechanical red pointer) climb rates compare to the MacCready setting. The S3 fits into a standard 57 mm instrument hole and is only about 50 mm (1.97 inches) deep. It has a built-in speaker - making it easy to install. An external speaker is an available extra-cost option. The S3 is destined to be extremely popular with soaring clubs and sailplane owners looking for a great first audio vario, or a backup vario.
Small Battery Operation
Sometimes it is nice to be able to operate a variometer using a small 9V battery or AA battery pack. A small battery pack works great in gliders that don't have an electrical system - such as vintage gliders. In addition, sometimes gliders that do have an electrical system want to have a backup systems in the event of a failure of the main battery. In that case a 3-position ON/OFF/Backup switch can be used to switch between main power and the backup battery pack.
The S3 variometer will work using a single 9V battery or with a battery pack that holds 8 AA batteries. LXNAV says the unit will work on as little as 6V but that the audio may stop functioning when the voltage drops below 9V. In my testing the audio worked fine down to less than 6V.
In my testing with a 9V battery the unit worked fine down to less than 6V. However, even with the audio set to a very low setting the voltage displayed on the S3 screen (a S3 display option) dropped somewhat quickly when using a single 9V battery. A new 9V battery ran the unit for 76 minutes. The unit shut down when the voltage display on the S3 showed 5.4V. The voltage at the battery terminals was about 6 V. I only ran one test - so your results may vary. Note: In my tests I had the S3's color LCD screen set to full brightness and the audio set to a low volume. The unit would run quite a bit longer with the screen brightness reduced. 1+ hour might be enough if you use the 9V battery as a backup power source, but it is probably not a good solution for use in a glider without an electrical system.
A better option would be to use a Goddard Goddard Cable-S3-Backup-Sw-1 harness with battery pack that holds 8 AA batteries. I tested using 8 fresh AA Duracell Alkaline batteries with the S3 screen on full brightness and the speaker at a low volume.The initial S3 voltage readout was 12.5 volts. After 17 hours and 27 minutes the unit shut-down. The S3's voltage display was reading less then 6V.


Goddard Cable-S3-Backup-Sw-1
Features
Extremely bright 2" (5 cm) color display - readable in all sunlight conditions with adjustable backlight
Extremely accurate digital variometer
Extremely accurate digital altimeter
Mechanical pointer for instananeous variometer reading - driven by stepper-motor - easy to read at a glance.

Speed-to-Fly calculator - Since the unit does not know airspeed (it doesn't have pitot or static ports), it can't tell you to speed-up or slow-down, but it can tell you how fast you should be flying given MacCready setting, entered glider polar and current lift/sink. It is very much like using a MacCready Ring on a mechanical variometer.
Three number fields can be used to display a variety of user-selectable parameters (Average vario, altitude, speed-to-fly airspeed, flight time, flight level, voltage, absolute pressure, etc.)
Several useful variometer readings can all be displayed on the same vario scale: Instantaneous Vario (outer red pointer), Average Vario (red diamond), MacCready Setting (Blue arrowhead) - making it easy to compare the achieved average and instantaneous climb rates with the MacCready setting.
Preloaded polar database for almost all gliders, user-defined gliders can also be accommodated
Logbook (history of flight durations)
Easy-to-use and simple user-interface with one rotary knob with push-button function
Built-in speaker for easy installation
External speaker as an extra-cost option (LXNAV-Speaker)
Firmware can be upgraded with a PC, USB to serial converter cable and S3 PC cable using the free PC firmware upgrade software tool
Hardware
ARM processor
Mechanical needle driven by stepper motor
QVGA (320*240pixels) sunlight readable display
Digital temperature compensated altitude pressure sensors
Built-in speaker (optional external speaker available)
Smooth audio output
Size & Weight
Standard 57mm (2¼") hole
60mm x 60mm x 50mm (2.4 x 2.4 x 2.0 inches) (exclusive of the connector)
Weight: ~156g (6 ounces)
Color Display
16 bit color display
2" (5cm) screen
320 by 240 pixel resolution
Input & Output
Rotary knob with push-button for MacCready, Ballast, Bugs and other settings
Built-in speaker
3 mm phono jack for optional external speaker (LXNAV-Speaker)
RS-232 serial input/output (for firmware upgrades)
Power Requirements
Power input 6 to 16 V DC
95 to 135 mA at 12V depending on LCD brightness, without audio
Units
The units are software configurable using the vario's user-interface. However, the variometer scale is marked (printed) using one of 2 ranges listed below.
+/- 10 units (commonly used in knots - and referred to as the "S3-K")
+/-5 units (commonly used in m/s and referred to as the "S3-M") The images at right show this version.
Included
S3 variometer
Printed manual
Power cable with RJ12 connector
S3 Cable Options:
The S3 has a built-in RS-232 serial port for use when upgrading the firmware in the S3. It is not used for communication with any other devices. It can't receive GPS data or output vario data to a PDA. Those features are available in the S7.
S3-Update-Cable: S3 PC cable - for firmware upgrades, this cable is not included with the S3. It is an optional accessory.
Goddard Cable-S3-Backup-Sw-1: Backup Battery Harness for S3 with battery holder for 8 AA batteries and panel-mountable ON/OFF/Backup switch and 12V power leads for connection to the glider's 12V power system.


Manual
Details are available in the S3 manual which is available here.
LXNAV-S3
Brands LXNAV
Product Code: LXNAV-S3
Availability: In Stock
Related Products
Tags: vario, variometer