Segelflug-Bildkalender (Sailplane Photo Calendar), 2011
by Werbe-Verlag - Cornelia Temlitz
The Segelful-Bildkalender offers fantastic soaring photos in a large format.
Note: These calendars are out of date, but the photos are still awesome. $5 is a great deal for 13 very nice soaring posters. They make great posters for your office, college dorm room, or soaring clubhouse.
See all the available current and out-of-date calendars here:
https://www.cumulus-soaring.com/store/categories/calendars
The 42nd issue of our internationally popular wall calendar has 13 color photos revealing the fascination and beauty of soaring flight. The rear face of each page bears a description in English, German and French. Subjects include the very latest sailplanes under test, popular vintage and veteran gliders such as the L-Spatz III and OSV bungee launching, coastal soaring, circumnavigating Cologne in an ASW 15b, plus the story of the only woman flying in the Unlimited National Team.

Do you know where the 2011 FAI World Sailplane Grand Prix Finale is to be held, and the anniversary commemoration date of Soaring's most important event? All this and more in the latest issue of the Soaring Picture Calendar; make sure of your copy and you will be up-to-date with coming events. Produced in the popular wall format 48 x 29 cm with an unfolding weekday panel: this is a unique product – so order now!

This calendar offers extremely well written and interesting information on the back of each photo. It makes this calendar really stand out from all others.
Note: This calendar includes a very basic calendar. It does not have a large grid of days that can be used to write appointments or notes. The SSA Soaring Calendar is more suited to use writing notes on specific dates. But this calendar's large photos look great on the wall of your office or soaring club clubhouse.
Makes a great gift!
Dimensions
18.9 inches (48 cm) x 11.4 inches (29 cm)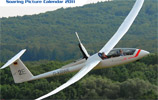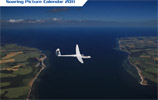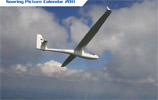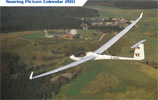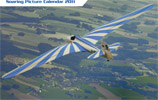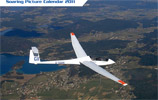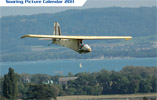 Click on the images above to view larger versions.
Related Products
Tags: calendar