SkySight
SkySight
Overview
SkySight is the next generation soaring weather forecast service for Australia & NZ, South Africa, Europe and America. It was created by Matthew Scutter of Australia. It works great with SeeYou for PC to help you optimize your cross-country soaring and wave flying.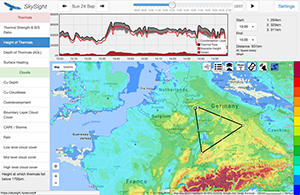 5+ days forecast range
Half-hourly time steps
High resolution forecasts
One price for access to all covered regions
Route forecasts
SkewT forecasts
Modern user interface
Phone & Tablet friendly
Access

SkySight is accessed through the skysight.io web site. It works great in any web browser, on any computer or mobile phone, or tablet.
Purchasing Access to SkySight - Use the coupon code or direct link below to get 2 Extra Months
The price for a SkySight subscription is $79/year.
By using the coupon code or direct link below you'll be saving money and supporting Cumulus Soaring, Inc. The code and link work only for your first year's subscription. Future years are handled by SkySight directly.

About
SkySight has been under development for several years, and has been carefully tuned for soaring conditions globally. SkySight has been used to break a number of distance and altitude records across all soaring disciplines, and is the choice of several winning teams at World Gliding Championships. We hope SkySight's large forecast area, superior forecast quality, and long forecast range will be behind the fall of many records present and future.

SkySight Training Video with Author Matthew Scutter - Excellent
Technology

SkySight's unique design and infrastructure allows it to deliver a number of features, including:
Extremely high resolution forecasting - better for convergence, wave and mountains
Specialized, up-to-date terrain, soil and crop data loaded into the model
Clean, modern interface, with support for mobile and tablets
5+ days forecast range
Under active development - new features all the time
SkySight is the result of years of development, leveraging a number of open source and proprietary software packages, coupled with specialized datasets for our forecast areas.
---
Unique Features

Wave Cross-Section


This is an extremely powerful and cool feature. First, use the slider at the top of the SkySight window to select the desired time of day. Then, on the left side of the window, in the "Wave" menu section, select "Vertical Velocity 5km/500mb" and the click on the Cross Section tool

. The icon will change to a blue background color when selected. Then click and release at the start point of the desired cross-section, then click and release at the end point. The line should be drawn parallel to the wind and across areas of lift. A cross-section plot will appear which shows the strength and altitude of the wave across the distance of the line - as if looking at the line from the side. It clearly shows where the wave lift is forecast to be good. This functionality was built for Perlan, who used it on their record breaking flight. Wow!!!

PFD

SkySight features a powerful graphical and numerical weather analysis tool called "PFD" (Potential Flight Distance) which makes it easy to quickly asses the soaring weather forecast. A PFD of 100 means that the conditions support a flight of 100 km. PFD maps show intuitively which areas will best support your cross-country soaring flight plans.
Daily Weather Overview Plot
The daily weather overview plot pulls together a huge amount of data into a simple and intuitive table - making it easy for anyone to assess the soaring weather for today, and 5+ days into the future.

Easy To Access Animated Weather Forecast Maps
I love how SkySight makes it easy to view soaring weather forecast maps - and play animations of them. Or use the time of day slider to see graphically when the best soaring conditions will start and end.

Those who use SeeYou for PC for your soaring task planning will love how SkySight weather data has been integrated into SeeYou. You'll see graphical wind indicators on the task planning map along with flags on the task which show whether or not you should be able to complete the current task - given the forecast weather conditions. The awesome integration of SkySight into SeeYou for PC helps you plan your tasks in the areas with the best lift forecast. SeeYou even suggests several tasks that optimize the weather conditions for the next few days. Also, tasks which can (theoretically) be completed are highlighted in the task list with a sun icon. Tasks which can't be completed are displayed with an umbrella icon.

To use the SkySight features in SeeYou for PC, you must have a current SeeYou subscription and a current SkySight subscription. When you first purchase SeeYou, you get a 1 year subscription. Having a current subscription allows access to free software upgrades, the ability to download satellite image maps, and access to SkySight features (if you also have a SkySight subscription). If your SeeYou subscription is no longer current, you can buy a 1-year "SeeYou-Upgrade" subscription (available from Cumulus Soaring, Inc.). If you are new to SeeYou, you can buy a SeeYou license.
Covered Regions
The regions highlighted in the images below have soaring forecast information available at this time.
Covered Regions
(Click on the images below to view larger versions.)
USA West
USA North-Central
and Canada (partial)

USA East

Spain & Portugal
Central Europe
Italy
South America
South Africa
Australia-West
Australia-East
New Zealand
Documentation
---
Showing 1 to 1 of 1 (1 Pages)