Tasman


Tasman Instruments Variometers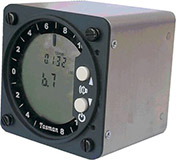 Company Overview
Tasman Instruments is a small company located in Belgrave Heights, Victoria, Australia that is owned and operated by Malcolm Crampton. The Tasman V2000 variometer earned a great reputation for ease-of-use and quality and is very popular around the world. The new VRM10 Sprite Variometer is continuing that tradition. The averager on the face of the unit and the built-in speaker are two reasons for it's great success.
One of 80+ videos in the
Soaring Product Training
series

You can rent this video for 30 days for $3, or buy it for $10, or rent the entire Soaring Product Training series for $60 for one year.
Example System Utilizing the FP10 Flight Pack
Tasman VRM10 Sprite Variometer, Tasman FP10-s5V Flight Pack and PowerFLARM Core

This system is a full featured flight computer system. It does everything that the all-in-one flight computers can do. The PowerFLARM Core is an IGC approved flight recorder. The Tasman VRM10 Sprite is an audio variometer with averager. The Tasman FP10-s5V Flight Pack is a flight data module that adds vario, altitude, and true airspeed data to the GPS and FLARM data so the PDA can display speed-to-fly information and calculate accurate vector wind data. SeeYou Mobile can also use the vario data with its Thermal Assistant. Speed direction (push/pull) will be displayed on the Tasman VRM10 Spite vario in a future version of the FP10 software. The MacCready setting is entered into the Oudie 2. It is unclear at this time whether the MacCready setting will be displayed on the vario and how polar data will be entered into the VRM10 or FP10. The Oudie 2 displays the FLARM, ADS-B and PCAS (transponder) traffic. The best thing about this system is that it is modular. You can start with the Tasman VRM10 Sprite and add the FP10-s5V and Oudie next, then later add the PowerFLARM.
---
Showing 1 to 6 of 6 (1 Pages)