RAMI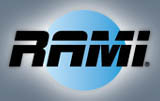 R.A. Miller Industries, Inc.
Related Pages
EAA Transponder Antenna Mounting Tips Video
http://www.eaavideo.org/video.aspx?v=1136841468001
Tips for Ground Planes for Aircraft Radio Antennas
Most radio antennas require a ground plane. The AV-534 is a good example of an antenna that performs best with a ground plane. A ground plane is a metal surface that is connected to the antennas ground (common). There is no need for a ground plane when mounting an antenna on a metal aircraft, but it can be tough to accommodate in a fiberglass aircraft such as a sailplane.
Note: Radio antennas can be mounted inside a fiberglass aircraft, but they would not work well if mounted inside a carbon fiber aircraft.
Below is a note from RAMI about ground planes for aircraft radio antennas.
A proper ground plane is one that extends 1/4 wavelength (at the operating frequency) outward in all directions from the feed point or base of the antenna. 1/4 wavelength at aircraft com frequencies is approximately 24 inches. So the ground plane would be approximately 4 ft. X 4 ft. (or 4 ft. diameter) conductive surface with the antenna mounted in the center. You can also accomplish this with (2) four foot ( 1.22 m) long conductive wires running perpendicular to each other and electrically connected to the shield of the transmission line at the base of the antenna at their mid points. Similar to a base station antenna seen at an airport terminal building. The wires can be run inside the fuselage forward and aft and down the inside wall.

Sincerely,

Ben Ennenga
Engineering Manager / GAA Product Line Manager
RAMI
Tips for Ground Planes for Transponder Antennas
I talked to Ben Ennenga at RAMI about transponder antenna ground planes. Some interesting notes from that conversation are below. Thank you Ben for the friendly and helpful support!
A ground plane is required (of course) with both rod style and blade style transponder antennas.

The smallest recommended ground plane would be 12 inches in diameter (6 inches radius).

A ground plane works about equally well regardless of whether it is made from a solid plate (such as aluminum) or instead made using 2 wires in a "+" arrangement. In either case, the radius should be at least 6 inches.

When working with carbon fiber glider fuselages, the antenna must be mounted on the outside of the fuselage, but it is OK to mount the ground plane on the inside.

The mounting screws for the RAMI AV-74 antenna are connected to the antenna ground. Therefore, you can connect the ground plane to either or both of the mounting screws.

It is OK for the ground plane wires ("+" configuration) to curve and follow the inside of the glider fuselage.
---
Showing 1 to 4 of 4 (1 Pages)