Posters
Overview
These posters look great on your wall at home, at work, or at the local gliderport. They also make great gifts.
Shipping
Posters are difficult to ship. I take every precaution I can think of to insure that they arrive in perfect condition. I ship them using heavy-duty cardboard shipping tubes and store them here in large diameter cardboard tubes. However, it is impossible to completely protect the edges of the poster from damage in shipment. You can expect the edges of the posters to have some very minor creases and even vary small tears. That is normal and unavoidable. It is due to the fact that the posters slide inside the tube while in transit. It really is not a problem if you plan to have the posters mounted and/or framed. A little trimming will make them as good as new.
Soaring Photo Calendars - Also a great "posters"
Another great source of large, colorful soaring photos are current and out-of-date wall calendars. Some offer very large, high quality photos - and you get 12 or 13 of them at a low price when you buy an out-of-date calendar! Below are a few examples. You can see details here: Calendars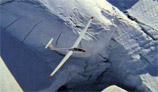 ---
Your shopping cart is empty!