Mutual Support Membership

What is a Mutual Support Membership?
I call them "mutual" because I get your support (buying a membership), and I offer you my support in the form of free access to soaring instrument and software training videos, discounts, free technical support, and free flight recorder calibrations. It is a win-win deal. Membership is available at several levels. Select the membership that will be a good compromise in regard to cost versus benefits that suit your needs.
Added Benefit
Existing and new Mutual Support Members now receive the added benefit of FREE access to the Soaring Product Training video series. Existing members - please ask me for your personal VIP access link.
Reasons to Buy a Mutual Support Membership
Free access to the Soaring Product Training video series for the duration of your membership
Discounts on all purchases (see Benefits table below)
No handling fee on small orders (Most customers pay a $5 handling fee on orders of less than $100 worth of products.)
Free phone support with web conferencing (see Benefits table below)
Free flight recorder calibrations (Only at some membership levels - see Benefits table below)
If I have ever saved you time by having a quick answer to a technical question about a soaring instrument...
If I have ever talked you through the pros and cons of several different soaring instrument system options...
If my soaring product comparison web pages have been useful in your search for a new soaring instrument...
If my soaring instrument example system web pages have helped you figure out how various soaring products work together and helped you select the correct cables for connecting them together...
Benefits of Mutual Support Memberships
Membership Level

Wood

Fiberglass
Kevlar


(Best Value)

Carbon Fiber

Titanium

Membership Fee *

$250

$500

$1,000

$2,000


Duration

1 Year

2 Years
4 Years
8 Years
10 Years

Discount **

2%
3%
4%
5%
6%

FREE Access to
Soaring Product Training
video series ***

1 Year
($60 value)
2 Years
($120 value)
4 Years
($240 value)

8 Years
($480 value)

10 Years
($600 value)

Estimated
Total Discount Savings ****

$20
$60
$160
$400
$600

FREE Technical Support
(Support hours never expire)
*****

2 hours
($120 total value)
3 hours/year
6 hours total
$360 value
4 hours/year
16 hours total
$960 value
5 hours/year
40 hours total
$2400 value
6 hours/year
60 hours total
$3600 value
FREE
Flight Recorder Calibration
******
1
($95 value)
2
($190 value)
3
($285 total value)
FREE
Cumulus Soaring, Inc.
T-Shirt
*******
1
($20 value)
1
($20 value)
1
($20 value)
Estimated Total Benefit
$200
$540
$1475
$3490
$5105
* The membership fees above assume fee payment by check or online check (QuickBooks Payments). Membership payment by credit card is fine, but I will add a fee of 4% to cover credit card fees.
** Discounts apply to all products purchased from Cumulus Soaring, Inc., but only to orders paid using Venmo, Zelle, ApplePay, Google Pay, Facebook Messenger, Cash App, PopMoney. or check. Customers outside the USA would need a bank account in the USA, or using Transferwise.com or Veem.com to be able to qualify for the full discounts. The discount for payment by credit card is 4% less than the amount shown in the table.
*** I will provide a VIP Promo Code which grants 1 year of free access to the Soaring Product Training video series. For memberships of more than one year, after the 1 year of VIP access has expired, you may need to ask me to provide another free year of access. Vimeo seems to only allow a maximum of 1 year of VIP access at a time.
**** It is difficult to estimate the Discount Savings since that depends on the amount you purchase during your membership. For this analysis I have assumed that you will spend $1000 with my company each year. Some will spend more (and save more), some will spend less (and save less). This is not a promised benefit, just an estimated benefit. You are not required to spend any particular amount of money. There is no limit to the amount you can spend (and save). You will get your full discount - no matter how much you spend.
***** This analysis assumes that you use all the free technical support hours. I charge $60/hour for technical support. Technical support includes web conferencing (screen sharing) - so I can see your computer screen (if desired). We can use Skype to talk for free from anywhere in the world. Support hours purchased with a membership never expire. You can use them any time in the future - even after your membership has otherwise expired.
****** Calibration return shipping costs not included. The customer must pay for shipping and shipping insurance costs.
******* The free t-shirt will be included with your next order.
For Individuals Only
Mutual Support Memberships are for individuals. It would not be OK to buy a membership and provide access my soaring videos to everyone in your soaring club. That would impact my ability to make a living and support the soaring community. Likewise, it would not be cool to use a membership discount to buy at a discount for others.
---
A Man of Integrity
I am far from perfect. But I have always strived to be extremely ethical and honest. I try very hard to always give honest advice to customers - advice that is the best for the customer, not advice that pays me more. I have many times had customers complement me for pointing out ways they could make their existing soaring instrument work better - rather than trying to force new, expensive instruments on them. My goal is to help customers in a straight-forward and honest way - pointing out all the pros and cons of several options. I do so because that is how I operate, and because hopefully it will encourage that customer to continue to bring their business to me in the long run - and to encourage their friends to buy from me. In consider myself a servant.
Family Man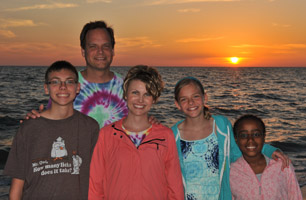 I mention this only because I am proud of my wonderful family and I want you to know a bit about me and where I'm coming from. As of December, 2013 I am 48 years old. I have been married to my lovely, charming and brilliant wife Renee (a registered nurse) for 18 years. We have been blessed with 3 wonderful children. Adam is 17, Elle is 14 and Sara is 12. You can see more about our family here: www.remde.us.
My Work Background
I'm pretty good at technical stuff - like electrical wiring, using soaring software, understanding computers, serial ports and Windows operating systems, working with soaring waypoint and airspace databases, designing mechanical parts, etc. How did I get to where I am now? I studied Mechanical Engineering at Purdue University and graduated with a B.S. in Mechanical Engineering in 1988. I worked for a few years at an engineering company that made hydraulic test equipment. Then I got into the industrial automation industry for about 10 years. I worked as an Application Engineer, and Product Marketing Manager while earning my MBA at the University of Minnesota in the evenings. I eventually worked as a sales engineer for a few years. About that time I started Cumulus Soaring Supplies. I quit my day job and incorporated Cumulus Soaring, Inc. as an S-Corporation in July of 2004. My current job is my favorite one. I love working with glider pilots.
My Soaring Background

I have been flying gliders since 1990. I'm a very technical person who loves talking about soaring, badge flying, soaring instruments, GPSs, Pocket PCs, etc. I am knowledgeable about badge, record, contest and aerobatic flying, and ready to help customers select and use the right instruments and software for their soaring needs. I hold all the FAI Badge legs for my Bronze, Silver, Gold and Diamond badges - with the exception of the altitude gain legs (which are nearly impossible to obtain in Minnesota). I have flown in 5 soaring contests, acted as Competition Director in 2 contests, Contest Manager in 2 contests, and have won 9 Minnesota state soaring records. I have also volunteered as the MN state soaring record keeper for many years. I have owned several sailplanes including a Schempp-Hirth Ventus b and a Schweizer 1-35c. I currently own a small share of a lovely DG-1000S. You can see photos of them on my Soaring Photos web page. My best soaring flight so far was an 800+ km OLC (free distance) flight in the DG-1000 with Dick Andrews from Nephi, Utah in 2015 - what a spectacular place to soar! I am also an active member of the Minnesota Soaring Club. One aspect that I love about my job is that I get to interact with and get to know glider pilots from around the world. I cherish the time spent at soaring contests and soaring conventions and seminars - because I like spending time with glider pilots.
Justification - Why I Hope That I Have Earned Your Support
I have worked hard to support glider pilots to the best of my ability. Below are some of the specific things that (I hope) make me valuable to the soaring community.
My goal is to help customers find the right soaring instruments, software, books and videos for their needs and help them use them.

Because I'm a dealer and expert on nearly all soaring instruments available, I can offer you unbiased advice and support.

I strive to be friendly, supportive and accommodating to customers of all levels of technical ability.

Every day I answer dozens of soaring instrument technical support emails and phone calls for free. I'm glad to be able to help.

I have invested heavily in inventory so customers can get popular products quickly. Most orders ship within 24 hours.

My soaring books inventory is one of the best in the world - with many hard to find classics.

I sell more sailplane model kits and pre-built sailplane models than anyone else in the world.

I also spend considerable time learning how to use each product so I can support customers well.

I have created some very popular Soaring Product Training overview and training videos to help customers figure out which product best meets their needs, and to help them use their existing soaring products.


I am authorized by the SSA to calibrate GPS flight recorders. I am proud that my calibrations go up to 60,000 feet. I don't think anyone else can do that.

I often repair soaring instruments in my office that would otherwise need to go to Europe for repair. That saves their owners considerable time and cost - and avoids the loss of valuable soaring days to instrument troubles.

I keep a few "loaner" instruments in stock (LX9050, V9, V8, V80, Nano) for customers to use in emergencies.

I am authorized as an agent of several soaring instrument manufacturers (Cambridge, ClearNav, EW, LX Navigation, LXNAV) to repair their instruments and reset the electronic security seal on their flight recorders.

I act as an advocate for my customers when they need help getting support from the instrument manufacturers. I can usually solve their problem without the help of the manufacturers, but sometimes I must pass questions on to the manufacturer. I have good relationships with every soaring instrument manufacturer - so I can help customers get help with warranty issues and software bugs, etc.

I help customers use their soaring instruments and soaring software through one-on-one phone support (with web conferencing) and through training videos.

I help customers create waypoint and airspace data files for their particular soaring instrument and soaring site or sites and help them load the data into the instrument.

I have created many "Value Added" features to my web site including

Product Comparisons & Selection Guides

to help you find the products that are best for you.

I write "Soaring Instrument News" articles which are published in "Gliding International" magazine on a recurring basis.

My

Soaring Links

web site can help you find soaring related businesses, clubs and soaring sites around the world.
My

Soaring News

Facebook page (

https://www.facebook.com/CumulusSoaring

) is followed by nearly 2000 glider pilots from around the world and offers the latest soaring product news and links to soaring news, images, and videos from around the world. If you're not a Facebook user - no problem. You can still see the page and click-on all the links on the page.

I consider myself a servant. If I do a good job serving you I hope you will buy from me and tell your friends to buy from me.
Supportive Quotes From Customers
The quotes below are from customers who have purchased Mutual Support Memberships.
I am happy to be able to do something in return for all the help you have provided to me and the soaring society. In my 64 years of soaring I have never experienced soaring service such as you have been providing to the community. Hoping and also believing to a large extent that your plan will work out, soaring pilots recognize a good thing... With my best wishes to your continuing success,
I have enjoyed your expeditious responses to my numerous questions. The discounts were also good.
Paul endeavors to explain and compare technical soaring products at his website in a very clear way that I've found to be highly useful. It's a service that deserves compensation. He obviously puts an extraordinary amount of effort into creating that resource. I view the membership scheme as a means of compensation and hope others will also. I certainly would like to see him able to continue his work.
Please put me down for a Kevlar membership. Normally I wouldn't "donate" to a business, but your support and service over the years have been so exceptional that I consider it more than worth it to me if it will help keep you in business. I hope enough of your other many satisfied customers will feel likewise, because as cockpits get more complicated I know I will need your support in the future.
To the best of my memory, this is my first post on RAS but I though it important to add what an invaluable resource you have been to me over the years. So, as I emailed you the other evening "I'm in". Your customer service has been outstanding, especially when it comes to one on one technical help. Thank you for saving me from myself. Just thought people who are on the fence out to know that you've even called me at home on a Saturday night to help me with a problem so I wouldn't miss flying the following day. Great service and always a pleasure to work with.
I feel I need to add a few more things about Paul and what "added value service" is. Paul is the definition of added value service. His website is so thorough and detailed that most of my questions can be answered by spending some time on his site. Then I buy something from Paul and get frustrated. I am NOT an IT person. Paul takes the time and has the patience to answer questions and help with troubleshooting. Take my new system. An Oudie 2 with SeeYou mobile, a Flarm core, and a Cambridge 302. He says I need a magic interface thingy (K6 Mux), programs it, I put all the cords into the specified sockets, and it works! Four different devices. Four different paths of communication. Four different manufacturers that can deny that the problem I am experiencing is due to their product...and Paul helps sort it out.
Today Paul's website is really the only one that I find to be modern and easy to use. It certainly has the largest amount of good content. While I usually just order online because I know what I want, being able to call Paul when you need an explanation of something is a big benefit. Other businesses now have "workers" answering the phone who don't understand the difference between a TOST and Schweizer tow ring. He really does have the inventory, as opposed to some others where instruments are drop shipped from Europe.
I wish you luck with the new formulation and hope it works out. Although I don't think I'm likely to consume the consultation time it offers (and thus the proposal probably doesn't make economic sense for me personally), I'll agree to purchase the two-year commitment ($250) since I like you and appreciate the quality of your operation. Your proposal presents the question whether a fee-for-services model will work in soaring product sales and support. I don't know whether it will, but hope it turns out positively, since you run a very good operation and I would like to see you continue.
I'm in Paul. Thank you Paul for always being so helpful.
I've found your website extremely valuable over the years, happy to help.
I'm retired from flying due to age, so not much of a potential customer for Cumulus Soaring, but I do appreciate all of your service and dedication to the soaring community, which has been a passion of mine for most of my life, and continues to be. Thank you. I truly hope that your drive is successful.
Your hand holding and cell phone instruction while I am on the ramp are worth it.
Of course I wish you luck, you are one of the few people that runs a business with a consistent focus on the customer.
Best of luck. We need you buddy!
You could be clearer about the number of people who have THANKED you for saving them time. this is a key reason I'm donating so heavily. I figure you have saved me 10 hours of my time examining things and thinking through them. I'm just paying you back for the time you've saved me.
I hope you get a huge response to this effort. You deserve it. Nobody has done more to support the sport of soaring on a personal, one-to-one level.
Please, consider it (the pledge) as free of future discount or anything else in return. You deserve it, and I'm very happy to be able to help you in return for what you do for the soaring community.
Please note that I have found you to be a most honest and fine gentleman. Take heart, I'm sure many others think kindly of you as well. I hope all works out for you and I wish you success.
I enjoy doing business with you, and sincerely hope that you are able to continue to operate Cumulus Soaring, and grow the business and support as you would like. You have always answered my technical questions promptly and the advise you give has been spot on!
Paul has always been very helpful to me when trying to figure out a new piece of equipment or getting it to interface properly with other equipment I am using. He is VERY knowledgeable about all things soaring and lends his support cheerfully. Please consider supporting Cumulus Soaring. The benefits outweigh the cost of support at any level.
The quotes below are from customers who have monetarily supported my company with loans.
"Paul has done any outstanding job of supporting the soaring community the last ten years with not only a large inventory of soaring hardware/software systems but also an in depth knowledge of how these systems function that he graciously shares with the soaring community. I want to help insure his support and dedication to our sport continues by becoming a "Friend of Cumulus Soaring", I hope other people will join me in "Friends of Cumulus Soaring" to help insure Paul is successful in growing his support to our wonderful sport." Dick Butler
"I have known Paul for several years and he is truly dedicated to his family, his business, soaring, and making sure that his customers are satisfied and get the most out of the products that they purchase from Cumulus Soaring. My investment in "Friends of Cumulus Soaring" was a "no-brainer", help Paul provide service and support to the soaring community while receiving a good return on that investment." Geoff Weck, Crystal Lake, IL
"Supporting Cumulus Soaring is a big "win" in many different ways. First, the Friends of Cumulus Soaring receive a very fair interest rate on the dollars invested. Second, the discount offered, phone support and free shipping provided to the Friends is truly outstanding! Finally, this investment provides real support to Cumulus Soaring which has been a key supplier to the soaring community. It will help Paul to continue to supply the very best offering of specialized products needed by soaring enthusiasts around the world! The investment in Cumulus Soaring really helps all of us and supports the overall sport of soaring." - Renny Rozzoni - Albuquerque, NM
"I support Paul and Cumulus Soaring because of his dedication to and support of the sport of Soaring." - Mike Greenwald, Minooka, IL
"I know a win-win when I see one, so I was eager to join "Friends of Cumulus." I am more than pleased with the outcome. A risk free loan with a good return, discounts and free shipping. How can you go wrong?" - Ron Gregg, Houston, TX
"My reasons for becoming a financial supporter of Cumulus Soaring are many. For one, you provide us with personal services regarding our soaring equipment that we cannot get elsewhere. And, you can supply the equipment that we need. I am pleased to be part of the group that helps you continue to assist the gliding community in these ways." - Jim Hard, St. Paul Park, MN
"Paul, You have been a huge help to me in mastering -- well, grappling with -- the latest soaring hardware and software. It has enhanced my flying enjoyment a great deal, and I'm very happy to be able to help you in return." - Mitch Polinsky, Stanford, CA
"Paul's program makes sense to me as I expect to spend several thousand dollars for additional instrumentation in the coming months. In addition, the return is better than I am able to get on a similar term CD." - Frank DeBacker, Highlands Ranch, CO

"I had been giving micro-finance a great deal of thought as a way of improving the financial performance of some of my nest egg. At the same time, I became aware of Paul's program. It's a perfect fit. Better performance than anything the bank will offer, I know the owner of the company I am investing in, I am familiar with his product offering, and I know his customer base. I can think of no better "sleep-soundly" investment than this in terms of micro-finance." - Anonymous friend in SC
Supporting More than Just Me
By helping my company, you are helping support me and my family, but also my shipping assistant Dena and her daughter Hailey. Dena is a single mom who does a great job shipping orders to soaring pilot customers around the world, and helping me keep the office organized, etc. I am proud to be able to offer her employment.
Please Help Spread the Word
I suspect that only a small fraction of the soaring community is aware of Mutual Support Memberships. Please help me spread the word. Please forward a link to this page (cumulus-soaring.com/membership.htm) to your soaring friends, soaring club associates, soaring club newsletter editors, soaring e-mail lists, etc. I greatly appreciate your help.
Conclusion
Thank you for taking the time to read this document. I hope you will consider purchasing a Mutual Support Membership. I enjoy serving the soaring community. I appreciate every order I have received over the years and all the many customers and vendors who have shown me kindness.
Thank You,
Paul Remde
Cumulus Soaring, Inc.
8661 Connelly Place
Savage, MN 55378
USA
paul@remde.us
1-952-445-9033