Alps Face Mask
The newest members of the Mountain High family of products are the MH ALPS FaceMask and the MH ALPS-M (for microphone) FaceMask. The ALPS-M is outfitted with an electronic "Clear-Speak" ambient noise-canceling microphone that enables pilots to fly with safety and comfort with clear, crisp voice communication and is compatible with most aircraft systems. The mask is easy to put on and exceptionally comfortable as it does not require a polyvinyl bag. The ALPS or the ALPS-M FaceMask can be used with any of the MH oxygen systems.
Sizing Chart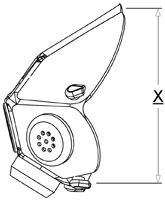 (1) Measure from the bridge of your nose to the bottom of your chin.
(2) Compare your measurement to the table below to choose best fit.
Alps Mask Sizing Chart
| | | | |
| --- | --- | --- | --- |
| X (inches) | X (cm) | Size | Model # |
| 4.25 | 10.8 | Small | AMSKS |
| 4.75 | 12.1 | Medium | AMSKM |
| 5.12 | 13 | Large | AMSKL |
Models




Replace the "x" in the model number below with "S" for small, "M" for medium, or "L" for large size.

Part Number

System Compatibility

Microphone

Price

AMSKx-1000-00

Constant Flow

no mic.

$189

AMSKx-2000-02

Constant Flow

microphone

$529

AMSKx-1100-00

EDS O2D1 or O2D2

no mic.

$189

AMSKx-2100-02

EDS O2D1 or O2D2

microphone

$529

AMSKx-1200-00

EDS-ip

no mic.

$189

AMSKx-2200-02

EDS-ip

microphone

$529
Related Products