SPOT X Satellite Messenger with Bluetooth
The SPOT X offers 2-way satellite messaging with a buit-in hardware keyboard. It also sends your altitude with every message and tracking point. The built-in back-lit keyboard makes it easy to send and reply to messages from anywhere.
Previous SPOT units were one-way messengers. You could send messages out, but couldn't receive or respond to messages. Also, previous SPOT units couldn't send altitude data along with your position in tracking mode. The new SPOT X can do all of that.

Tracking Service Options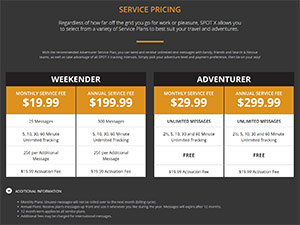 Click on the image above to view a larger version.
Specs
Height: 6.54" (16.6 cm)




Width: 2.9" (7.5 cm)




Thickness: 0.94" (2.4 cm)




Weight: 7.0 oz (198 grams)




Battery Type: Rechargeable Lithium Polymer




Weatherproof Rating: IP67 – Tested for submersion in 1 meter of water for 30 minutes

Impact Resistance: Mil-STD-810G for shock, IP67 for dust

Operational Temperature: -4° F to 140° F (-20° C to +60° C)

Storage Temperature: -4° F to 140° F (-20° C to +60° C)

Operating Altitude: -328 ft to 21,320 ft (-100 m to 6,500 m)
Not Included:
The price does not include the annual service plan (see image above).

The service plan is selected and paid for at www.findmespot.com once you have the unit in hand.
SPOT-X
Brands Spot
Product Code: SPOT-X
Availability: In Stock