Cross Country Soaring With Condor
Author: Frank Paynter (TA) ("TA" is the competition number on Frank's sailplane.)
Book, Paperback, 119 pages, dozens of black and white images, Companion CD with Condor files and color images
Dimensions: 8.2 x 10.9 x 0.31 inches (208 x 277 x 8 mm)
Condor 2 Compatibility
This book and companion CD were originally created for Condor (1). However, most of the content also applies to Condor2. The only exception I can think-of is the "Flight Plan" and "Replay" files on the companion CD. They are compatible with Condor 1 only, not Condor2.

Cross Country Soaring with Condor describes how to use the Condor soaring simulator to develop and improve your real life cross country soaring skills. The basics of getting started with Condor are explained in detail, along with a wealth of information that will help you progress much faster up the cross country learning curve.
If you are not familiar with the Condor "The Competition Soaring Simulator" you can see details here: Condor. It is a great soaring flight simulator. Some glider pilots use Condor to improve their basic glider flying skills, or to teach others the basics of flying gliders safely. Scott Manley has been very successful at using Condor in that way. It is a great (and popular) use for Condor, but that is not what Frank Paynter uses Condor for. Frank uses Condor to improve his cross-country racing skills.
About the Author
Dr. Frank (TA) Paynter has a PhD in Electrical Engineering with a software engineering focus, and is currently semi-retired from a research position at The Ohio State University. He co-authors (along with Scott Manley) the popular Condor Corner column for 'Soaring' magazine and is a regular contributor to the Condor section at SoaringCafe.com. Along with Mark Hawkins, he is part owner of Hawke Tracking LLC, the company that provides SPOT tracking services for contests and clubs. Before soaring came along, Frank was a national champion skydiver and still holds the record for the most number of consecutive dead-centers in skydiving competition. Frank started soaring in the mid-1990's at Caesar's Creek Soaring Club near Waynesville, Ohio and instantly fell in love with cross-country racing. Now he goes to as many contests as his wife of over 30 years will allow, and spends his winter months racing in Condor.
Companion CD


A companion CD is included - FREE. It contains flight files and additional graphics keyed to the relevant chapters. For each example flight discussed in the book, a Condor Flight Plan (.FPR) (for Condor only - not Condor2) and Condor Replay (.RPY) file (for Condor only - not Condor2) is provided on the CD so the reader can fly the same flight themselves and/or watch the flight progress. To keep the cost of the book low, all the images in the book are black and white. However, every image used in the book is also included on the companion CD in full-color and full-resolution. The CD also includes 2 Condor training videos: "Mifflin Transitions" and "Thermal Helper". Those videos are also available on YouTube in lower resolution:
Mifflin Transitions: http://www.youtube.com/watch?v=l-s-anI6v0s
Thermal Helper: http://www.youtube.com/watch?v=gs61CxgryU8
Review by Paul Remde
The goal of the book is to teach sailplane pilots how to use Condor to become better (faster, safer) cross-country soaring pilots. If you are not a pilot of full-size gliders, you can use the book to improve your skills and speeds when competing with other Condor pilots online. Frank is a very experienced cross-country soaring pilot. In recent years he has been flying in many soaring contests each year - and doing well in them. During the off season (when his glider is put away for the winter) he flies Condor - a lot! He spends many dozens of hours racing in Condor - with the goal of gaining experience that he can apply in the cockpit - to help him win races. It seems to be working for him. He's good, and he does a very good job of passing on many speed and safety related tips in a clear and concise way. The Table of Contents gives you a good idea of what to expect from the book - as does the Introduction. The book starts with the basics of how to use Condor, and moves on to advanced cross-country soaring tips and detailed instructions for getting into online racing with glider pilots around the world with Condor. Anyone interested in using Condor to improve their cross-country soaring or sailplane racing skills should get this book.
Note: To keep the cost of the book low, all the images in the book are black and white. However, every image in the book is included on the companion CD in full-color and full-resolution.

The image above is from the section about how to make upwind ridge transitions.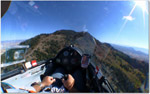 The 2 images above show how Oxford Peak near Logan, Utah looks in Condor, and in "RL" (real life).

Cross Country Soaring With Condor
Brands books
Product Code: Cross Country Soaring With Condor
Availability: In Stock
Related Products