Aerotowing Gliders - A guide to towing gliders, with an emphasis on safety
Author: John Marriott
Book, Paperback, 130 pages, dozens of black and white images and drawings, Published in May of 2011
Dimensions: 9 x 6 x 0.3 inches (229 x 152 x 8 mm)
From the Introduction in the book
This book on aerotowing gliders was written because there is little reference material published about the subject worldwide. The best I have found is 'Towplane Manual' by Burt Compton and published as part of Bob Wander's Gliding Mentor Series in the USA. So because of the lack of published information, I thought it important to gather the wealth of knowledge that is out there on the subject, collate it and present it to our community in the interests of safety ands efficiency

This book is intended as a comprehensive guide to glider towing operations, with that all important emphasis on safety. The intent is to provide all the relevant information in one straightforward, easy to read book. The notes are intended to be very generic and non-country specific. Even though local procedures differ, hopefully the information should be useful to any glider tug pilot, anywhere in the world. Each gliding organization has its operating environment and problems, therefore should adapt, further or improve these suggestions to suit their own needs.

You will find that some important points are emphasized and sometimes repeated.

It is fundamental that every tug pilot be a person who is both trustworthy and highly reliable as it is a flying task with huge responsibility placed on the pilot. Aerotowing is expensive, can be noisy and has its own special hazards. These factors have a bearing on the very existence of gliding and it is therefore essential that glider aerotowing be carried out safely, efficiently and thoughtfully, paying particular regard to our neighbors. Your particular aerotowing should of course be carried out in accordance with national laws, regulations, procedures and in conjunction with your organization's flying rules.

As the pilots in command of an aircraft you are ultimately responsible for the safe conduct of the flight and the actions that you choose to take. The glider pilot's requirements should of course be accommodated as far as possible.

Glider aerotowing should be good for your general flying skills. As a flying and gliding instructor for over twenty five years, I have noticed that most glider tug pilots are often also glider pilots and have above average handling and situational awareness skills. Flying tugs should of course also be quite good fun!

It is hoped that this comprehensive book will meet the ground school requirements of any current or future glider towing ratings.
About the Author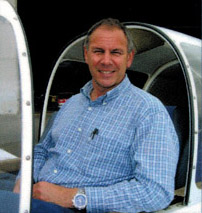 Having spent the major part of my gliding life at glider winch launch sites, compared with some I'm not actually that experienced a tug pilot; I have a few hundred hours (mainly) on Pawnees, Supermunks (Lycoming engined Chipmunks), Robins and a little in Super Cubs. However, I do have over twenty five years experience as a full category gliding instructor, motor glider instructor, light aircraft flying instructor, loads of free time (not!) and because of this – and the fact they couldn't find anyone else - the British Gliding Association (BGA) in its wisdom asked me to be its senior glider tug pilot.
I have acquired some 17,000 hours in powered aircraft, including over 3,000 in light aircraft and motorgliders, and over 1,000 in gliders. I pay the mortgage by being a Boeing 777 captain for British Airways. I also have a safety job for the British Airline Pilots Association (BALPA) and am an accredited accident investigator for the International Federation of Airline Pilots Association (IFALPA).
A few years ago while I was a 'relatively' bored first officer flying Boeing 747s and at the ripe old age of 44 years I embarked on a distance learning MSc course in Air Safety Management. Thanks to six day trips sitting around some remote destinations with not much else to do, I managed to complete the MSc two years later.
I'm very lucky, as gliding clubs in the UK are generally well run and have fine tugmasters who execute a sensible, pragmatic and safe approach to their operations.
Over the past few years of doing the job, I've wrung the minds of many experienced tug pilots and simply tried to bring together best practices and disseminate them amongst our community.
Review by Pete Stratten, British Gliding Association Chief Executive and weekend instructor/tug pilot at Windrushers Gliding Club - from Sailplane and Gliding magazine, Aug/Sept 2011

As a tug pilot with a few hours of experience, but with seemingly too long gaps between towing sessions, I've often thought that a printed aerotowing guide that provided accessible information and tips would be a helpful addition to any tuggie's bookshelf, regardless of his or her experience. Certainly when I was a Class Rating Instructor and helped with training tug pilots at my club, it would have been very helpful to have a comprehensive source of information and written advice to stick under the tug pilot wannabe's nose, well before the flying and fun started. So when John Marriott recently visited the BGA office clutching the first, hot off the press copy of his book Aerotowing Gliders, I was only too pleased to have a read through it.
John has clearly spent a lot of time carefully researching the subject matter. From the introduction by Sir John Allison right through to the last page, the book adopts a light, but informative, style that reflects John's flying and teaching experience and an awareness of the needs of everyone involved in an aerotow operation - including the gliding club treasurer!
Without lecturing us, John refers frequently to known, sensible safe operating practices that have served us well for many decades and continue to do so. Dotted throughout the book there are a number of references to human factors issues that John relates very clearly to tug operating.
Reflecting on others' experience, John has included a number of quotes from tug and glider pilots, who have had their own 'interesting' moments. As a qualified accident investigator, John is only too aware of how easily any of us can get it wrong. Quite early on in the text, we are reminded of the 'Swiss Cheese' model and John demonstrates very clearly how, if we can close the gap by trapping and mitigating or avoiding hazards in flight, we can minimize risk to a reasonable level and therefore keep the experience fun.
This book will help any tug pilot to consistently achieve all of that in what can be, at times, a challenging aerotowing environment.
I have no hesitation in recommending Aerotowing Gliders to experienced tug pilots, as well as those PPL holders who have yet to become tug pilots.
Aerotowing Gliders
Brands books
Product Code: Aerotowing Gliders
Availability: In Stock
Related Products