flyWithCE




Overview



flyWithCE is software for Pocket PCs created by Uroš Podlogar in Slovenia.
Navigator
Navigate over waypoints, on task and around reserved airspace. Program supports standard NMEA GPS receivers, several glider instruments and the LX Navigation LX1600 instrument.
New Features
The new features found in the latest version of Navigator are available here: http://www.flywithce.com

flyWithCE Navigator Screen Captures

Simple Moving Map with
Waypoints and SUAs displayed.
Elevation Maps
Thermal History Graph
MC/Ballast Window

You can create many tasks before you takeoff. Lets say that 10 of them have the same start point. When you go through the start point, the program begins tracking statistics for all 10 of those tasks. If you change tasks in flight, statistics are preserved for any of the tasks. When a leg of a task is completed, you will see speed, time on leg, altitude of arrival, etc. on the task page. In addition at the top of the task page you will see total time on task and average speed on task.Key Features

For TAT's, you can drag a point around the sector to get new distance on leg and around the task information. When you turn in the sector, you hit the "Turn" button on the task page and statistics are calculated from that point.

Large text option. In the settings screen under MapText you will see a dropdown menu for MapText size. When you select the larger setting of 4 in a row, the text becomes quite large. This is a very good feature for pilots with less than perfect eyesight.

All hardware keys are user selectable.

Another innovative feature of flyWithCE is "Tap and Drag" When you drag your finger across the screen the Waypoints window will open with all waypoints in the direction you have dragged. This is good if you are flying down a cloud street and you would like to know what waypoints you can turn at ahead.

Large controls (some other popular programs on the other hand do not have this feature)

Color coding - the background color in all lists changes according to the waypoint status (in task and also in goto waypoint window)

The only program that can display final glide parameters for two waypoints on the map screen (final glide to next wp in task and final glide to any other waypoint)

Since Navigator has all tasks features it is also useful for competition pilots

With multiple start function it is also able to support multiple start sectors (you just declare several identical tasks with different start sectors - when you will enter sector program will start task)

As I know first program that displayed required LD to reach the waypoint

First program that displayed airspace list

Support only for known data formats (Zander, Winpilot and at the most SeeYou - tasks and waypoints) - no new format

Supports special GPS data sentences from the products listed below:

LX Navigation (LX20, Colibri, LX160, LX5000, LX7000, LX7000pro)

Zander (SR940, SR941)

Borgelt B50

Volkslogger

Cambridge Aero Instruments 302

Westerboer VW921, VW922
Free Version of Navigator
There is a new free version of Navigator which can connect to a GPS and be used for simple navigation. Below is a summary of the differences between the free version and the $150 version. Navigator Free will read only standard NMEA GPS sentences and will not decode other sentences that are transmitted from glider instruments (they usually include information about pressure altitude, vario, airspeed,...). This information is otherwise used to calculate better final glide and wind parameters. Beside the differences in this table all other features are supported in Navigator and Navigator Free.
| | | |
| --- | --- | --- |
| | Navigator Free | Navigator |
| NMEA GPS sentences | X | X |
| Additional instrument sentences | | X |
| Task support | | X |
| Task declaration | | X |
| Thermal statistics | | X |
| IGC flight recording | | X |
| Parameters page | | X |
Downloader
DownLoader is a program for downloading recorded flights from IGC approved flight recorders. It is written for Palm PC (OS version 2.01 and 2.11) and Pocket PC devices (OS version 3.00) and runs on MIPS, SH3 or ARM microprocessors. The following flight recorders are currently supported:
LX Navigation / Filser

Colibri, LX20, DX50, LX5000, LX7000, LX7000pro

SDI Variometer

PosiGraph



flyWithCE Downloader Screen Captures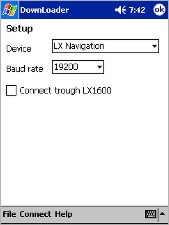 Downloader

Product Details and Manuals
Please Buy from Me
It is possible to order the software registration keys directly from flyWithCE. I ask that you please order it from me. I strive to help soaring pilots find and use the right products for their needs. I have created product comparisons like the Flight Software Comparison to help customers with those decisions. I also offer support to customers who buy through me. The way to thank me for the services I offer is to help support my business by buying from me.
Downloads
The software can be downloaded and tested using the links below. To enable the software you will need to buy a registration key.
Registration Process
The registration process is described below.
Order your

Password

from the price list below. You will receive your

Password

from me in 24 to 48 hours.

Download the software and install it on your Pocket PC.

Run the software on your Pocket PC and go to the Help/About/Register... screen. There you will see a string of characters that you will need to use to register. This is called the

Registration Code

. The

Registration Code

is generated by the software from your Pocket PC serial number or instrument serial number.

Go to the

Registration web page

and enter the

Password

and the

Registration Code

. The web site will generate your unique

Registration Key

.

Run the software on your Pocket PC and enter the

Registration Key

into the box on the Help/About/Register... screen.
Currency Issues
Since the products below are from Slovenia, the prices are subject to change with fluctuations in exchange rates.
---
Showing 1 to 1 of 1 (1 Pages)