Glide Navigator II Soaring Software
Glide Navigator II Homepage | Revision History | Polar Data | Downloads

Overview
Glide Navigator II is soaring software for your Pocket PC computer. It offers moving map navigation and final glide functionality. It will run on all Compaq Aero, Dell and iPAQ Pocket PC's. It is compatible with any GPS that outputs NMEA 0183 data (Garmin, Volkslogger, Colibri, Filser LX20, Transplant, EMTAC, TeleType, etc.) and offers two-way data communication with Cambridge Aero Instruments GPS-NAV, L-NAV and 302 instruments.
New Version Available
Version 3.0 offers a new password scheme that is tied to the pilot name rather than the GPS or PDA. That means that you will not need to purchase a new password in the future when you upgrade your PDA or GPS. Details are available on the Revision History page. If you already own a license to GN II you can upgrade to version 3.0 by purchasing a new password. You can download the new version on the Downloads page.
Strengths
The key strengths of Glide Navigator II are ease-of-use and the large text which is easy to read in flight. There are some very impressive competitive products available, but none are as easy-to-use as Glide Navigator II. It provides everything you need to fly your task as fast as possible without all the extra screen clutter and complexity you get with excessive features and topographical maps. This strategy has made GNII a success with US competition pilots and many recreational pilots. Ease-of-use is important when flying your task, and when you are learning the product. The simple user interface used in GNII makes the learning curve steep (fast). Another key benefit of Glide Navigator II is in cockpit visibility. Many competitive products offer impressive topographical maps, but the use of multiple colors on the screen reduces contrast and therefore visibility. Glide Navigator II's simple display with waypoints and SUA data only provides an black on white high contrast display that is more visible in bright sunlight (our natural environment). That is very important because available Pocket PC screen technology is not as bright as you would hope in sunlight.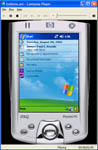 Pocket PC Training
Now Available as FREE Online Videos (low resolution) or purchase a CD with the full resolution versions for $14.95
Downloads Page
The items below are available on the Downloads page.
Documentation -

Glide Navigator II Tips, Pocket PC Tips and the Glide Navigator II Manual

Waypoint and Airspace Files

Program Files -

Released and Beta versions of Glide Navigator II are available
Polar Data
Customer supplied polar data is available here: Polar Data
Mailing List
I have an e-mail mailing list of Glide Navigator II customers who would like to receive announcements about the availability of new versions of Glide Navigator II. If you are not already on the list, please send me an e-mail at the address at the bottom of the page. I automatically add you to the list when you purchase the software.
Glide Navigator II Mailing List/Discussion Group
Due to requests by customers, I have created a new Glide Navigator II User's Group on Yahoo. It is an automated e-mail list/discussion group for Glide Navigator II users. New members must be approved by me, so junk e-mail should not be a problem. If you prefer you can use it as a discussion group such that you will not receive any e-mails, but will need to go to the web site to check for new messages. To use it as a discussion group you must change your preferences so that you don't receive e-mails. I will still maintain my own separate Glide Navigator II e-mail list of all customers. This new group is an optional way for users to help each other with technical questions and to discuss ideas for new features to GNII. The group is open to current GN users or people who are interested in learning more before buying. - http://groups.yahoo.com/group/GNII
Cumulus Soaring, Inc. Email Newsletter
If you prefer not to receive e-mails from other GN II users but do want to learn about new software releases, please sign-up now for the free Cumulus Soaring, Inc. Email Newsletter using the form below. The newsletter will provide timely information on new soaring products and services, new software version releases, special offers, and soaring news from around the world. You can select from several e-mail lists - including a Glide Navigator II User's list. I am using a very reputable e-mail marketing service called Constant Contact, so your data will be safe, and you can opt out at any time. I promise to limit the frequency of the newsletters to a maximum of 1 or 2 each month (probably less). Screen
Screen Captures
Click on the images below to view them at full resolution.
Moving Map
Reachable airports
are highlighted
Airport Details
Touch any waypoint
to view the altitude
needed, distance and
other waypoint info.
Improved Menu
Navigation
Task Edit
Note the large
buttons and text you
can easily select with
your finger in flight
Edit Turnpoint
Area Task (TAT)
Radius
Show Task Screen
Note the new
"Move Pt" button
Move Point Screen
Drag the turnpoint
within the circle and
see the "Estimated
Total Time" change.
Go To Waypoint
Capture
Disclaimer
This software is to be used as a reference only for in-flight navigation. Waypoint file, airspace file and polar data accuracy is the responsibility of the pilot. Inaccurate setting of numerous user adjustable parameters in the software will make glide slope, distance and arrival altitude calculations incorrect. Wind estimates calculated by Glide Navigator II and soaring flight computers are approximations and should be monitored by the pilot. Even if all the data available to Glide Navigator II is correct, final glides in sailplanes are extremely sensitive to movement of the airmass you are flying in. Winds vary with altitude and these variations are not accounted for in the software. Also, a little bit of sink can change your glide slope dramatically. Changes in barometric air pressure due to changes in the weather can affect the altitude received by Glide Navigator II and affect the arrival altitude displayed by Glide Navigator II. It is the pilot's responsibility to verify that the data presented by Glide Navigator II makes sense and the pilot must make sure he/she does not get into any unsafe situations. Cumulus Soaring, Inc. and Soaring Innovations are not responsible for incorrect information displayed by Glide Navigator II. By downloading and using the software the pilot acknowledges his/her responsibility and will not hold Cumulus Soaring, Inc. or Soaring Innovations responsible for errors in the information provided by Glide Navigator II.
History
Chip Garner introduced the original Glide Navigator soaring software program in the early 1990's. Late in the 1990's it moved to the Windows CE platform as "Palm-NAV" and later "Pocket-NAV" under the Cambridge Aero Instruments logo. In mid 2002 Chip released the next generation of the product as Glide Navigator II with approval from Cambridge. He formed an alliance with Paul Remde of Cumulus Soaring, Inc. with Paul taking on the product marketing and support roles. In 2008 Chip refocused his efforts onto the NK ClearNav product and decided it was best to separate himself from Glide Navigator II. Cumulus Soaring, Inc. now owns the rights to Glide Navigator II and plans to move it forward in the future and continue to provide excellent technical support for years to come.
Top Features - Available Now
Moving Map display of waypoints and Special Use Airspace

Final Glide around multiple turnpoints

Reachable landable waypoints are highlighted on the screen - This is the most important feature because you can glance at the screen and immediately know which nearby airports you can make it to.

Large fonts and buttons for easy use in flight

Easy task creation and editing

Support for Turnpoint Area Tasks

Statistics on the current task

FAI Photo Sectors Displayed

Accepts NMEA data from any GPS

Used by top competition pilots around the world

Perfect for new cross-country pilots

Task declaration and flight log downloading with CAI GPS-NAV

Task declarations can be sent to Cambridge 302 and 302A GPS flight recorders

"IGC File" flight logging to flash card or Pocket PC memory (not official or IGC approved, but still fun to view after the flight in SeeYou or StrePla)

Free upgrades for 1 year
Glide Navigator II is compatible with many GPSs, Flight Loggers, and Flight Computers. The table below shows the features supported with each product. Please let me know if you need us to add more support for your GPS. We use customer feedback to help us prioritize our list of new features.
Comparison with Competitive Products
Let me first say that there are some very nice competitive soaring software products available. Glide Navigator II does not offer the color topographical maps available in some software products. However, Glide Navigator II has everything you need to optimize your speed around a course. Do color maps help you fly faster? Or do they make it more difficult to find the data you really need? Also, many pilots believe that Glide Navigator II has the best user interface for editing tasks in flight. We strive to make Glide Navigator II the easiest soaring software to use. Some pilots will prefer the other brands, others will prefer Glide Navigator II.
Don't take my word for it, try it. Download the software and run it in simulator mode on your Pocket PC. Download the competitive products as well. We hope you will agree that ours is the easiest to learn, and the easiest to use in flight. You can run it in simulator mode without a password. It will not connect to a GPS until you purchase a password. The program is available on the
Downloads
page.
Future Features "Wish List"
I've put together a "Wish List" of features that, in an ideal world, might be nice in future releases of Glide Navigator. Many of the suggestions are from customers. We can't promise to implement all the suggestions, but we want you to know what is on the wish list. You are encouraged to e-mail your own wish list items to me for addition to the list. If you really like and item, send me a note so that we can get a list of pilots who dig the idea. We aim to please, so the more people that express interest in a particular proposed feature, the more likely we will be to implement it. Reading through the list may also spark some new ideas, so please help us improve Glide Navigator.
The downloadable files on the
Downloads
page function in simulator mode until a password is entered. This password is obtained by purchasing a license for the software. Starting with version 3.0 passwords are tied to the pilot's name. In previous versions of GN II the password was tied to either the PDA or GPS serial number. That is no longer the case. The password is tied to the pilot's name only and will work with any PDA or GPS. That way you won't need to buy a new password when you upgrade your PDA or GPS. However, we will charge for new passwords when new versions of the software become available.
When you place your order, you will be prompted for the Pilot Name to which you want the password tied.
It is not OK to enter a pilot name that is the name of a club or syndicate. Glide Navigator will prompt you for the password the first time you run the software. GN II will not connect to a GPS unless a matching Pilot Name and password are entered. You can, however, run the software in simulator mode without a valid password. Licenses and passwords are not transferrable. If you sell the PDA we ask that you enter a bad password into GN II so the new user will be required to purchase a password.
Licensing Examples
Two pilots share a glider and keep a PDA in the glider for them both to use. In this case I recommend that the pilot that owns the PDA buy a single GN II license with his/her name displayed at startup.

Two pilots share a glider and both have their own PDAs. In this case both pilots should own their own licenses for GN II. This is required because they can take their PDA with them into other gliders.

A syndicate owns a 2-seat glider and keep 2 PDAs in the cockpit for all syndicate owners to use. In this case I recommend that the pilot that owns the PDAs buy a single GN II license with his/her name displayed at startup.

A syndicate owns a 2-seat glider that can accommodate 2 PDAs, but each pilot owns their own PDA. In this case each pilot should own their own license for GN II. This is required because they can take their PDA with them into other gliders.
Free Upgrades for One Year
Purchasing a license entitles you to one year of free software upgrades. We call this a "Software Maintenance Agreement". Upgrades during the year are free. Upgrading after the year has expired will require the purchase of another 1-year Software Maintenance Agreement for $95. If you don't feel that there are new features that warrant upgrading, you don't have to. The software will continue to function without limit - the password never "expires".
---
Refine Search
Showing 1 to 3 of 3 (1 Pages)