TopMeteo


Overview
TopMeteo is a soaring weather forecast website offering unique features to help you plan your soaring flights. It does a fantastic job of showing which geographical regions will offer the best cross-country soaring speeds and climb rates. It can also be used to help you decide which upcoming day offers the best soaring weather. TopMeteo was created by 2 German soaring pilots who are also certified meteorologists. It has been extremely popular with soaring pilots in Europe and South Africa and is now available for use in the USA.
Access
TopMeteo is accessed through the topmeteo.com web site. A "mobile device friendly" version of the site is also available for use with your smartphone or tablet.
Purchasing Access
Please buy your TopMeteo access license using the link below. Cumulus Soaring, Inc. charges the same amount you would pay if you purchased it on the topmeteo.com web site. I will be creating TopMeteo training and overview videos which will help you get the most out of the web site. Ordering the license from me will help support my efforts.
Available Separately in Several Regions
TopMeteo licenses can be purchased separately for the USA (usa.topmeteo.com), Europe (topmeteo.eu), and South Africa (africa.topmeteo.eu). Cumulus Soaring, Inc. currently sells licenses only for use with the U.S. version. Please ask if you need a license for another region.
Qualification
The people at TopMeteo have been involved with weather forecasting for many years. They say that the atmosphere has become our second home. Firstly, because they deal day in and day out with weather forecasts "from afar" as certified meteorologists. And secondly, because they are pilots themselves and are only too happy to get a close look at what they're reporting. Flying gives them a completely different perspective on weather-related processes – something that non-flying meteorologists can never have. They are very close to the weather and put their experience into our own weather simulation model.
The Team
The TopMeteo team consists of certified meteorologists, mathematicians and technical personnel. They rely on their own weather simulation model, which is embedded in the world's best current weather model, the Global Forecast System, of the USA. Many years of experience in modeling, software development and statistics and meteorological media make up the foundation for their development and offering of innovative solutions in the areas of flight meteorology and wind power.
The TopMeteo Vision
Preparation, visualization and operational availability of weather information that EVERYONE understands.



Unique Features

(Click on the images below to view larger versions.)
PFD
TopMeteo features a powerful graphical
and numerical weather analysis tool called
"PFD" (Potential Flight Distance)
which makes it easy to quickly asses
the soaring weather forecast.
A PFD of 100 means that the conditions
support a flight of 100 km. PDF numbers
are provided on the Site Forecast page for
each hour of the day. PFD maps
show intuitively which areas will best
support your cross-country soaring
flight plans.





Site Forecast
The Site Forecast page pulls together a
huge amount of data into a simple and
intuitive table - making it easy for anyone to
assess the soaring weather for today, and
3 days into the future. Two additional forecast
days can also be purchased as an optional upgrade.





Easy To Access Animated
Weather Forecast Maps
I love how TopMeteo makes it easy to
view soaring weather forecast maps
and play animations of them.





SeeYou for PC Integration
Those who use SeeYou for PC for your soaring task planning will love how TopMeteo weather data has been integrated into SeeYou. You'll see graphical wind indicators on the task planning map along with flags on the task which show whether or not you should be able to complete the current task - given the forecast weather conditions. The awesome integration of TopMeteo into SeeYou for PC helps you plan your tasks in the areas with the best lift forecast. SeeYou even suggests several tasks that optimize the weather conditions for the next few days. Also, tasks which can (theoretically) be completed are highlighted in the task list with a sun icon. Tasks which can't be completed are displayed with an umbrella icon.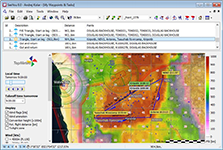 To use the TopMeteo features in SeeYou for PC, you must have a current SeeYou subscription and a current TopMeteo subscription. When you first purchase SeeYou, you get a 1 year subscription. Having a current subscription allows access to free software upgrades, the ability to download satellite image maps, and access to TopMeteo features (if you also have a TopMeteo subscription). If your SeeYou subscription is no longer current, you can buy a 1-year "SeeYou-Upgrade" subscription (available from Cumulus Soaring, Inc.). If you are new to SeeYou, you can buy a SeeYou license.
TopMeteo – professional weather info from pilots for pilots!
---
Showing 1 to 1 of 1 (1 Pages)