FLARM

Traffic and Collision Avoidance Products
Additional Pages: PowerFLARM Home | Safety Considerations | Logger IGC ApprovaL | PowerFLARM Comparison | Group Discounts
Related Pages
AIR Avionics - FLARM Displays and Mounting Accessories
LXNAV - FlarmView FLARM Display


PowerFLARM Tips - by Paul Remde of Cumulus Soaring, Inc.
http://www.cumulus-soaring.com/flarm/PowerFLARM-Tips.pdf
Firmware Upgrades and Release Notes
http://flarm.com/support/firmware-updates/
Manuals
http://flarm.com/support/manuals-documents/
PowerFLARM Antenna Mounting Tips Application Note
FTD-041-Application-Note-FLARM-Antenna-Installation.pdf
PowerFLARM Configuration File Generation Tools - Excellent!
http://flarm.com/support/tools-software/flarm-configuration-tool/
FLARM Range Analysis Tool
This is a great resource. It allows you to upload a flight log that was recorded with any FLARM unit. The tool creates a top-view range analysis plot showing the maximum distance to FLARM targets in all directions. The flight log contains data location of other FLARM units received during the flight. Flights to be analyzed must have at least a duration of 30 minutes and contact with 5+ other FLARM equipped aircraft during the flight. Only FLARM traffic data is analyzed. ADS-B and Mode C/S transponder traffic is not analyzed.
http://flarm.com/support/tools-software/flarm-range-analyzer/
Resources for Finding Your Sailplane's Mode S Address - to be entered in the PowerFLARM
USA - http://registry.faa.gov/aircraftinquiry/NNum_Inquiry.aspx
or
Canada - http://wwwapps.tc.gc.ca/saf-sec-sur/2/ccarcs-riacc/RchSimp.aspx
News

Cumulus Soaring, Inc. Selected as FLARM Service Partner for the Americas
January, 2017
In recent months, all PowerFLARM repairs were done by FLARM in Europe. That was inconvenient and costly for U.S. customers.
Starting immediately, all warranty and non-warranty repairs of PowerFLARM Core products for the Americas will be handled by Cumulus Soaring, Inc. Significant investments in test equipment, tools, and spare parts have been made by Cumulus Soaring, Inc. in order to support PowerFLARM Core users. Please contact me (contact information at the bottom of this page) if your PowerFLARM core needs testing, repair, or electronic security seal reset, or logger altimeter calibration. I am very happy to be able to support the soaring community in this way.
PowerFLARM Portable repairs will require shipment to Europe at this time. It is possible that will change in the future.
Overview
FLARM is a collision and obstacle alert system that it extremely popular (14,000+ units in service). PowerFLARM is the next generation version of FLARM.
What is PowerFLARM?
PowerFLARM alerts you to other traffic. FLARM is a shortening of "Flight Alarm". It consists of a small box with a built-in GPS, altitude sensor, low-power "FLARM" radio transmitter and receiver, ADS-B receiver and Mode C and Mode S transponder receiver. Each PowerFLARM unit transmits its position, future flight path and altitude every second over the PowerFLARM radio band. Other PowerFLARM units in the area will display traffic warning if a collision or near collision is detected. It is especially useful in crowded soaring locations such as in the European Alps, along ridges (PA and Minden) and in soaring contests. The rate at which is was adopted by sailplane pilots in Europe was astounding! After just a few years, everyone is flying with FLARM in their sailplanes. PowerFLARM is an extension of FLARM. It has a longer range than FLARM units do, and also has built-in receivers for ADS-B traffic and Mode C and Mode S transponder traffic - making it more able to warn of general aviation traffic that is using either an ADS-B transmitter, or a transponder that is being interrogated by a ground radar station or nearby aircraft.
PowerFLARM combines:





The FLARM collision-avoidance system



An 1090-ADS-B receiver



A transponder detector (similar to the Zaon MRX). If is nearby aircraft's transponder is interrogated (pinged) by a ground radar station or nearby aircraft it will respond with its altitude and other data. The PowerFLARM uses the strength of the signal to estimate the distance. The relative altitude of the aircraft is calculated by comparing the altitude data sent by the other aircraft's transponder and the altitude of the PowerFLARM. The direction of the aircraft is not known - only the distance and relative altitude. If you get a non-directional warning (see below) it is time to put your head on a swivel and locate the traffic with your eyes.




Obstacle collision warning system - warns you of obstacles in front of you - such as radio antenna towers, ski lifts, water towers, etc. This feature will probably require an annual subscription
| | |
| --- | --- |
| | An IGC certified logger suitable for badges, contests, and the Online Contest (OLC) - Note: The standard unit does not have Engine Noise Level recording enabled. It can be enabled by purchasing an upgrade key. Also, the unit does not include an altimeter calibration sheet. I can calibrate it for you for $75. |
| | A serial output, which can provide traffic enriched GPS data for a flight computer, PDA or transponder. |
PowerFLARM Display Screens



Radar Screen
- Orange symbols: more hazardous traffic, relative altitude is depicted above or below the symbols, +03 means 300 feet above and so on..

- Green symbols depict less critical traffic. The darker ones are underneath you, the brighter ones are above you

- Not all received traffic is shown, only relevant FLARM- or ADS-B targets and Mode C/S transponder targets. Traffic that is outside the horizontal and vertical range limits is not shown.

Note: The warning screen appears automatically if there is a possible collision within a given time period. It shows angles to the other aircraft like the original FLARM does. (Only FLARM and ADS-B targets)

Directional Warning Screen
A possible collision with other FLARM equipped aircraft is detected. In this example screen there are 2 aircraft at your 11 o'clock position and higher than you. This screen is available on remote FLARM displays from Butterfly and LXNAV, but not on the PowerFLARM Portable's display.
Non-Directional Warning Screen
A possible collision with a Mode C or Mode S transponder target is detected. Relative altitude and approximate distance are shown. The red circle around the aircraft-symbol pulsates. This graphic indicates the threat is 200 feet higher then you and approximately 1.2 miles away. Since the direction to the target is not known, it is time to put your head on a swivel and locate the traffic with your eyes.
Obstacle Warning Screen
A possible collision with an obstacle ahead is detected. Later version might incorporate more detailed obstacle positions in the warning screens, at the moment the PowerFLARM only warns of obstacles on track - such as radio antenna towers, ski lifts, water towers, etc. This feature will probably require an annual subscription.

FLARM Simulation Video
The video below is a simulation showing what FLARM units would have displayed in the gliders which were involved in a mid-air collision near Parowan, UT during the 2010 U.S. Sport Class Nationals. One of the gliders suffered significant damage but fortunately, neither pilot was injured in the collision. As the video shows, had they both been equipped with FLARM technology, the accident would have certainly been avoided.
---
Built-in IGC Approved GPS Flight Recorder
PowerFLARM units also include an IGC approved GPS flight recorder for flights up to and including diamonds (but not national or world records). If no one in your area is using FLARM yet - you still have a very nice IGC approved flight recorder along with the ability to display ADS-B and Mode C and Mode S transponder traffic. The PowerFLARM unit can also supply GPS data to your PDA. Then, when other local glider pilots start using PowerFLARM, or you are flying in a soaring contest with PowerFLARM users, you will be PowerFLARM equipped and ready for dramatically enhanced safety.
Great for "Buddy Flying"
Most soaring flight software can display FLARM traffic on the moving map display. In addition to knowing where your PowerFLARM-equipped friends are - the software also displays their climb rate! Therefore, PowerFLARM used together with a PDA becomes a great "remote thermal strength indicator"! Imagine how much fun it would to do a cross-country soaring flight with a another PowerFLARM equipped glider. You wouldn't need to ask him/her "how good is that thermal?" and you would know exactly where he/she is at all times. Below are screen captures of the "FLARM Radar" in SeeYou Mobile and pocket*StrePla. Both SeeYou Mobile and pocket*StrePla can display not only the traffic, but also a track showing where each target has been in the last few seconds, with the track colored to indicate whether it was in lift or sink. They also offer pop-up warning windows for urgent alerts.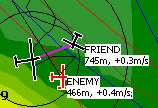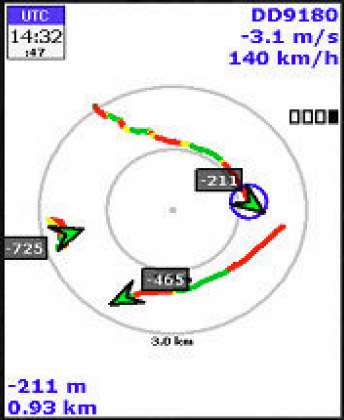 ---
FLARM Use in U.S. Soaring Competitions
Of course, there is currently a very heated debate going on in the USA regarding whether it should be legal to use FLARM to keep track of competitors and their climb rates in soaring competitions. However, it is possible for you and your competitors to put the FLARM into "Stealth Mode" or "Competition Mode" - as detailed in the document below. I believe that mandating Stealth Mode or Competition Mode would be a bad idea as it reduces the safety level in the competition and increases the work load for contest volunteers (because they would need to verify that the flight log from the FLARM shows that the required mode was enabled.
http://www.flarm.de/support/Flarm_Competitions.pdf
Update from November 2011
The U.S. Soaring Contest Rules Committee has done a lot of research and had many discussions regarding the use of FLARM in contests in the USA. The have published their stance on the use of FLARM in U.S. Contests in 2011. I recommend reading the entire document. It is well written. I agree with all their decisions. The main statements are made at the very beginning of the document: FLARM use will be allowed and encouraged, but not mandated. Stealth mode will not be required in 2011.
http://www.ssa.org/files/member/2011FlarmUSA.pdf
K6 Mux NMEA-Multiplexer

The K6 Mux is a powerful, extremely configurable module which makes it possible to combine data streams from up to 3 devices and send the combined data out to a PDA or similar device. It is very useful, for example, when you want to combine traffic data from a FLARM device with GPS, vario, wind and airspeed data from a flight computer - such as a Cambridge 302 or similar. The K6 Mux makes it possible for the soaring flight software on the PDA to receive all the available data. The K6 Mux also handles baud rate conversions with ease. In the example below, the Cambridge 302 communicates with the K6 Mux at 4800 baud. The PowerFLARM communicates with the K6 Mux at 19200 baud. And the K6 Mux communicates with the PDA at 19200 baud.
Details are available on the K6 page.
---
Refine Search
Showing 1 to 23 of 23 (1 Pages)