Sailplane Photo Calendar 2024
Photos by Tobias Barth
2 Sizes - You must select a size option at right before clicking the Add to Cart button.

Large: 25.2 x 18.9 inches (64 x 48 cm)

- $40.00

- most popular



Medium: 16.5 x 11.7 inches (42 x 29.7 cm) - $35.00

Note: Due to the shape and size of the calendar - shipping can be challenging. I therefore double-box every calendar shipment. The large outer box used for the large calendar is $6. The medium sized calendar box is $5.
Suggestion: Add an out of date calendar to your order for only $5. They don't shows the days and dates correctly, but the photos make great posters for your office, college dorm room, or soaring clubhouse.
See all the available current and out-of-date calendars here:
https://www.cumulus-soaring.com/store/categories/calendars
Wow! This calendar is huge! I think it can be accurately described as a collection of 13 very sharp and vivid soaring posters. The photos by Tobias Barth are fantastic! The very large format is also very nice. The images are nearly twice as wide as the SSA Soaring Calendar.

The breadth of flying and the beauty of nature are combined in a hand selected array of pictures captured by outstanding photographers. The art of photography by Claus-Dieter Zink and Tobias Barth is your ideal companion for the year – and a special present to treat yourself or others.
The new Sailplane Photo Calendar 2024 is now available, but right now we have the best news for all the fans of brilliant soaring pictures: Tobias Barth is has again provided amazing soaring photos.
He is living in Stade (Germany), has been an aero-space engineer and glider pilot since his youth. His complex digital photo-settings are of unparalleled technical and artistic scale.
From now on you have the opportunity with your aircraft to be immortalized by Tobias Barth. In Germany, France, Switzerland, Czech Republic or where ever it just happens. Even arrangements "on call" are possible. Your contact: tobias.barth@fotokalender-segelfliegen.de

Note: This calendar includes a very basic calendar. It does not have a large grid of days that can be used to write appointments or notes. The SSA Soaring Calendar is more suited to use writing notes on specific dates. But this calendar's very large photos look great on the wall of your office or soaring club clubhouse.
Makes a great gift!
Dimensions

Select from 2

sizes (medium and large)

13 sheets (title page and 12 monthly pages)

stable 200 g / m² picture paper, matt lacquered

Spiral binding with 2 hangers
Tobias Barth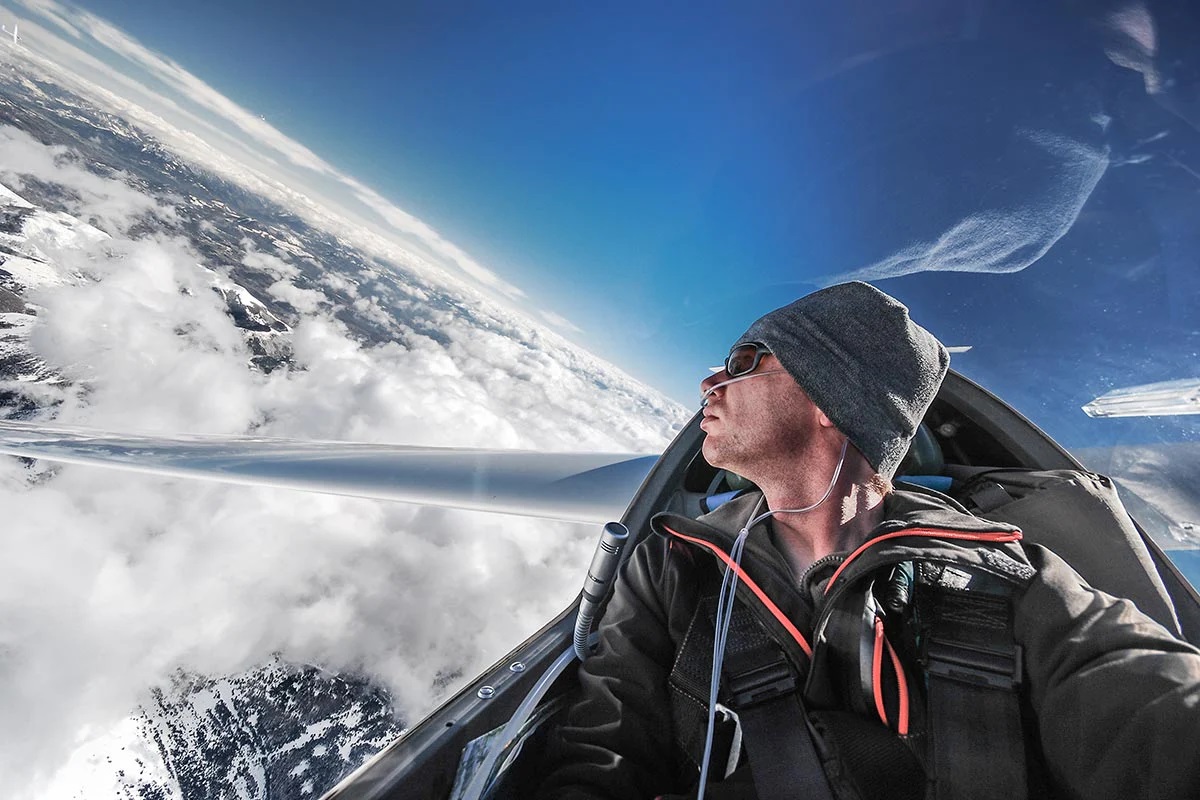 Digital photography is more than just perfect picture technology. It "sees" what is close to the eye, and opens up entirely new artistic possibilities. How - in the work of Tobias Barth this is impressively visible. As a glider photographer, he is ready to step in the footsteps of his role model Claus-Dieter Zink.
Born and grew up in Brandenburg, Tobias Barth comes early in contact with flight technology. The organized GDR youth leisure promotes his childlike interest in wooden flight models. Then the boundaries fall.
Tobias is 13, when he is allowed to sit for the first time in a real glider. A year later he started his training, at 15 he was the youngest glider of his club. While other guys are enthusiastic about mopeds, he makes his first big solo flight: 50 km on a Ka-8. In 1995, at the age of 17, he won the private pilot's license Segelflug (PPL-C), in the following year he doubled the distance.
The move to West Germany, which involves vocational training, is changing a lot; but the enthusiasm for sail flying remains. In 1998, Barth joined the Flight Science Association Aachen (FVA).
From now on, his avid elan is no longer to be braked. Once again, he is launching a long-distance premiere. This time it is a registered flight over 500 km in a glass wing Hornet. He acquires the PPL-B, including towing authorization as well as the art flyer and undertakes first small Aus-flights into the French Maritime Alps from the airport St. Croix.
He is also progressing professionally: In 2000, he completed his apprenticeship as a light flying builder. Eight years later, he will also have successfully completed his FH degree in aerospace technology. Until then there is little time for hobby, it is used for flight holidays in France and a new personal record - 939 km from Aachen and back.
The freshly-baked engineer moved his foodstuff to northern Germany, his new home will be Stade near Hamburg. There he also finds a new home - in the local Luftsportverein.
In his own glider pilot his choice falls on a glass wing Mosquito (built 1979). She also accompanies him to competitions. For example, the International Gliding CUP / KLIX, where he is even on the podium in 2015: 2nd place! Or to his first successful "1000-point flight" - a registered FAI triangle over 650 km.
But the young man is not only developing rapidly. Inspired by her friend Katinka, who photographed herself, he began to discover another fascinating side of aviation: the gliding photography. First of all, experimentation. The first own used digital reflex camera provides good services.
With partner and the new Nikon "D90" it goes 2013 on a great journey. Africa! Katinka is there, helping and inspiring her opinion. Thousands of holiday pictures are created in which the young photographer can look and feel.
It is a blessing, because Tobias Barth's exceptional talent is not concealed in our photo calendars. At some point, we get to the phone, we get into conversation and the chemistry is right. Our praise, our encouragement show the effect, then it is a matter of fact: We want to work together. How nice
Calendar-Barth-2024
Product Code: Calendar-Barth-2024
Availability: In Stock
Related Products
Tags: Calendar, Tobias Barth