Scale Model Pages
Overview & Tips | Ardpol | Czech Master Resin | Heritage Aviation Models Ltd. | HPH Models | Pawel Nowak | Planet Models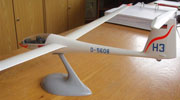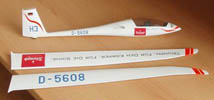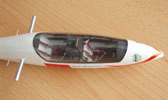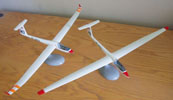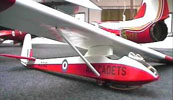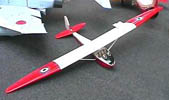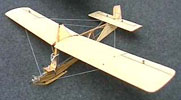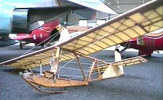 click on the images above to view larger versions
Related Pages
Overview

The H+H company was established in the Czech Republic as soon as possible, after the so called "Velvet revolution" in 1989.
This company specialized in model production only. With the entry of Mr. Potmesil into the company, the name changed to HpH and we started to develop and produce full size gliders as well.
The models created by HpH are fantastic. As you can see in their Model Brochure and the images above, the models are museum quality, detailed scale models of real aircraft. They are
not
unassembled model kits, they are detailed
finished
models. Each model is made to match the original full-size aircraft - including paint schemes, contest and registration numbers, and cockpit details. The detailing is accomplished using customer provided photos of the original aircraft. The basic material (epoxy resin and glass cloth laminate in negative molds) is the same as used for their full-size sailplane production. This ensures long lasting shape stability of the models. The colors inside the cockpit and on the outside surfaces are permanent. They are much more expensive than unassembled model kits, but they are worth every penny.
Great For Promoting Soaring
These lovely models
look great hanging over or sitting on your desk at work, or sitting in a display counter at the local gliderport. They are a great way to encourage friends and colleagues to ask you about soaring. Just think how many more people would ask you about soaring if you had one of these models prominently and proudly displayed! They are also great to admire while waiting for your new full-size glider to be delivered, or while waiting for spring as your glider is hibernating in its trailer for the winter. They also work great as display models in aviation museums.
Company Philosophy
"We don't produce low-cost and simple models.
On the contrary, we aim to deliver the best models with any accurate detail right according to customers wish.
We prefer quality to quantity.

We specialize in production of high detailed hand made models for those who are able to assess value of our work.
The basis of our energy is high exactness and individuality.
And we seek customers who appreciate this.
They often collect our works analogous to pictures in frame.
However, our models are 3D, based on ever lasting material (certified to be used for flying aircraft, i.e. epoxy resin and glass cloth hand laminated in negative molds), small vacuum sprayed parts and hundreds of working hours, i.e. long time experience and development.

The final customers for our products are not just consuming our work. They are a little bit others, their target isn't just to use and to throw away.
In many cases they help to find out the best building documentation, not only 3 view drawings but they make a lot of pictures of the concrete airplane and finally order a special piece which will be delivered in half a year at the soonest."
Available Models (Others Available Upon Request)
Sailplanes (GRP = fiberglass)
304S
Antares
Astir CS
Astir Jeans
ASG-29
ASH-25
ASH-26
ASK-14
ASK-18
ASK-19
ASK-20
ASK-21
ASK-23
ASK-24
ASW-12
ASW-15
ASW-17
ASW-22
ASW-27
ASW-28
Austria SHK-1
Calif
Cirrus 75
Cirrus, Std.
Cirrus VTC 17.74 m
Cobra
D 36
DG-100
DG-101
DG-200
DG-300
DG-303
DG-400
DG-500/22
DG-500 Orion
DG-500 Trainer
DG-600
Discus b
Discus CS
Discus 2
DuoDiscus
Elfe S4
eta
Fauvel AV 36
Fox
Glasflügel 304
Glasflügel 304C
Glasflügel 304CZ
Gö-4 Gefir
Grob Twin II
Grob Twin III
Grunau Baby IIb (GRP)
Grunau Baby IIb (wood)
Habicht (GRP)
Hornet
HSK-3
Jantar 2
Jantar 2B
Jantar Std.
Jantar Std. 3
Janus
Junior
Ka 2b
Ka 4
Ka 6
Ka 7
Ka 8
Ka 10
Kestrel 17 m, 19 m
Kranich II, III
L-13 Blanik
L-23 Super Blanik
LAK 12
Libelle, Club
Libelle, Std.
Lietuva LAK 12
Lo 100
LS-1d
LS-1f
LS-3
LS-4
LS-6
LS-7
LS-8
LS-9
Lunak
Mini Nimbus
Minimoa (GRP)
Minimoa (wood)
Mosquito
Nimbus 2
Nimbus 3
Nimbus 3D
Nimbus 4
Nimbus 4D
Pegasse 101
Phöbus
PIK 16 C
PIK 20 B
PIK 20 E
Pilatus B4
PW-5 SMYK
Rheinlandt (GRP)
Salto
SB 13
Schweizer 1-23
Schweizer 1-26
Schweizer 1-35
Schweizer 1-36
Schweizer 2-33
SG 38 (wood)
Speed Astir II
Swift
SZD 51
SZD 55
SZD Cobra
SZD Junior
Ventus b, c
Ventus 2 a, b, c
VSO-10
VT 16
VT 100 Demant
VT 116
VT 125 Sohaj
Weihe 50 (GRP)
Weihe 50 (wood)
Motorgliders
ASK-14
ASK-16
Dimona H 36
Fornier RF 3,4,5
Grob 109
SF 25, Rotax
Stemme S-10
Super Dimona HK 36
Taifun
Powered Airplanes
ACE
Augusta SF 260 D
Beaver
Beech Sierra B24 R
Beechcraft Bonanza
Cessna 150
Cessna 152
Cessna 172
Cessna 175
Cessna 177 RG Cardinal
Cessna 182
Cessna 210 Turbo
Cessna 421 B, C
Cessna P337 Skymaster
Dornier DO 27
Falco F8 L
Fuji 200
Glasair
Husky
Job 150
Katana DV 20, DA 20
Klemm 25
Maule
Mooney MS 20, MSE
Morane R180 TS-Rally
Piper L 4
Piper Pa 18 Super Cub
Piper Pa 28 PT, RT-201
Piper Pa 28 T
Piper Pa 38 Seneca I
Piper Pa 46 Malibu
Robin DR 200
Robin DR 400 Regent
Robin DR 400 Remorquer
Robin DR 400 Porsche
Rockwell 114
Tampico TB 9
Tobago TB 10
Trinidad TB 20, TB 21
Wasmer 54
Zlin Z-50 L
Zlin-126, 226, 326
Zlin Z-142 L, 242 L
Zlin Z-526, 726
Two Detail Levels Available
Ultimate Version - With Detailed Cockpit
The cockpit is fully equipped with every small detail, even with the map or snack the pilot left in there when taking pictures of it. Canopy colored as the original, i.e. clear, or blue tinted or green tinted, etc.

Without Detailed Cockpit
The cockpit isn't equipped at all. The canopy is painted to match the original glider in light grey (meaning canopy is clear), light blue (canopy is blue tinted), or light green (canopy is green tinted).
Details Included With All Models
Paint Scheme: i.e. registration & contest letters, logos, emblems, markings, etc., according to pictures sent by email or description
Stand included (the model itself has no main wheel), or fixed wheel (€ 19 extra) (no stand)
Wings are detachable (gliders only - wings are permanently attached on motorgliders and power planes)
Details To Be Provided By Customer Before Work On the Model Can Begin
Photos of the real glider from all angles, including:

Paint scheme details
Registration and contest numbers
Aircraft left side
Aircraft right side
Top of wings
Underside of wings (Including contest cumbers or other markings on underside of wing, or a description of them)
Cockpit from above
Cockpit looking back at seatback(s)
Cockpit left and right sidewalls
instrument panel(s)
close-ups of all logos, emblems, markings, etc.

3-view drawing from the Flight Manual or description of specific features
Canopy tint: clear (no tint), blue, green, dark gray, etc.
If the colors differ from the real glider, please specify them using the Federal Standard Colors or similar.
Specify either stand (model has no landing gear) or with landing gear extended (€ 19 extra)
For auxiliary powered sailplanes, specify engine retracted, or extended (€ 79 extra)
Shipping Costs
The customer will pay for shipping from the Czech Republic to Cumulus Soaring, Inc. After taking photos of the model here in Minnesota, it will be forwarded to the customer at no charge. An estimate of the shipping cost is € 50 ($68).
Lead-time
These are custom models, created by artists. The standard lead-time is 6 months - after receipt of complete details and photos from the customer.
---
How to Order
To order a product, click on the

button next to the product.
When you are ready to complete your order, click on the

button.
Click on the small images to view larger versions.
Part #
Description
Photo
Click on image to view larger version

Price

Lead-time

HPH-Model-Sailplane
Sailplane Model, 1:25 Scale

Options

Size:

Single-Seat Up to 15 m Span
Single-Seat Over 15 m Span or Dual-Seat

Detailed Cockpit
Undercarriage extended (no stand), € 19
Auxiliary-powered sailplane with propeller extended, € 79

Note: Prices shown in US $ are approximate only and vary with changes in the value of the US $. The exact price will not be known until payment is sent to the manufacturer.

Single-Seat Up To 15 m Span
without detailed cockpit
€ 379
(~ $515)

with detailed cockpit
€ 567
(~ $770)

Single-Seat Over 15 m Span
or Dual-Seat
without detailed cockpit
€ 439
(~ $595)

with detailed cockpit
€ 657
(~ $890)

6 months
after
receipt
of
details
(photos,
line
drawings,
etc.)
HPH-Model-Motorglider
Motorglider Model, 1:25 Scale

Options

Note: Prices shown in US $ are approximate only and vary with changes in the value of the US $. The exact price will not be known until payment is sent to the manufacturer.

without detailed cockpit
€ 499
(~ $675)

with detailed cockpit
€ 747
(~ $1010)

6 months
after
receipt
of
details
(photos,
line
drawings,
etc.)
HPH-Model-Power-Plane
Power Plane Model, 1:25 Scale

Options

Single-engine or two-engine
Detailed Cockpit

Note: Prices shown in US $ are approximate only and vary with changes in the value of the US $. The exact price will not be known until payment is sent to the manufacturer.

Single-Engine
without detailed cockpit
€ 559
(~ $755)

with detailed cockpit
€ 837
(~ $1130)

Two-Engine
without detailed cockpit
€ 687
(~ $930)

with detailed cockpit
€ 1027
(~ $1390)

6 months
after
receipt
of
details
(photos,
line
drawings,
etc.)