Home > Videos
Videos
Overview
I'm a big collector of soaring and aviation related movies. I stock as many as possible. Some of them are films and some are training videos. Please let me know if you are aware of any good soaring videos which I should add to my site. I want this to be a complete collection of current and old soaring films.
Note: The NTSC format for use in North America, South America and Japan. PAL is the most common outside those areas. However, many PAL DVD players can play NTSC DVDS and vice versa. I have found that PAL DVDs don't play in my U.S. "TV set top" players (even though they are quite new), but they do play perfectly well on my PC. I have shipped NTSC DVDs to many customers in Europe and have not had any complaints. Below is a note from someone in Germany.
"Many European VCRs and DVDs are either dual system capable for NTSC or PAL or can be "unlocked" with codes found on the internet, and can be viewed on PAL televisions.
Gift Certificates - The Perfect Gift
The perfect gift for a loved one or someone you want to say "Thank You" to.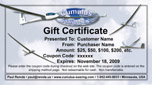 Printable Video and Book List
Sometimes it is nice to be able to print a complete list of the available books and videos. The PDF file below is just such a list. You can use it to highlight books and videos to be purchased by friends and family members as gifts.
Videos-And-Books-Printable.pdf
---
How to Order
To order a product, click on the
button next to the product.
When you are ready to complete your order, click on the

button.
Click on the small images to view larger versions.
Part #
Description
Photo
(Click on images below to view large versions)

Price

Lead-time
1stWorldSoaringGrandPrix
1st World Soaring Grand Prix
DVD-R, Format: NTSC, Duration: 25 minutes, Released in 2005, Director: John Elphinstone

A dramatic half-hour in the sky, as some of the world's best sailplane pilots race for the championship through the magnificent peaks of the high French alps. The Grand Prix racing format is a new type of sailplane racing. The contest is designed to make soaring competition more interesting for the general public and for those watching the event in real time. All gliders start at the same time and fly the same course, so the first glider across the finish line is the winner.

See also these other Sailplane Grand Prix films:

$20.00
In Stock
AFineWeekofSoaring
A Fine Week of Soaring
DVD, Format: It is "Region 0", so it will play anywhere in the world.
Duration: 69 minutes, Released in 2003
Written, Produced and Directed by Juan Mandelbaum
An exciting insider's view of the 2002 Mifflin, Pennsylvania regional contest from the back seat of a Duo Discus high performance glider, with 15-time US national champion Karl Striedieck at the controls. Flying at high speed at treetop level over the Appalachian ridges or climbing under majestic snow showers, we get a sense of how a champion plies his craft. The supporting cast includes competition director Charlie Spratt, two-time world champion George Moffat, still a formidable competitor at 75, and the contest pilots and organizers.

Reviews

Charlie Spratt, Competition Director
"The best film I have ever seen on contest flying. The photography is super and the story line perfect."
Doug Jacobs, 1985 World Champion
"Ever wonder what its like to fly Pennsylvania's fabled Allegheny ridges at high speed and low altitude? How about a chance to climb in a thermal up close and personal with a Nimbus 4, its enormous wingspan somehow made delicate in circling flight? Want to know how soaring competitions work? How tasks are set? Where to hunt for lift on blue days or how to fly cloud streets? Or, best of all, how a master like Karl Striedieck plies his craft, getting the most out of glider and weather with keen decision making and flawless flying technique, whistling his way across the sky? Well, you're in for a treat. Juan Mandelbaum's new and exquisitely photographed film A FINE WEEK OF SOARING shows you a Mifflin, PA regional contest from the perspective of the participants and organizers. Plus, it puts you in the back seat of a Duo Discus with Karl at the controls. Shot from all conceivable angles from cameras mounted both inside and outside the cockpit, this film is part soaring essay, part documentary, part instructional work, and all soaring enjoyment. You'll not only get Karl's insights, but hear from two time World Champion George Moffat, the dean of American competition soaring, as he reflects on the development of the sport over many decades. And adding to the educational value of what you see on film are interspersed GPS flight trace excerpts, masterfully displayed by the 3D terrain mapping features of the marvelous SeeYou Flight Information Software, including head to head comparisons of multiple sailplanes hurtling down the ridges. Whether you're new to gliding, a beginning cross country pilot, or an old competition soaring dog, you'll get a heady dose of information, pleasure and inspiration from this fine film, and end up counting the days, hours and minutes until you can get back in the air. Enjoy!"
George Moffat, 1970 and 1974 World Champion
"Juan Mandelbaum's new film, A FINE WEEK OF SOARING, is a must-see for anyone interested in sailplanes, especially contest flying. Filmed at the Mifflin Regionals, it is marked by stunning photography, much of featuring the famed Pennsylvania ridges, up close and personal. In the 70 minute film, producer/director Juan, an accomplished soaring pilot as well as a professional movie maker, flies with Karl Striedieck in his Duo Discus on each contest day, and we get to listen to The Master's laconic and often amusing commentary on why he does what. Several other pilots are featured, showing varied viewpoints on each day's flight, with experience varying from a World Champion down to a relative newcomer. An interesting and helpful added feature is the use of SeeYou animation to show the tracks of some of the gliders. This film is a highly professional job and a delight to watch."

$29.95
In Stock
Argentina
Argetina - Gliding in the 5th Dimension - 3,000 km in a glider
DVD, Format: NTSC or PAL, Duration: 45 minutes, Copyright 2003
Language: Includes versions with translations in English, German and French

This is an excellent documentary of Klaus Ohlmann's amazing world record 3,008 km (1,869 mile) soaring flight in wave over the Andes in Argentina in a Nimbus 4DM.

Review by Paul Remde
I love this film. The scenery and cinematography are awesome. The views of clouds flowing around mountain peaks are spectacular. I like how he shows water flowing over a rock and compares it with the wind and clouds flowing over and around the mountain peaks. The effect is very well done. The flight is truly an amazing one and you get to relive it as he describes his thought process as the flight unfolds. The film also includes a great interview with Klaus about the flight and future flights. He talks about many topics including how sleep deprivation is a major factor in flights like this because late night weather analysis and early morning preparations don't leave much time for sleep before the flight. At the end are more breathtaking views of volcanic craters, impressive lenticular clouds, etc. It is a beautiful, inspirational and motivational film. Why does he call it "Gliding in the 5th Dimension"?... You'll have to watch the film to find out.



$30.95
In Stock
BlackSands
Black Sands White Wings
DVD, Format: NTSC, Duration: 25 minutes, Released in 2004
Gliding in New Zealand is largely dependent on the prevailing westerly wind which, when crossing the country's backbone of mountains, provides wave conditions extraordinaire. Spectacular heights and long distances have been achieved, so much so, that pilots have now run out of land to increase distances flown, much beyond the 2300 kms already attained. The "Roaring Forties", as New Zealanders know their prevailing wind, constantly flows onto the east coast of both islands, but in recent times pilots have been experimenting with lift that is generated from the sand dunes that prevail along the coastal edge of the North Island. This is the story of the first attempts - there is much more to follow. The flight takes three Auckland pilots from Raglan to Muriwai and back along the beach for a total distance of more than 200 km (124 miles).

The glider pilots are:

Bernie Massey (NC) Std Cirrus
Steve Wallace (KT) Mosquito
Murray Wardell (UP) Std Cirrus

$17.95
In Stock
BoyWhoFlewWithCondors
The Boy Who Flew With Condors
DVD, Format: NTSC, Duration: 49 minutes, Aspect Ratio: 1.33:1, Region 1, Copyright: 1967

At last...the best of Sunday night TV is back! It's the legendary TV show that's been popular with audiences for decades, and the longest running weekly prime-time series in television history. The winner of numerous awards, including seven Emmys, it's The Wonderful World of Disney!

Climb aboard and soar skyward towards everyone's dream to fly. THE BOY WHO FLEW WITH CONDORS is the true-life adventure of Chris Jury, a California teenager who goes from admiring the endangered condors' flight to sailing sky-high with them. Inspired by his new friends, a sailplane instructor, a NASA test pilot and a budding glider pilot, he risks it all for airborne thrills. But to earn his wings, he'll have to navigate a dangerous storm. Will he come through with flying colors? Find out in an exciting story sure to bring out the spirit of adventure in the entire family!

Starring (as themselves): Christopher Jury, Margaret Birsner, Fred W. Harris (gliding instructor), Milton O. Thompson (NASA test pilot)

Based On The Story "The Sail Plane Story" By Ken Nelson
Teleplay By Homer McCoy
Narrated by Leslie Nielsen
Filmed in Tehachapi, California

Full Details on the Disney web site - with short video previews

Review by Paul Remde
The story follows a teenage boy as he gets into soaring and progresses through his Gold and Diamond badges. There are many memorable scenes (see below). It is fun to watch Chris learn to fly and dive into cross-country flight and badge flying while being mentored by his flight instructor. I especially enjoyed the 2-22 landing in a duck pond, and the auto-launch behind an old jalopy. It was also interesting watching the winch launches, ridge running and beach landings at Torrey Pines. I also enjoyed having Walt Disney introduce soaring and hear Leslie Nielsen as the narrator. This was filmed in 1967 when a Schweizer 1-26 was a "high performance model". It sure looks like fun to me! I remember watching this film when young. It sparked my first interest in soaring. It is great to see it again. I have recently had many soaring pilots tell me that "this film got me started in soaring". The film appeals to so many different types of people. It is good for kids to watch, it is great for Schweizer 1-26 enthusiasts, and for those that love watching classic gliders soaring over the cliffs at Torrey Pines.

Scenes from The Boy Who Flew with Condors
Click on the images below to view larger versions.

Margaret Birsner does an off-field landing in a Schweizer 1-26
Margaret Birsner in a Schweizer 1-26
Ridge Running at Torrey Pines
Aerotow from the beach at Torrey Pines ends with the 1-26 in the surf.

Chris taking flying lessons in a Schweizer 2-22 with Fred Harris in the back seat.

Chris gets "baptized" after his 1st solo flight.

Water landing in a 2-22
Chris goes for his Gold Badge in this "high performance model" (Schweizer 1-26).
Golf course landing - sneaking up on an unsuspecting putter
NASA Test Pilot Milt Thompson gives a quick tour of Edwards Air Force Base including this X-15 "hypersonic glider".

Lunar Landing Research Vehicle (LLRV) "Flying Bedstead"

NASA M2-F1 "Flying Bathtub", Note the Schweizer tow ring and tow hook on it.

Fred Harris, Chris and Margaret discussing plans for Chris' "Diamond C" flight
Chris flying for his Diamond C Badge in a Schweizer 1-26. The goal is Bishop.
Difficulty near thunderstorm. "Altitude gone, visibility gone, situation... deadly"
...but then... a condor...

Schweizer 1-26 flying with a condor

Schweizer 1-26 over Mono Lake

Landing near Mono Lake
Auto-launch behind an old jalopy
Arrival at sunset
Chris and Margaret flying their 1-26s over clouds

Walt Disney with condor and sailplane


See many images from the film at left
$30
In Stock
Cloudstreet

Cloudstreet - Soaring the American West
Both Blu-ray and DVD discs included, Format (DVD): NTSC, Duration: 56 minutes, Released in 2015





Overview
CloudStreet: Soaring The American West is a visually stunning high-definition documentary featuring the beauty and drama of a soaring adventure in the American West. As unbelievably serene as it is thrilling,

CloudStreet gives viewers the extraordinary experience of soaring along the Rocky Mountains of New Mexico, Colorado, Idaho and Wyoming.

Along the way, CloudStreet educates our audience not just about flying sailplanes cross-country, but also about the science of soaring, about the unique geography of the intermountain west, and about the workings of our atmosphere. It is easy learning as the audience is carried along by the excitement of this experience and drawn in by the natural curiosity evoked from this extraordinary mode of flight.

We hear from the pilots about how it feels to cross vast distances using only the energy of the atmosphere to stay aloft. Their love of soaring is inspirational as they balance managing the dangers of motorless flight, and the joys of true freedom.

Cloudstreet uses newly developed camera platforms and state-of-the-art high-definition camera technology for an unparalleled experience.

From the Producer
For the last four years we have been working with Mike Abernathy and Matthew Murray on Cloudstreet: Soaring The American West.

Our goal is to share the beauty, challenge and excitement of soaring with as broad an audience as possible. We plan to engage viewers with a dramatic story that places them in the cockpit of a glider via the exceptional quality of high definition television, and the spectacular scenery of the National Parks of the American West.

We have developed new camera mounts and filming techniques and believe this will be an extraordinary program.

Best, Michael Kamins Executive Producer

Director - Matthew Murray
CloudStreet: Soaring The American West marks Matthew Murray's directorial debut. He has written and produced several independent films, worked as director of production for Storyline Entertainment, most notably on Chicago, and has produced events at The Academy of Television Arts and Sciences. He has also produced on-air promotional material for American Movie Classics and training material for the United States Army, NASA and the FAA.

Vision - Mike Abernathy
Mr. Abernathy is an experienced glider and motor glider pilot and has been flying for over 14 years. During the making of CloudStreet, he served as writer, producer, and camera-ship pilot. Through his understanding of flight, science and weather, he helped guide the filming of this vibrant, exciting movie. Mr. Abernathy is the founder of Rapid Imaging Software in Albuquerque, New Mexico, and has been developing powerful imaging software products since 1984.

Passion - Phyllis Murray & Dave Bixler
Dave Bixler and Phyllis Murray are accomplished still photographers. They were wedding photographers for 10 years before turning their interests to wildlife and nature photography in 2010. Their still photography can be seen at davebixler.com.

Dave and Phyllis brought various talents to the project. They provided support in a variety of ways including helping with lighting and scene design, maintaining equipment, fixing things that broke and making sure that whatever was needed showed up. They also provided the time lapse photography for CloudStreet and became known as the Time Bandits. Their directive was to find weather and photograph it. Dave and Phyllis traveled over 18,000 miles in the summer of 2013 and produced 139 time lapses. The goal was to capture original time lapses that enhanced the CloudStreet story. They traveled Arizona, New Mexico, Colorado, Utah, Wyoming and Montana in search of developing clouds, sunrises, sunsets and storms. Needless to say, they found them all. They also learned a lot about dust, rain, hail and dark of night. And the biggest lesson perhaps was that Mother Nature does what Mother Nature wants to do and no amount of pleading can cause her to change her mind.

Art - Music Composer Matt Pavolaitis
Matt Pavolaitis has written and produced music for numerous television series and documentary films, two of which, Desert Reef and Valles Caldera earned him EMMY Nominations. Many of the films he has scored are about science and environmental issues. Inclusive in his credits are: a ten part documentary series on geology entitled, Outcrops; The Sandias, a PBS documentary on the mountains; Painting Taos; and Glenna Goodacre. His television compositions can be heard on A&E, Discovery, SyFy, and NatGeo.

Recently, he has been writing and producing artists who are involved with AMERICAN IDOL, and THE VOICE, and has acquired major publishing deals with Hollywood Records and Opus One Music. To facilitate this growth, he created Matt Pav Music in both Los Angeles and Orange County California, where he offers composing, producing, and mixing for large format films, television, and music artists. Among his credits are: several TV series, including KNOWN UNIVERSE, CAJUN JUSTICE, SAINT HOODS, Paranormal: FACT OR FAKED, Return to Halletsville (Gary Busey) and Shelter (Regent Entertainment). He also worked for several years at the world renowned Technicolor Glendale.

Art - Colleen Grace
Colleen Grace Rourke is an American singer, songwriter, and composer whose music has been placed in several motion pictures including The Art of Getting By and The To-Do List. She's composed music with her husband and producer Matt Pavolaitis on numerous television series including Cold Case Files, Army Wives, Paranormal: Fact or Faked, and My Strange Addiction as well as sang on multiple television commercials. Follow her on FaceBook colleengracemusic and Twitter @ColleenGrace00.

Craft - Dave Pettitt
Dave Pettitt has been a voice talent since 1992 and in that time has lent his voice to some well known clients like Discovery Channel, Disney, History Channel and National Geographic and now proudly to Cloudstreet. Today, he works half the year from his studio in British Columbia, Canada and the other half from Mazatlan, Mexico.

Today, Dave is probably best known for his documentary work, including Discovery Canada's two hit programs, Highway Thru Hell and Airshow. Highway has aired internationally in over 100 countries and in production stage for season 4. Dave is also quite proud of a recent campaign for Tourism Ecuador which aired a spot during the 2015 Superbowl.

Review by Paul Remde
This is a fantastic HD soaring film. The cinematography is excellent. It shows that soaring is an adventure and that we soaring pilots are fortunate to fly in some amazing environments.

Digital Download from iTunes
Cloudstreet is also available for purchase as a digital download on iTunes.
https://itunes.apple.com/us/movie/id995086732?mt=6&ign-mpt=uo%3D6
However, the DVD/Blu-ray combo found here makes for a nice gift.

$30
In Stock
DawnFlight
Dawn Flight
DVD, Format: NTSC, Duration: 17 minutes, Released in 1978

Dawn Flight is both a film about the wonder of soaring and a film about self-discovery. The symbolic dawn in the title bespeaks the sense of renewal that comes to the young glider pilot when he conquers his fear and meets the challenges presented to him by a mysterious pursuer.

Producer, Lawrence Lansburgh wanted to do more than make a typical glider film:

"I wanted to take a fresh approach in a soaring film, to use motorless flight not as an end in itself but as a means to express something else that was on my mind."

Academy Award Nominee - Live Action Short - 1975

Overview from the DVD Case
Stunning aerial maneuvers, tree-top chases and hair-raising pursuits through narrow rock canyons mark this sailplane adventure story. Haunted by a mysterious superpilot, a young glider pilot first flees, then confronts his challenger. In his fixed wing, 30-foot wingspan glider (Schweizer 1-26) he finally draws abreast of the rival plane... and learns who the pilot really is.

Dawn Flight Article in Soaring magazine from June of 1976

New, 2011 Full-length Version
Features:

Remastered - This version is a bit better quality than the previous version, but don't expect the moon. The original film used did not yield great results.
The scene in which the pilot is sleeping in a bed made from a glider fuselage is included in this full-length version. Also, another scene is back in this version which shows the pilot admiring and caressing his glider early in the morning.
Interview with the star Denis Arndt
Commentary version with creators talking over the film

Review by Paul Remde
I love this little film. The loops and rolls in Schweizer 1-26 sailplanes are great fun and the low altitude flying chase scenes are impressive and fun to watch. I'm very happy that the full length version is now available. I was very frustrated that some key scenes had been removed from the previously available version. If you are interested in cinematography you will find the new special features (interview and commentary) interesting.


The photos above are from the case for the new full-length version. The photos are not from scenes in the movie, but rather from the bonus features.


The photos above are from the original version and show scenes from the movie.

$39.95
In Stock
ElMirage

El Mirage
by Christopher Woods
DVD, Format: NTSC, Duration: 18 minutes, Released in 1977

From the back cover:
In 1976, Chris Woods, then a student at the California Institute of the Fine Arts Film School, made this short documentary during the 43rd US Unlimited Class Soaring Nationals held at the storied El Mirage Glider Port in California's Mojave Desert. The nostalgic images in this film have become a time capsule from one of the greatest soaring sites in America that ceased operations in the mid-1980's.

Review by Paul Remde
This is Chris Woods' first soaring film. He later produced several excellent soaring films including: The Quiet Challenge and Running on Empty. It is a neat time capsule to the days when Libelle's and Glasflugel 604's and Nimbus's were the hot ships. It is neat to see Gus Briegleb in the film running the El Mirage Glider Port - which he did for over 30 years. Pilots that were soaring back in 1976 will probably recognize many of the pilots in the film. I recognize Hannes Linke. Let me know if you recognize other soaring pilots in the film. The dialog contains interviews with pilots about soaring and why it fascinates them. Any pilot that flew at El Mirage will love this film. It is also interesting to see how different crewing was back then. Crews would follow pilots around while on course and try to help them select suitable landing fields. Of course, the cinematography is excellent - as in all Chris Woods films. I thoroughly enjoyed this nice short film.

$15
In Stock
GladiatorsOfTheSky
Gladiators of the Sky
DVD, Format: Available in NTSC or PAL, Duration: 90 minutes, Released in 2006

The world's top pilots fly through New Zealand's unforgiving Southern Alps in a new type of glider race - The Grand Prix. This ruthless head-to-head racing - where height and speed are constantly being gambled. Each race is over the most challenging terrain - where one mistake could mean losing the race - and having to attempt a safe landing between the towering peaks and the high glaciers. Each pilot has to fly at the edge of his own abilities - and the technical limits of his sophisticated aircraft. World beating graphics, specialist air-to-air helicopter shots and over 30 miniature cameras bring the race to life. Duration 60 minutes and a bonus chapter of 30 minutes. Total Duration is 90 minutes.
$39.95
In Stock
QuietChallenge
The Quiet Challenge - Hilton Cup Soaring Camp
Written, produced, photographed and directed by Chris Woods
Format: NTSC, Duration: 28 minutes, 1985

Back Cover Review by George Moffat, Two-Time World Champion
Newly digitally restored in DVD format, Chris Woods' 1985 file The Quiet Challenge is a must-have item for anyone interested in sailplane flying. This film, beautifully shot in the Nevada mountains at Barron Hilton's famous Flying M Ranch, records the star-studded 1984 Hilton Cup Soaring Camp.

Flying in to be narrator in his 1931 Waco, John Denver, the legendary songwriter, brings his enthusiasm for all things aeronautical to soaring and succeeds in getting his 200 mile Gold 'C' cross country in a Libelle. On the same day the great Kees Musters, 1983 World Champion from The Netherlands, attempts a flight over three times as long and lands only 20 miles short of a new World Record after eleven hours in the air. The drama of long distance record attempts, both for the pilots and their worried crews, is beautifully portrayed, much aided by an excellent score by Richard Conrad. For those of us who know and flew against such pilots as Helmut Reichmann, Ingo Renner and Kees there is much nostalgia as well as beauty seeing them again in their prime in this outstanding film.

$19.95
In Stock
RunningOnEmpty
Running On Empty - The Hitachi Masters of Soaring Championships
Written, produced, photographed and directed by Chris Woods
Format: NTSC, Duration: 22 minutes, Filmed in 1987

Back Cover Review by Doug Jacobs, World Champion
It's not often in life that you get to go around twice on a great thing, but reviewing Chris Woods' masterfully produced Running on Empty in its new digitally remastered DVD edition is one. Shot at the 1987 Hitachi Masters of Soaring competition in Estrella, Arizona, the original captured the gleaming essence of high powered sailplane racing as practiced by 20 of the world's best glider pilot who were asked to participate in this by-invitation-only meet.

The in-flight shots have to be seen to be believed, whether we're talking about gaggling or ridge running, and the close-ups of pilots' faces while in flight are deep into the category of "How'd they do that?" While complex racing strategies and the mechanics of competition are made transparent by Chris Woods' focused vision, he goes one step deeper - effectively exploring the backgrounds, personalities, and motivations of this amazingly diverse group of pilots.

Narrated with great style by the legendary Cliff Robertson, this production easily ranks as one of the finest pieces ever made about motorless aviation. And for those who've never seen it before? You're in for a treat!

$19.95
In Stock
SailplaneGPAndes
Sailplane Grand Prix in the Andes
Format: Blu-ray (HD 1920 x 1080 pixels) or DVD (720 x 480 pixels), Available in NTSC or PAL formats
Duration: 24 minutes + other short films (see below), Filmed: January, 2010

You never knew gliders could do this: The speed, the adrenaline, the breath-taking beauty.

Sailplane Grand Prix in the Andes is quite possibly the most extraordinary aerial footage you have ever seen.

It's the buzz of world championship glider racing blended with the best of High Definition technology to bring the battle for the skies into your living room.

Welcome to Sailplane Grand Prix in the Andes, a multi-feature Blu-ray & DVD tracing the story of one of the most beautiful sports on earth.

Contents

Sailplane Grand Prix in the Andes (full version - 24 minutes) - The one that started it all, this is the cut that was televised in more than 160 countries around the world during the summer of 2010. Sailplane racing like it's never been filmed before.
Sailplane Grand Prix in the Andes' little brother (12 minutes, Dolby 5.1) - a shorter cut, but the audio to the max. Enjoy.
Dinámica - One day in Sailplane Grand Prix - focusing on one decisive day's racing at the World Championship Finals in Santiago. An insider's view and a pumping soundtrack. (Fantastic! This is the highlight of the DVD in my opinion as a contest soaring pilot. - Paul Remde)
The "Aquarium" shots - throw out your fish tank; we bring you more than 35 minutes of stupendous High Definition sailplane footage set to original music. Turn on, turn up, soar away... Or just have it on in the background at parties.
Kawa in the cockpit - fly with reigning world champion Sebastian Kawa as he puts his aircraft through its paces high in the Andean Cordillera.
Day Six raw race animation - One for the sailplane nerds among us: watch how tactics and lift, experience and nerve play out with the complete race at 20 x real time. Pilot course and tracking over mapped terrain through a six-point 330 km competitive flight. No sound.

Review
I just finished watching the film in HD (high-definition) on my computer. It is fantastic! The cinematography is awesome! The close-up views of the sailplanes in flight over the Andes are spectacular. My favorite shot has the camera flying through the Andes mountains - introducing the contest "playground". As the camera ship (not visible in the shot) descends, eight sailplanes seem to rise up in front. They are all flying together - perhaps on final glide. This is the first scene showing sailplanes - and it is dramatic and beautiful! The detail and clarity of the entire film are excellent. I can't wait to watch it on a big HD TV. This is the first soaring film available in high-definition (HD) on a Blu-ray disc.

However, the film does not try to document the contest. It does not show the daily results or the drama as the leaders race home at the end of a tight race day. As a soaring contest pilot I wish it did include much more in the way of race details. It does show the winners of the contest about halfway through the film. I guess the film is targeted at a more general (wider) audience than just sailplane racing pilots. However, the extra features "Dinámica - One day in Sailplane Grand Prix", "The "Aquarium" shots", "Kawa in the cockpit" and "Day Six raw race animation" were created with us sailplane pilots in mind. Dinámica is a fantastic segment - my favorite.

The film does do a great job of showing sailplanes in flight in spectacular surroundings. It also is great at explaining what soaring is about and how elegant and lovely and efficient sailplanes are.

View the short preview in HD and learn more about the Grand Prix contest at: www.sailplanegrandprix.com

Review by Rand Baldwin of SoaringCafe.com

Click the play button in the images below to view preview clips of the film. Click the "HD" icon to enable HD resolution viewing and then click the small icon with 4 arrows in the lower right corner of the video to view it full-screen in HD. It is awesome in HD!

Or view the preview directly on Vimeo: http://www.vimeo.com/14091846 Best viewed in HD - full-screen.

$42.95
(Blu-ray)

$39.95
(DVD)

In Stock
SilentWings
Silent Wings - The American Glider Pilots of WWII
DVD, Format: NTSC (Region 0, so it can be viewed in any country)
Duration: 113 minutes, Released in 2007
Dolby® Digital 5.1 Surround Sound and Dolby® Digital 2.0
16:9 aspect ratio enhanced for widescreen TV
Closed-Captioned
Color and Black and White

From the early race to build gliders to the D-Day invasion at Normandy to Nazi Germany's final surrender, Silent Wings – The American Glider Pilots of WWII narrated by Hal Holbrook, reveals the critical role gliders played in World War II offensives. Through rare archival footage and photographs, the film places the audience right at the center of the action in the dangerous world of the American glider pilot.


Narrator by Hal Holbrook

During WWII, 6000 young Americans volunteered to fly large unarmed cargo gliders into battle. These brave men were an eclectic band of misfits. One general called them "the bastards nobody wanted and the most uninhibited individuals ever to wear an American uniform."

Yet for these glider pilots every mission was do-or-die. It was their task to repeatedly risk their lives landing the men and tools of war deep within enemy-held territory, often in complete darkness, using only a stopwatch to navigate.

They had no motor, no parachutes and no second chances.

Silent Wings Features

Two broadcast legends Andy Rooney and Walter Cronkite who glided into Holland with the 101st Airborne Division in 1944.
Archival footage and photos
Interviews with glider veterans

"I don't think the 101st Airborne thought that this was a terribly difficult landing, but to me it was a scene from Hell". - Walter Cronkite

There will be an advanced showing of this film at the 2007 Soaring Society of America Convention on Friday, February 9th.

Books on this subject - available from Cumulus Soaring, Inc.




$24.95
In Stock
SoYouWantToFlyGliders
So You Want To Fly Gliders
DVD, Format: NTSC, Duration: 1 hr. 38 minutes, Released in 2005
From the Sporty's "What you should know" series

Preview Video - Note: The preview video refers to the film as "Transition to Gliders" which was the previous name for this product. They changed the name to "So You Want to Fly Gliders" because it is a good video for all new glider pilots, not just power pilots transitioning to gliders.

Overview
Perfect for power pilots who want to discover the joy of soaring - or for beginning glider students - this new video shows you "what you should know" about flying gliders. Bob Wander, noted glider instructor and best-selling author, joins the Sporty's Academy team to take you into the cockpit of several training gliders. With exciting in-flight footage, you'll see maneuvers from inside and outside the aircraft, and you'll ride along for a self-powered launch, an aero-tow and a winch launch. Also covers aerodynamics, stalls, spins, speed-to-fly, spirals, variometers, all training maneuvers, soaring weather (including ridge, wave, convergence and thermal soaring) and much more. State of the art 3D graphics and animations are used throughout to explain complicated subjects. This comprehensive program will prepare you for your FAA glider checkride and beyond.

From the Back Cover of the DVD Case
So You Want To Fly Gliders, part of the What You Should Know series, gives power pilots and anyone interested in gliders insight into and an appreciation for powerless flight.

Whether you want to add a glider rating to your existing pilot privileges or just learn the ins and outs of soaring flight, Sporty's shows you how.

Bob Wander, noted glider instructor and the author of the Gliding Made Easy series of books, joins the Sporty's Academy team to lead you on your video journey from glider neophyte to glider aficionado.

So You Want To Fly Gliders takes you inside the cockpit of several training gliders to give you a real sense of what soaring and gliding are all about. Outside the glider, you will see how your control inputs are affecting the aircraft. State of the art 3-D graphics & animations are used throughout the program to explain more complex concepts. You will learn what you should know and enjoy yourself as well during this exciting program.

The program starts with an introduction to the FAA training requirements and the glider launch methods. You will ride along as we self-launch in a motorgliders, get towed aloft by an airplane, and get pulled into the air by a ground based winch. You will see how gliders differ from airplanes and be introduced to the aerodynamics of gliding flight. Along the way, you will see all of the maneuvers and cover the topics required for your glider checkride. Weather as it relates to soaring as well as methods to find and harness the lift that Mother Nature provides are also included.

So come along for the ride as Sporty's shows you yet another way to keep flying fun!



$39.95
In Stock
Soaring-JohnRoake
Soaring, "John Roake Provides an Introduction to Soaring"
Formerly called "Soaring 'Your Sport' for the New Millennium"
DVD, Format: NTSC, Duration: 14 minutes, Released in ~2000
Produced by John Roake, Directed by Gavin Wills
Great introductory video for handing out to potential new soaring pilots. Filmed in New Zealand, it includes footage in the New Zealand alps and scenes showing a young female pilot named Lucy learning to fly - as well as footage from the World Gliding Championships in New Zealand. The footage comes from the films "Windborn - A Journey Into Flight" (Lucy Learns to Fly) and "Champions of the Wave". Excellent quality and information. A great, low cost introduction to soaring. This is the DVD I give to people interested in getting into soaring.

Note: The most recent batch of these DVDs are titled "John Roake provides and introduction to Soaring" on the front of the DVD, but when viewing the film it is called "Soaring 'Your Sport' For the New Millennium". Regardless of the name, it is a great film.
$7.95
In Stock
SunShipGame
The Sun Ship Game
Directed by Robert Drew
DVD, Format: NTSC, Duration 82 minutes, Region Code: It is "Region free", so it will play anywhere in the world.

This new DVD release is from a new video master made from a film print, so it looks super. As you can see in the photos at right, the new version of the film is much sharper and more vivid. And yes, it does include the Bee Gees music - as in the original film. The DVD menu has 9 chapters, a photo gallery and closed captioning. On the DVD box itself is an essay by Robert Drew on "Why and How The Sun Ship Game" (see DVD case images at right) and a review Doug Jacobs (see DVD case back cover at right, and review text below).

Review by Doug Jacobs - Former World and 8 time U.S. National Soaring Champion

If you're like me, The Sun Ship Game serves as the standard against which to measure all attempts to convey soaring in motion pictures. Centered on a remarkably determined George Moffat's pursuit of a National Championship on the way to multiple World Championships, it captures like none other the majesty of the slender wing and graceful vulnerability of glider against the big, big sky and heartstopping terrain of Marfa Texas. Yet even more compelling is its captivating story of eyeball to eyeball struggle between pilots to win, to excel against one another, to accept the tribulations, sacrifices and danger of this beautiful but little known sport despite its meager prizes.

Bob Drew, noted documentarian, pulled this triumph together in the early 1970's, capturing on film the amazing aerial footage never before seen of gliding competitions and blending it with an up close and personal window into the personalities and aspirations the pilot contenders, their families and friends, strengths and flaws, into an all-too-human montage of the soaring scene. The result was a classic that has inspired and motivated hundreds of soaring pilots of my generation.

However, inspired as we were, we were equally annoyed that well traveled films in the possession of the SSA were often scratched, patched and in generally poor quality. An attempt to save the work through converting it to VHS was only partially successful, but nonetheless cassettes were snapped up by collectors eager to have their own copy of this remarkable story.

Now comes deliverance - Bob has taken the original masters and professionally converted them to DVD format. Back is the amazing clarity and color quality of the original film and terrific sound (especially if you're a BeeGee's fan - break out the paisley!) of the original for you to savor without the distractions of failing media.

The chance to own and view this work should not be missed by any serious soaring pilot, and studied intensely by those who chose to compete. A masterful story, one that belongs in the collection of everyone that shares our devotion to this compelling and amazing sport.

Review by Paul Remde
I'm very happy that this classic soaring film is available on DVD. It is a fun and interesting trip back in time. It is more than a soaring documentary, it is a film which digs deep into the skills and philosophies of 2 very different soaring contest pilots: George Moffat (contest number XX) and Gleb Derujinsky (contest number CI). The action begins at the 1969 Sugarbush Regional Soaring Contest and ends at the 1969 U.S. Nationals Soaring Contest in Marfa, TX. Toward the end of the film the battle ends up being between George Moffat and Wally Scott. This is a time when a "flight computer" was a circular paper glide calculator - and they were not adopted as necessary "technology" by all glider pilots. The film documents many interesting off-airport landings. Some of these pilots were willing to risk landing straight ahead (on course) in order to use every bit of altitude to get a few additional point for the day. One of my favorite scenes shows George using a saw to cut off the tip of his sailplane's wing and attach longer tips. It is hard to watch the sawing, but neat to see what was done to improve the performance of the sailplane. It is also interesting that during this era every contest pilot had a dedicated crew that followed them around the course with the glider trailer in tow. There is high-drama near the end of the film as George makes a bold move on the last long leg of the final task in the U.S. Nationals. I love this film!

George Moffat's reaction to the DVD version - as printed in the January 2010 edition of Gliding International

"The Sun Ship Game, Bob Drew's remarkable film of the 1969 Nationals in Marfa, Texas, has long been the best-ever film of what competition soaring is all about. In it he captures not only the beauty of soaring but also the dramatic aspects of the competition and the tensions between the leaders, their differing philosophies, and their wives, families and crews. Now Bob Drew has taken the original master and professionally converted it to DVD. I recently saw the result, and it is breathtaking as to color, sound and clarity. I did the flying for most of the thunderstorm scenes, and the sharp color and clarity brought them vividly back to life. Nothing in this film was staged. Everything you see was filmed as it happened. This new DVD version is surprisingly vivid and new despite having been filmed forty years ago."

Below is an excellent overview found on the rec.aviation.soaring newsgroup. It was posted by Aldo Cernezzi. He states that it was provided to him by "a close friend of the director."

"Some words on the film: As far as I know, The Sun Ship Game is the only real movie, not a documentary, dedicated to soaring competitions. It has was filmed at great expense (about 300-400,000 U.S. dollars in 1969, equivalent to at least 10 million Dollars today), privately financed without any perspective of reasonable revenues -- by the Director and producer Robert Drew, for one of its great passions, soaring.

I consider Bob an exceptional person, and his movie, which in 20 years I have probably watched and shown over 20 times, is a true masterpiece dedicated to soaring competitions. Its beauty is revealed gradually, when, through repeated viewing, one understands the untold in the conversations between the pilots. I recall in particular a confession: "…soaring pilots - a champion is speaking -we become aware that our talent, when we win a contest, is inexplicable; and we live therefore with the fear of losing it…"

I suggest a visit here: http://www.drewassociates.net/ to see how much and what Robert Drew, as one of the prominent figures of the "cinema verité", has filmed in its professional life. This movie is a wonderful "gift" that this director-soaring pilot has given to the world of soaring.

The plot of the narration is based on the major difference in the personalities of the two protagonists, Gleb Derujinsky, CI (an advertizing director, the first one to appear in the film, on a bicycle in New York) and George Moffat, XX (a professor, who appears in a classroom teaching English literature). Gleb, an instinctive pilot, is described as "unbeatable when he's in top condition", but he's also sometimes inconsistent. Moffat, on the other hand, is a cold "analytical-numerical" pilot flying a modified Cirrus with longer wings, but we finally see that he's also "human after all" through his flying and the suffering against Wally Scott who had a new ASW-12.

George will win (at least) two World Championships, Marfa 1970 and Waikerie 1974. Gleb, instead, will drive form Marfa to Mexico in order to get a divorce, always followed by Bob's movie cameras.

The movie features a gallery of prominent figures of soaring, including, Klaus Holighaus, Stouffs Sr., and Hal "The Judge"
Lattimore, contest director."




The images above are from the new version of the film. The images below are from an old copy of the film. You can see that the images above are sharper and more vivid. If you click on the images you can view the large images side-by-side.

$29.95
In Stock
Windborn-Champions
Windborn - A Journey into Flight (Lucy Learns to Fly) and Champions of the Wave
DVD, Format: NTSC, Duration: 110 minutes, Released in ~1998
These 2 titles (formerly available as 2 VHS videos) have now been combined into a single DVD.
Produced by John Roake

Windborn - A Journey into Flight
Have you ever dreamed of flying, soaring high above land, free as a bird? Teenager Lucy Wills did, and this is her story. With her father Gavin as her guide and instructor, Lucy makes her first nervous flights through to her long-dreamed-of first solo as a glider pilot. We also join Lucy, her father and uncle as they attempt an historic flight which begins at New Zealand's highest peak, Mount Cook, and ends in rugged and spectacular Fiordland. It is a journey that is not only dangerous and challenging but also one of great beauty.

Champions of the Wave
Omarama, New Zealand, is one of the best gliding locations in the world. Here a unique weather condition forms, know as 'The Wave', attracting glider pilots from around the world who come to challenge this famous and thrilling phenomenon, in the World Gliding Championships. With cameras mounted inside and outside the gliders, we take viewers with these pilots as they soar over the Southern Alps at speeds up to 300 kilometers per hour (186 mph). The battle is on to determine who will become the Champions of the Wave.

$39.95
In Stock
ZR-GoodStart
Zulu Romeo: Good Start - 1974 World Gliding Championships, Waikerie, South Australia
Produced and Directed by Johnnie Walker
DVD, Format: NTSC and PAL, Duration: 50 minutes
Digital editing and format conversions by Kempton Izuno - Thank you Kempton!
DVD and DVD case artwork by Paul Remde

Note: The original masters of this film were destroyed by fire many years ago. This is a digital copy made at some time, by someone. The quality is only OK. As you can see in the image captures below, the colors are not vivid and there are defects such as streaks and fuzz on the film, etc. It is not horrible, but it is not great either. A few minutes into the film, you won't notice the quality issues. The audio is quite good and the story is great. I'm confident you'll enjoy it very much as long as you don't expect high quality or high-definition.

Review by Paul Remde
This is a great soaring film. If you love "The Sun Ship Game", you'll also love this film. It has many soaring legends in it: Helmut Reichmann, George Moffat, Ingo Renner, Tommy Beltz, Hans-Werner Grosse, Klaus Holighaus, etc. It does a great job of documenting the excitement of the contest. My favorite feature of the film is the way the film makers asked the same questions of several pilots, and received extremely different responses. "Is physical conditioning important?", "Is the crew as important as the pilot?", "Are you flying for your country, or yourself?", etc. The answers really give insights into the minds of the competitors. I love this film.

It has been fun working with producer/director Johnnie Walker to bring this wonderful documentary back to you. This is a legal and approved version of this film.

Free 4-page Insert Included
I have included a 4-page insert inside the DVD case which includes black and white promotional materials from the original film release in 1974. It is a neat trip back in time!

Notes from George Moffat
"What a wonderful thing that Zulu Romeo: Good Start will live again on DVD! For me the Championship was memorable not only for winning, but because it was the most nearly perfect contest I ever flew in some forty years of competing, with an average daily score of 975 points. Johnnie Walker, the producer of the film, has done an extraordinary job of capturing the tension and the drama of the contest together with the interaction of the leading pilots and their crews. The film is very much a human interest story as well as a gliding story at the top level of competition."

Notes from Ingo Renner
"Zulu Romeo: Good Start documents the first Australian World Comps - up to that point in time the best organized World Comps with the best weather. Never before had there been twelve competition days. I was very fortunate to be a part of this contest and made many lifetime friends with competitors and crews. Quite often in my life I look back at this time with great pleasure and the movie is a wonderful record of these memories."

Notes from Hans-Werner Grosse
"The seventies were the great years of experimenting and finding out how to improve your cross-country efficiency. Championships were the best testbeds. Wing loading was a big topic. Some pilots drilled holes through their spars and flew with wings full of water and 70 kg of lead behind their heads. They were probably too heavy. My Schleicher ASW 17 was flying with 80 L of ballast. That was not enough. Start line games were invented. Helmut was very good at it. With the knowledge of the early seventies you would not go far in modern comps, but it was a more adventurous time."

Notes from Producer/Director Johnny Walker
Learn more about the history of this wonderful film from notes sent to me by Producer/Director Johnnie Walker which I collected in an article in my Soaring News newsletter here: http://www.cumulus-soaring.com/newsletter/2011-11/index.htm#Zulu_Romeo_-_Good_Start

Click on the images below to view larger versions.

See many more photos below at left

$19.95
In Stock

NTSC
(North America, South America and Japan)