Home > Scale Models > Profiline

Scale Plastic Model Kits
Scale Model Pages
Overview & Tips | Ardpol | Czech Master Resin | Heritage Aviation Models Ltd. | HPH Models | Planet Models | Profiline | Revell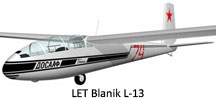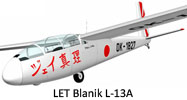 Overview
Profiline is a producer of high quality plastic injection molded model kits in the Czech Republic. They are small scale (1:72) but very nicely detailed. Their Blanik models are the only ones available which are plastic injection molded kits rather than resin kits. These kits have very detailed plastic parts and canopies and are easy to assemble using plastic cement. Since the parts are on sprues, they can be painted more easily than the separate parts found in resin kits. However, some of the resin kits from Czech Master Resin are include extremely nice painted photo-etched detailing sets with seat harnesses and instrument panels, etc.
Related Links
Plastic Injection Molded Kit
If you have ever built a plastic kit, it was probably an injection-molded one. The parts are formed in polystyrene plastic that are attached to frames known as sprues. After removing the parts from the sprues, you put the kit together as a three-dimensional puzzle, helped by detailed instructions. Plastic parts are glued together with plastic cements such as the tried-and-true tube glue, liquid cements, superglues, or epoxies. The Profiline model kits on this page are Plastic Injection Molded Kits. Note that these kits offer the highest quality, lowest price, and they are the easiest to build.
Note: The Blanik L-13 and L13A model kits below have identical parts. The difference is in the available paint schemes and decals. You can see the differences in the box artwork and the assembly instructions.
---
How to Order
To order a product, click on the
button next to the product.
When you are ready to complete your order, click on the

button.
Click on the small images to view larger versions.
Part #
Description
Photo
(Click on images below to view large versions)

Price

Lead-time
Profiline-Blanik-L-13
Let L-13 Blanik
Plastic Injection Molded Model Kit
Scale: 1:72
Wing Span of Full Size Glider: 16.8 m (55.2 feet)
Wing Span: 23.3 cm (9.2 inches)
Length: 11.6 cm (4.6 inches)

The two seater sailplane Let L-13 Blanik is with no doubt a legend in its category. Through the years, many sailplane pilot were trained in its cockpit. The all metal structure together with its outstanding flying characteristics assured safe, first-rate training and condition flights. It also has merit in setting new standards over other sailplanes. Over the years thousands of Blaniks were produced and subsequently exported all over the world. Except being flown in Czechoslovakia, the country of its origin, it was exported to the former USSR, BRD, Great Britain, USA and other countries.

The kit contains 23 plastic injected parts, 1 injected clear part (the canopy), instruction sheet and decal sheet for aircraft flown in the USSR, Germany and the Czech Republic.

Review at HyperScale.com by Mark Davies

The excellent 1997 SSA Sailplane Directory includes an excellent write-up, specifications and photo of this glider. A quote from the book: "An all-metal flush riveted sailplane with fabric covered control surfaces, the Blanik is stressed for aerobatics and has held many two-place records."

The excellent book Sailplanes 1945 - 1965 by Martin Simons includes an excellent write-up, photo and scale drawings of this glider. A quote from the book, "The Blanik (named after a mountain near Prague) was designed from the beginning as an advanced training sailplane. Nevertheless it had an impressive performance and broke many two seat records both nationally and internationally, including the World Two Seat Distance Record of 921 km by Juri Kouznetsov in 1967 and the Absolute Altitude Record of 7,748 m (25,421 ft) in 1961 by the Czech pilot Hudcova Urbacka. Even more noteworthy in some respects was the trans-Andean soaring flight from Santiago de Chile into Argentina by Alejo Williamson Davila in 1964. For this flight the pilot was awarded the FAI Lilienthal Medal."

Note: The Blanik L13A model kit below has identical parts. The difference is in the available paint schemes and decals. You can see the differences in the box artwork and the assembly instructions.

See also the large and detailed 1:32 scale L-13 Blanik resin kit from Planet Models, and the L-13 Blanik, L-13AC Blanik, and L-23 Super Blanik resin kits from Czech Master Resin.

$19.95
In Stock
Profiline-Blanik-L-13A
Let L-13A Blanik
Plastic Injection Molded Model Kit
Scale: 1:72
Wing Span of Full Size Glider: 16.8 m (55.2 feet)
Wing Span: 23.3 cm (9.2 inches)
Length: 11.6 cm (4.6 inches)

The two-seater sailplane Let L-13 Blanik is with no doubt a legend in its category. Through the years, many sailplane pilot were trained in its cockpit. The all metal structure together with its outstanding flying characteristics assured safe, first-rate training and condition flights. It also has merit in setting new standards over other sailplanes. Over the years thousands of Blaniks were produced and subsequently exported all over the world. Except being flown in Czechoslovakia, the country of its origin, it was exported to the former USSR, BRD, Great Britain, USA and other countries.

The kit contains 23 plastic injected parts, 1 injected clear part (the canopy), instruction sheet and decal sheet for aircraft flown in the USA, Great Britain, Czech Republic and Yugoslavia.

As of September, 2009, the full size sailplane that this kit was modeled after was flying at LKBE (Benesov, Czech Republic) at this club: http://www.aero-gac.cz/letadlovypark.html. The photos of the full-size glider (below) and this information was provided by Peter Lalik. Thank you Peter!


Review at HyperScale.com by Mark Davies

The excellent 1997 SSA Sailplane Directory includes an excellent write-up, specifications and photo of this glider. A quote from the book: "An all-metal flush riveted sailplane with fabric covered control surfaces, the Blanik is stressed for aerobatics and has held many two-place records."

The excellent book Sailplanes 1945 - 1965 by Martin Simons includes an excellent write-up, photo and scale drawings of this glider. A quote from the book, "The Blanik (named after a mountain near Prague) was designed from the beginning as an advanced training sailplane. Nevertheless it had an impressive performance and broke many two seat records both nationally and internationally, including the World Two Seat Distance Record of 921 km by Juri Kouznetsov in 1967 and the Absolute Altitude Record of 7,748 m (25,421 ft) in 1961 by the Czech pilot Hudcova Urbacka. Even more noteworthy in some respects was the trans-Andean soaring flight from Santiago de Chile into Argentina by Alejo Williamson Davila in 1964. For this flight the pilot was awarded the FAI Lilienthal Medal."

Note: The Blanik L13 model kit above has identical parts. The difference is in the available paint schemes and decals. You can see the differences in the box artwork and the assembly instructions.

See also the large and detailed 1:32 scale L-13 Blanik resin kit from Planet Models, and the L-13 Blanik, L-13AC Blanik, and L-23 Super Blanik resin kits from Czech Master Resin.

$19.95
In Stock