| | | |
| --- | --- | --- |
| Cambridge Aero Instruments | | |
Home | CAI | 302 | 302A | 303 | 306 | GPS-NAV | L-NAV | Downloads | Price List
---
Home

Overview
Cambridge Aero Instruments offers the world's best soaring instruments. The 300 Series is the smallest, yet most advanced soaring instrument system available. The new 302A is a very nice flight recorder with impressive specifications.
Related Pages
Support
My goal is to help you find the perfect soaring instrument system for your needs. I strive to offer the best technical support available from any soaring instrument dealer. I have been flying with Cambridge products for 10 years. I earned my first L-NAV and GPS-NAV by creating CAI's first web site which included online GPS-NAV and L-NAV Demos. Of course I am knowledgeable on CAI products, but I also strive to be up to speed on competitive soaring instruments, GPS units of all types, Pocket PCs, cradles for Pocket PCs, and cables for connecting them all together.
Overview Video
If a picture is worth a thousand words, then a video with sound must be worth a million. Below is a 13 minute overview of the Cambridge 300 Series Soaring Flight Instruments. It allows you to see and hear all the functions of the 302. It is a great way to see if it is the right vario for your glider. Or, if you already own one, it is a good refresher course on how to use it. If you find it useful then please buy from me.
Cambridge 300 Series Flight Computer Overview
Overview Video, by Paul Remde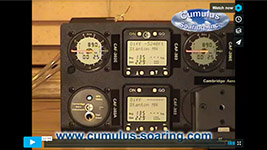 Cambridge 300 Series Flight Computer Overview
Duration: 12+ minutes
One of 80+ videos in the Soaring Product Training series
You can rent this video for 30 days for $3, or buy it for $10, or rent the entire Soaring Product Training series for $60 for one year.
302 Series Training Presentation
This presentation was created for 302 training at the SSA Convention in 2007. It gives an overview of all the 300 series products as well as tips for each product.
Cambridge 302 Training.pdf
---
Software Utilities and Firmware Upgrades
Software utilities used to upload setup data to the 302 and download flight logs from the 302 are available on the Cambridge Aero Instruments web page at: http://www.cambridge-aero.com/300series.htm
Manuals
Manuals for all Cambridge Aero Instruments products are available on the Cambridge Aero Instruments web page at: http://www.cambridge-aero.com/manuals.htm

Waypoint Data Files
Cambridge Aero Instruments 302, 303 and GPS-NAV products all use the same waypoint data file format. Glide Navigator II also uses the same files. Waypoint data files are available from John Leibacher's Worldwide Soaring Turnpoint Exchange.
Pocket PC Cables & Mounts
Cumulus Soaring, Inc.offers :: Goddard :: soaring data cables and power supplies for connecting your Pocket PC to your GPS or flight logger. We have a cable for every combination of soaring tools. Looking for a secure way to mount your Pocket PC in your sailplane? See the Mount Comparison page for details on the advantages and disadvantages of the mount options available from Cumulus Soaring, Inc..