Home > Books > Overview
Books
New, Used (out of print), and Free Downloads
Book Pages: Overview | Sorted by Title | Sorted by Subject | Sorted by Author | Printable Catalog
On This Page
Overview
I'm a big collector of soaring and aviation related books. I have been having a lot fun adding these books to my store. Reading soaring books gets me through the long winter months here in Minnesota. It also makes me a better and safer pilot. I have worked hard to make this the best soaring bookstore in the world. Hopefully you can tell that it is a labor of love - I really enjoy collecting and documenting these books! I try to go the extra mile to help you decide which books are right for you by scanning the back covers and table of contents of books where appropriate and making it easy to find the book you are looking for with lists sorted by Title, Subject and Author. I stock hundreds of books so they are available when you want them. I also include detailed information and links to out of date soaring books. Adding them to my web site will probably reduce the sale of new books, but it is important to me to make this site a valuable resource for finding soaring books - both current and out of print books. If you find this page useful, then please buy from me.
Printable Book and Video List
Sometimes it is nice to be able to print a complete list of the available books and videos. The PDF file below is just such a list. You can use it to highlight books and videos to be purchased by friends and family members as gifts.
Printable Catalog
Gift Certificates - The Perfect Gift
The perfect gift for a loved one or someone you want to say "Thank You" to.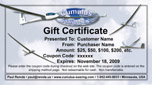 ---
Quick Links to All Books
---
New/Popular Books
---
Paul Remde's Favorites
---
Recommended for New Glider Pilots
---
Preparation for Private Pilot-Glider Written Exam, Oral Exam, and Checkride
---
Sources for Used Soaring Books
Are you looking for a used or out of print soaring book? I love old soaring books and have quite a collection of them. I have added a few used and out of print books to this site. I stock some of them. For the ones I don't stock there are links to online sources for used books. There are some wonderful online markets for used books which I have listed below. Just do a search for the book or author your are interested in.
---
Shipping Costs
Please note that books are quite heavy when compared to the soaring instruments and cables I sell. The wide variety of products makes it very difficult for the online ordering system to accurately estimate the shipping costs for books. So you may find that the shipping costs are a bit more than the estimate you received when you placed the order. Within the US I ship using "US Media Mail" which is much less expensive than US Priority Mail. However, I haven't yet found any low cost options for shipping books outside the USA. I do ship books outside the USA quite often, but it can be a bit expensive using US Airmail - which is the lowest cost option.
---
Free Downloads
Let me know if you want a printed and bound version of any of these free downloads. Sometimes it is nice to have a printed version in hand - rather than a digital version to read only at your computer. I can print it on 8.5 x 11" paper, double-sided, using my color laser printer, and bind it with clear plastic covers and a "VeloBind" binder for 20 cents/page. The finished product looks great.

BGA Soaring Book Archive
https://www.sailplaneandgliding.co.uk/archive/books
This is an amazing collection of old, out of print soaring books which have been scanned into PDF files. They are FREE downloads. Some of the more current books are only available as small samples, but many older books are available as full books. Download your copy of "Slingsby Sailplanes" or "On Glidign and Soaring" by Robert Kronfeld, or "Silent Flight" by Ann Edmunds (Welch), to name only a few of the available gems.